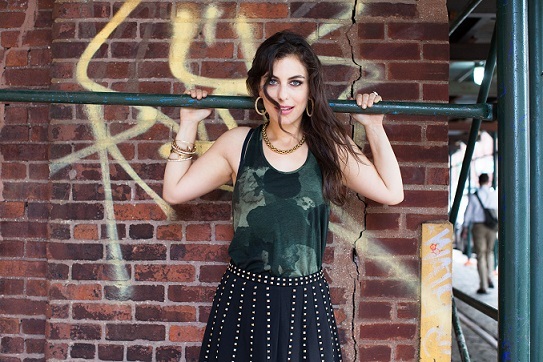 Shayna Leigh's debut LP Drive is available now.
Twitter: @heyshaynaleigh , Shayna Leigh's Website
Photo by Ben Hemler.
Shayna Leigh's debut LP Drive has been released!
Shayna Leigh is down to earth and complicated at the same time. Listening to her music is a great way to get to know her, so I dived into some real personal questions for this interview.
What's your childhood story?
I was actually a pretty shy, normal kid. I tried and was terrible at pretty much every sport, so after exhausting all of my other options, I stumbled upon acting classes. Much to my family's surprise, I loved them. Acting naturally led to singing lessons and that's where I really found my home. I have always felt most like myself when singing -- something that was true for me instantaneously then and is still true now. (In fact, if I go too many days in a row without it, I start to feel anxious and depressed.) I started co-writing and doing my own thing in high school, but I couldn't see a place for me in the pop music scene (I came of age at the end of the boy band era), so I decided instead to pursue drama and theatre. The thing is, you can't out run your dreams, and I eventually gave in to the nagging voice that told me I had something to say, as myself and as a musician. And from there, I embarked on this crazy journey to find myself and my music.
What were you thinking "theme-wise" when you started working on this project?
To me, the album has come to represent the process of finding myself as an adult (though I don't consider myself an adult quite yet!), but it's the story of navigating life after all the training wheels of school have come off and you're left to figure out where you fit in the "real world." I feel like this is something we all go through but don't really talk about, at least not in music. Truthfully, I didn't set out to make an album about any particular theme. I didn't set out to make a full album at all. We worked on each song on it's own as an independent thing and then sort of realized there was this full album there. The songs are each incredibly personal because this is literally what I have been going through, grappling with for the past few years. I hope the theme that emerges is an optimistic nudge to keep moving forward, through the challenge, through the pain, through the uncertainty.
Explain living in New York City.
I always knew I wanted to live in New York. Firstly, I am at best a mediocre driver, so I love the public transportation element. Also it is just this Mecca of culture and diversity, so there's no such thing as being too weird or even too emotional. (New York is the only place I've ever been where it is perfectly acceptable to have emotional outbursts in public -- you can literally burst into tears on the streets and no one looks at you twice. They just let you live out your moment alone in public. It's fascinating.) And then there's the energy. There's this high paced vibe -- New Yorkers are tough; they move fast and they work hard. I thrive in that. And I would say that's also the biggest down fall of New York (besides the fact that it's INCREDIBLY expensive) -- it can be exhausting. You have to find a way to get out of the city for a few days here and there or you will go nuts! I love the noise. I love being surrounded by people. What I will say to anyone considering moving here though is that the first year or so can be incredibly lonely. It can make you feel very small and very isolated amidst all the busyness, but if you push through that, you will find your place and this huge city becomes your home.
What's your exercise routine?
I am pretty much an exercise junkie (within reason -- I am a five time a week one hour per day junkie...) I like to mix it up, so right now I am on classpass, which means I sign up for classes at different gyms and studios around the city. I currently take bootcamp classes and strength training and dance and sometimes I run outside. I started working out a few years ago for health and cosmetic reasons. I was feeling fatigued, weak and struggling with those pesky body image issues that plague so many of us these days. But these days, the primary reason I workout is for my mental well being (though I do still probably focus a little too much on the way my body looks). I find it is the best de-stresser and the easiest way to improve my mood. For the most part, it's worth the pain.
How did you connect with Michael Mangini and Peter Zizzo to collaborate on Drive?
I was looking for producers for my next project and taking the process incredibly seriously. I was looking for someone who understood me, what I stood for as a person and an artist and who would help me really solidify my sound and my place in the world of music. Finding where I fit took me an incredibly long time. It wasn't until I started working with Michael and Peter that I felt like I found it. I met with Michael and he asked me some incredibly tough questions and was clearly very smart. We decided to give this union a shot. I was introduced to Peter and we started to write our first song together. What came out of day one was the song "Drive." And with that, my life changed.
Shayna Leigh's album Drive features songs produced by and co-written by Multi Platinum & Multi Grammy Award Winning Record Producer Michael Mangini and Emmy Award Winning, Multi-Platinum Songwriter and Producer Peter Zizzo.
REAL LIFE. REAL NEWS. REAL VOICES.
Help us tell more of the stories that matter from voices that too often remain unheard.