I have a movie opening in select cities nationwide this week. It's called Musical Chairs. I play Chantelle, an African-American transgender woman who is disabled. She's paralyzed from the waist down, but she maintains a fervent sense of humor about her situation and about life. Musical Chairs is a beautiful, romantic film set in the world of wheelchair ballroom dancing, directed by Susan Seidelman, who directed Madonna's first film, Desperately Seeking Susan; She-Devil with Meryl Streep; and the pilot episode of my favorite television show of all time, Sex and the City.
I have been performing my entire life and did my first union film over a decade ago. I have starred in my own television show (the short-lived VH1 makeover show TRANSform Me) and acted in a number of independent films over the years. But Musical Chairs is the first film I have acted in to actually get distribution and make its way into theaters. This is due in large part to the vision and tenacity of our producers, Janet Carrus and Joey Dideo.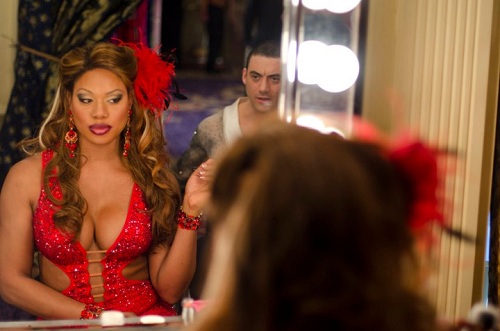 A movie in limited release nationwide is definitely a professional milestone for me, an African-American trans woman from a working-class background. So this moment, of course, makes me reflect a bit on my life as an artist. It makes me think about growing up poor in Mobile, Ala. with a single mom who worked three jobs to take care of my twin brother and me. It makes me think about studying creative writing and dance on scholarship in high school at the Alabama School of Fine Arts in Birmingham. It makes me think of all the summer programs I attended at ballet schools all over the country. I think about when I moved to New York City to study dance and later acting at Marymount Manhattan College. This moment is making me think about all the off-off-Broadway theater I have done over the years, the student films I have acted in for free, just to get experience, and the years of study with acting teacher and goddess Susan Batson, my mentor, who instilled in me a respect for acting and the craft that, God willing, I will have the rest of my life. I think of my continued and meticulous study of my craft with my current teacher, Brad Calcaterra.
My entire life I have been trying to find ways to get up in front of people and perform. I have thought of giving up so many times. Having a career as an actress has often seemed impossible, silly, and misguided, particularly for my "type." In the acting business, until you're a star, you're a type. In true actor fashion, I currently don't know where my next acting job is coming from, but that's the name of the game.
As anxiety-inducing and nerve-racking as it can be, I absolutely love and adore acting. I am truly happiest when I'm on a movie or television set. I often feel like acting chose me instead of me having chosen to act. The first play I did at Marymount happened because a guest instructor by the name of Daniel Banks saw me walking down the hall in all my androgyny and said, "I want you in my play." I was in the dance department. And it was a big deal at the time, doing a play in the theater department. The play was Max Frisch's Andorra. I played the village idiot. The idiot in this play has no lines but simply grins and nods. Everyone said I stole the play, with no lines... at least that's how I remember it.
I don't know what the future holds for me as an artist and actress. One never truly knows. But I feel fairly certain that I will probably keep finding ways to act and perform, to grin, to nod, and, as my teacher Brad says, to say, "Yes and..." to whatever the universe holds for me.
Watch the Musical Chairs trailer:
Musical Chairs opens in New York City and South Florida March 23, 2012. It opens in Los Angeles and Chicago March 30, 2012.
Popular in the Community