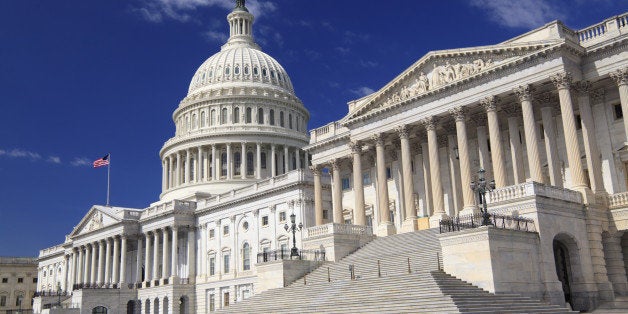 Co-Authored by Maclen Zilber, Democratic Strategist and Campaign Consultant based in Hollywood, CA
With all the gushing news saturation, hype and boundless coverage of the 2016 Presidential Super Bowl battle between Hillary Clinton and Donald Trump, we know the last thing you want to think about is the 2018 election.
But the cold hard reality is that there's another election cycle coming down the pike, and it'll be here before we know it.
Hundreds, if not thousands, of stories have already been written about the pending race to succeed Governor Jerry Brown as the Golden State's next chief executive in 2018.
Undoubtedly, the Governor's race is getting the attention it deserves. California continues to be the center of innovative public policy in the United States, and the chief executive of California is one of the most powerful politicians in the world. And, whoever is Governor of California instantly gets inserted on the map as a Presidential contender should they choose to run.
What's not yet on everyones radar, however, is another plum position that turns its occupant into a Presidential contender: the Senate seat held by Dianne Feinstein.
Feinstein has given no public indication whatsoever that she will retire, but it is still nonetheless a real enough prospect for political obsessives to contemplate.
A hotbed for rising stars in the Democratic Party, California's talent roster of those on the left runs deep. Most of those who are considered possible contenders for the seat are young enough to hold the seat for 20 or 30 years. As such, an opening for a coveted office such as U.S. Senate could lead to a crowded field of California political heavyweights the likes of which we haven't seen in any states' Senate primary in recent years.
From those who pondered about running for Senator Barbara Boxer's seat in 2016 but ultimately decided not to run to those eyeing the Governor's race in 2018 but haven't yet made their intentions public, a vacancy by Feinstein might very well serve as a catalyst that creates musical chairs up and down the 2018 ballot.
With the exception of a few, most all-star California Democrats are either currently or will be in elected office by 2018. That means that those who jump into a possible U.S. Senate contest that year will have to bow out of running for re-election to their current job to compete. For those who are in a solid position because they won't have to risk losing their seat, the fact is that if they prevail, their seat will become vacant and thus likely cause an election.
Lets begin our examination with members of Congress, who are, by definition, up for re-election every two years, including in 2018. Should any of them enter a potential Senate race, they could not run for re-election and thus would have to vacate their seat:
Rep. Adam Schiff, Member of House Intelligence and Appropriations Committees, contemplated running for Boxer's seat in 2016, has millions parked in his federal campaign war chest.
Rep. Xavier Becerra, Chair, House Democratic Caucus, who contemplated running for Boxer's seat in 2016, has nation-wide cache of deep pocketed donors and political allies.
Rep. Karen Bass, Member of House Foreign Affiars Committee, Member of Leadership in Congressional Black Caucus, statewide profile as former California Assembly Speaker.
Rep. Loretta Sanchez, a current candidate for Boxer's seat this November. Should Sanchez lose, she still will have built up statewide name ID in the process of running.
Several of the current statewide constitutional officers who might be on a speculative short list for for U.S. Senate, such as Lt. Governor Gavin Newsom or State Treasurer John Chiang, are already running for Governor in 2018. Attorney General Kamala Harris is running for Boxer's Senate seat this cycle, and Insurance Commissioner Dave Jones is already a candidate for Attorney General two years from now. That leaves the following slew of maybe candidates, all of whom would have to give up their current job or another office they may be aspiring for, to campaign for Senate:
State Controller Betty Yee, a former member of California's Board of Equalization, Yee has run successfully statewide and amassed a solid record of watching over taxpayer money.
Secretary of State Alex Padilla, served as President of the L.A. City Council, in the State Senate, and now as California's chief elections officer.
State Senate President Pro-Tem Kevin de León, a former State Assemblyman, recently shepherded through the legislature some of California's most far-reaching environmental and women's rights laws.
State Assembly Speaker Emeritus John A. Pérez, helped spearhead California's economic rebound following the Great Recession, serves as a UC Regent, and has a statewide network as past legislative leader.
Very few local leaders possess the prerequisite gravitas and fundraising prowess needed to be a competitive U.S. Senate candidate. Those who do, include the following:
Los Angeles Mayor Eric Garcetti, a former President of the L.A. City Council and U.S. naval reserve member, he is a widely popular Mayor in California's most populous City. Up for re-election in 2017, a campaign for Senate wouldn't mean he'd risk his seat to run.
Former Los Angeles Mayor Antonio Villaraigosa, also a former Assembly Speaker, previously flirted with running for Boxer's seat in '16. Now suspected to run for Governor in '18, if he doesn't, Senate could once again be an option.
San Francisco Mayor Ed Lee, a former City Administrator, oversees the City that's the nerve-center for much of the tech economy. Similar to Garcetti, Lee was elected in an odd-numbered year, meaning he wouldn't have to risk losing his office to run.
Of course there are also several more not mentioned above, from Congresswoman Judy Chu to Long Beach Mayor Robert Garcia and Oakland Mayor Libby Schaaf, among others, but given our limited space here, we can't list them all.
Just for kicks, there's always the prospect of soon-to-be former First Lady and future California resident, Michelle Obama, running for Senate. Though, given the powerhouse that she is, an Obama candidacy could throw a wrench into all of the above all-stars' plan who might jockey to climb a ladder to the highest legislative body around the globe. Her team insists she has no interest, however.
All in all, whether these leaders would throw their hats in the ring is far from certain, and for many, probably unlikely. In any case, for us political junkies who follow politics like a sport, as fans, this speculation is always the fun part.
Popular in the Community