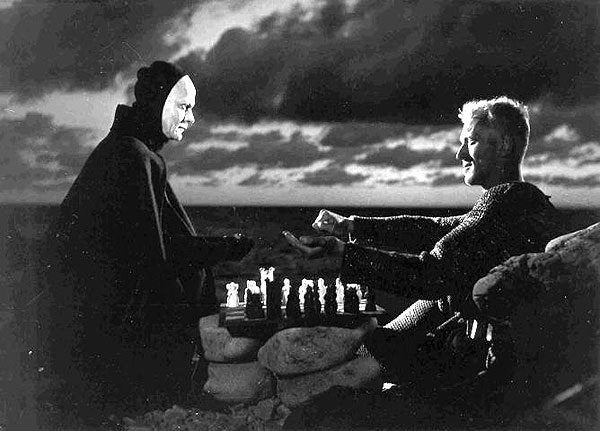 There's a new musical going around, and if you're smart you'll establish your international, cross-cultural credibility by touting it early and often. The Seduction of Ingmar Bergman is as unique and wonderful as musical theatre gets: a "what-if" fictional fantasia plopping the celebrated (and moody) Swedish director smack-dab in the hot, sunny horrors of Hollywood, circa 1956. It's sexy, savvy, absurdly catchy, touching, funny as hell, and dazzling in its audacity.
The work, both the 22nd album by the brilliant band Sparks (a.k.a. brothers Ron and Russell Mael) and now a "film-to-be" by Canadian auteur-director Guy Maddin (My Winnipeg, Brand Upon the Brain!), débuted live onstage with full cast last Saturday night as a major highlight of the Los Angeles Film Festival. I spoke with Sparks lead singer Russell Mael just prior to the show, and then attended the sold-out success. First interview, then review.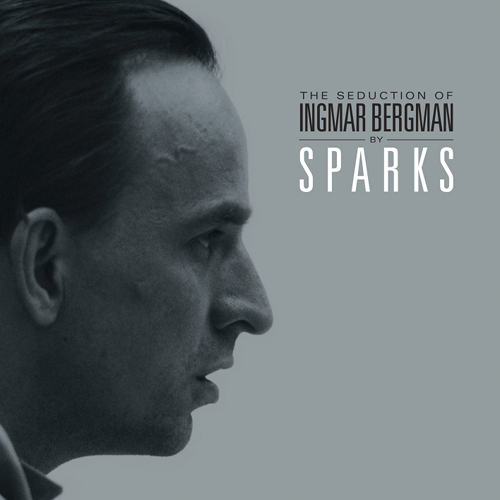 The original English-language albumImage courtesy of Republic Media
Russell is happy to divulge Seduction's origins. "The project was originally commissioned by Swedish national radio. Marie Wennersten, the producer of their radio drama department, had been a fan of Sparks and had approached us asking if we wanted to do this really old-fashioned form of radio musical drama that is actually supported in Sweden and a lot of other countries -- where artistic endeavors are supported by the government. We were really up for the challenge because it sounded like something that would help expand what we do as Sparks."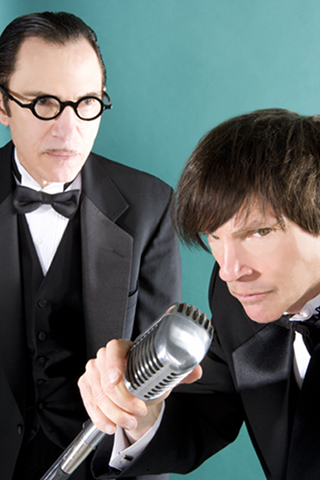 The Sparks Brothers: Ron and Russell MaelImage courtesy of Republic Media
The Seduction of Ingmar Bergman took form in eight months, appearing both in Swedish on Sveriges Radio and in English on the BBC. Next stop, Hollywood: "There was a really great response to this. The music we feel is very visual and cinematic, and it was working for an audience that had no visual cues to go off of. After that experience, the project was too dear to us to let it be for just that one purpose, and we felt that it could be adapted into a feature film. We really liked the director Guy Maddin, and it turned out he had a mutual admiration for Sparks. In the meantime, the L.A. Film Festival heard about the project, and they said how amazing it would be to do this in a live format, in Hollywood. So we took them up on the challenge," Russell laughs, "and it became a lot more work than we originally anticipated!"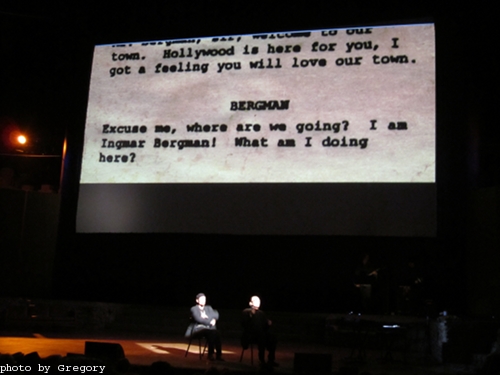 Ingmar goes Hollywood: Peter Franzén as Bergman, driven by Ron Mael, as The Limo Driver
Seduction scintillates. And the brothers Mael expand the genre-spanning theatricality of their 2002 game-changer album Lil' Beethoven (no, really: it's an actual game-changer) to take on roles in their new work. Ron, for instance, plays two mainstays of Hollywood employment: the excitable Tour Guide and the earnest Limo Driver (the latter hilariously gushing over Bergman's films' "foreign flair"); and Russell gets to chase down Bergman-on-the-lam as a scary cop, plus twist his non-existent moustache as the wily Studio Chief. I ask the singer about his efforts theretoward.
"Well, I really like 'The Studio Commissary,'" he enthuses about Seduction's ebullient, klezmer-esque centerpiece. "It's fun and I think the lyrics are really good. Also, now that we've done a staging with actors, some of the songs have taken on a different life, so I really like 'We've Got to Turn Him Round' in the context of doing it live, where the whole story gets really dark, and the Studio Chief is showing more of his sort of evil side, in a Hollywood kind of evil way." Yes, Sparks fans, Russell gets to play the villain. But it's all in fun. Huge fun. If you love cinéma. Which the Mael brothers definitely do.
"Strange as it might be, in this day and age, when no one seems to be moved by anything -- you know, it takes a lot to get people to stop playing Angry Birds on their iPad -- we do like cinéma. And so to be able to do this project about Bergman, we'd both gone to UCLA, and had taken cinéma, and had seen a lot of those films, but you sort of forget specifics. So we went back before undertaking this to watch as many Bergman films as we could. The films still really hold up now, I think even moreso, because you kind of watch the films in the environment of what's going on today, cinéma-wise, and you can't believe that there was a guy making movies like this, because it seems like it wouldn't happen now."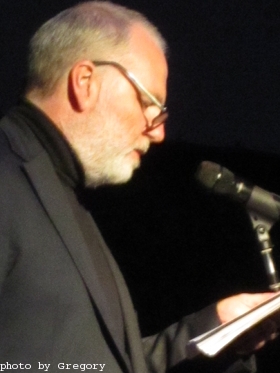 Maddin on the mic!
"Unless it's Guy Maddin! That's how we see him and this project, is that he's a guy working in his own world, carving his own path, and just visually it's really stunning what he does, and provocative in a lot of different ways. And so we think that he's completely different from Bergman, but as unique in his own way. So for us to have him do this film would be really stunning."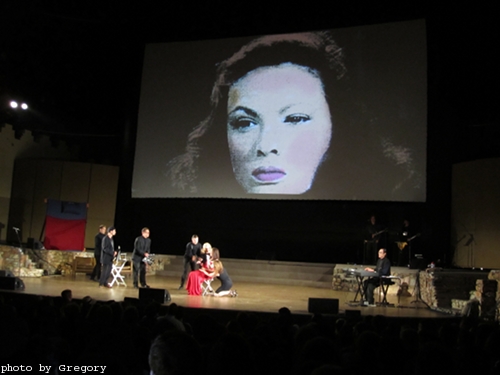 Hapless Ingmar takes a crack at the studio system.
Stunning, indeed. On Saturday night I crossed the Red Sea that is Hollywood in full-on tourist season, arriving at the lovely John Anson Ford Amphitheatre. There I sat between my screenwriter friend and film-festival judge Daniel Waters (whose own Heathers has become a musical) and a couple who had flown in exclusively for the performance from Wisconsin and (I think?) Arizona. We all truly loved The Seduction of Ingmar Bergman live.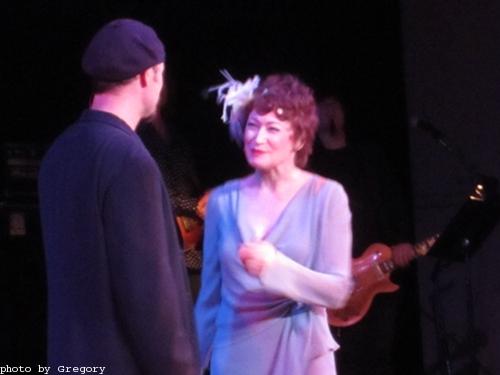 Greta Garbo (Ann Magnuson) offers Ingmar Bergman (Peter Franzén) a bit of reassurance.
Michael Silverblatt of KCRW's Bookworm show (who provided the initial Sparks-Maddin hookup) astutely introduced the evening, chuckling, "As you would expect from Guy Maddin and from Sparks, a lot of lunacy awaits you." And certainly, the performance veered toward the madcap. But what I immediately noted was the show's underlying sincerity. Of course, immediately following his Cannes win for Smiles of a Summer Night, Ingmar Bergman did not (to our collective knowledge) spiral into any Hollywood phantasmagoria. But if he had, this setup and its archetypes are fully familiar and plausible. Look no further than Sparks' amazing drummer Tammy Glover (as the Entertainment Industry's "Hollywood Welcoming Committee" -- wink-wink!) striving to "comfort" Finnish superstar Peter Franzén (as tortured artist Bergman) at the Beverly Hills Hotel. It's knuckle-bitingly wonderful, as were literally all of the songs in this cycle. I haven't felt this chuffed about a musical-turning-to-film since Ken Russell's take on Tommy and Jim Sharman's on The Rocky Horror Picture Show in 1975!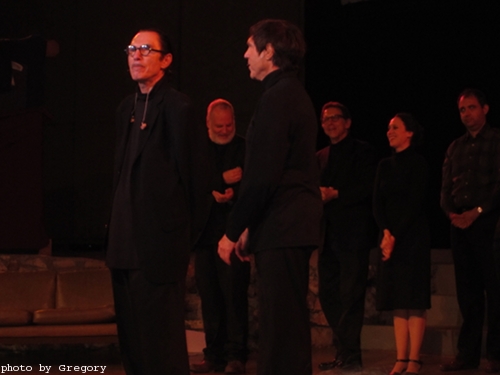 Ron and Russell bookend their director before uproarious applause.
Technically, beneath the stars on a balmy night and just out of earshot of the Hollywood freeway (though not the occasional helicopter), Seduction moved like a dream, employing only the sparest props (vertical bed, handheld police-car bubs, stretchy novelty arms as tourists scream "OVER HERE!" for Bergman's autograph) and delightfully fluid transitions. Mr. Ronald Mael (chief songwriter) brought his charming, silent-movie presence to his rare singing parts (in a word: "More!"), and Mr. Russell Mael was in most excellent voice throughout (if you haven't heard this fellow sing, you're missing something special). Mr. Guy Maddin's direction and screenplay-style narration proved a perfect match for his action-intensifying projected stills, and Ron's compositions became instant old-faves at the fingertips of himself and his able band -- rocking, swaying, grooving, playing. If I'm not mentioning everybody, I'll just say everybody was super-fab. Oh, and then the glorious Ann Magnuson showed up as an angelic, Ingmar-coddling Greta Garbo.
The Seduction of Ingmar Bergman is a one-of-a-kind entertainment. Love listening to it, loved it live, can't wait to see the film version.
Popular in the Community