Part 1 - When a Musical is More Than a Broadway Show, or That Time a '90s "Flop" Brought a Teenage Heart to Life
It seems fitting, and like something of an entirely non-accidental nature, that I'm writing this in the autumn of 2017, having just turned 34, and looking directly forward to a new season in New York both theatrical and spiritual, in the theatres I will soon visit to enjoy new, transformative art, and in the life I'm working to build myself.
That's what the autumn brings: A new season. New shows. New adventure. Hopefulness.
It seems fitting, too, and is in fact purposeful, that I'm writing this while listening to one of my favorite Broadway cast recordings of all time, one that exactly 20 years ago this autumn, brought my 14-year-old heart where it needed to be, exactly when it needed to be there, and not a moment too soon or too late.
I'm a New York City kid. I grew up on the Upper West Side. My folks moved to the apartment where I grew up in 1978 when it was the "Wild West Side," and though they couldn't afford it even then, they made it work so that we could have a life of increasing privilege and comfort. Mom worked in international education. Dad ran his own small, corporate television business.
Dad was a theatre major in college. To this day, he loves the theatre as much as I do. Still, he went on to a career that would afford him more of a consistent income to provide for his growing family, as many do, and that was okay with him. Mom had a "steady" career so Dad could build his own shop, and so that as his work would fluctuate (and it did), my sister and I could still have whatever it was we desired in that moment. I was never unaware of my privilege in that, at least I hope not.
However, the tumult that would transpire during my younger years could not be avoided, regardless of the comfortable foundation that was built, because like his mother before him, my father was violently bipolar, and his son, (me), is too.
I use the term "violent" intentionally, understanding there are many shades of violence both physical and emotional. Years later, as an adult, it would be the emotional type that took its true toll.
It was a loud house. Good times too, sure, for which I hope I was appreciative enough then, and certainly am grateful for now. Also, there was shouting, rage, fear, and endless eggshells upon which to walk at all times. There was a beast in the house, and it didn't want to be woken. When it woke, watch out, and watch out I did.
For that reason, our apartment was never the place I found home. "Home," for me, existed somewhere between 42nd and 52nd Streets, between Broadway and Eighth Avenue and downward to Times Square.
The theatres that lined those streets were my home, and if couldn't be inside with a ticket, outside is where I would be. After a violent moment at our own apartment at eleven, twelve, or thirteen years old, I'd walk down to "my" part of town, my "home."
I'd spend hours before or after weekend matinees reading the "At This Performance" boards in the lobbies of the theatres, and I learned the names of the great ensemble singers and dancers of Broadway in the 1990s who were going on in roles those days. Performers like Scott Wise, Michael Berresse, Leigh Zimmerman, JoAnn M. Hunter, the casts of the 1992 "Guys and Dolls" revival, "Damn Yankees" in 1994, "Crazy for You," "Fosse," "Chicago," and the show that would arrive 20 years ago this month, the original "Side Show" in 1997, starring Alice Ripley and Emily Skinner.
In September '97, my 14-year-old self sat in the mezzanine of the Richard Rodgers Theatre for an evening preview of "Side Show." I remember that there had been a fight at the apartment that day. I remember that I needed to be elsewhere.
I went to see "Side Show" specifically because I loved Alice Ripley. Alice had just ended a long run in "Sunset Boulevard," and I was a fan. (I was lucky to see "Sunset" several times, too, first starring Betty Buckley, and later the closing performance starring Elaine Paige, different but equally grand).
I remember every minute of that September evening preview. I remember watching the women move together seamlessly, though they were not technically attached, and being awed by their concentration and effortless discipline. Listening to them sing each anthem to each other, one after the next, belting from the depths of their souls with a passion and vocal color I'd never heard before and have scarcely since, sometimes intimately to each other, sometimes to the rafters, and always directly to me. There were three of us in the theatre: Alice, Emily, and me.
Certain lyrics hit me in the gut, and I suspect – fine, I'll admit it – I was not alone in that. The lyrics that stung the most were often the songs' hooks, songs like "Like Everyone Else," and "Who Will Love Me as I Am?" These were not only the thoughts of two characters as emboldened by the bodies and voices of two outrageously ferocious singing actors. They were my thoughts, too.
I needed to let them know. I needed to connect. I needed to be part of it. I needed to tell Alice and Emily what this show, and what their work, meant to me, and so, somehow, I would do just that.
When the show's cast recording was released later in the fall, I had already seen "Side Show" twice more. My obsession and desire to connect only grew by that time. I needed to know them, or at least to express the burning desire to say thank you for giving me an outlet to voice my own inner longings for the love and acceptance I too desired.
It was shortly then announced that in celebration of the cast album release, there would be a signing at HMV, a record store on 72nd street and Broadway (which later became an Urban Outfitters). Alice and Emily would sing two numbers from the show: "Who Will Love Me as I Am?" and "I Will Never Leave You" and would then sign CDs for fans. This was my chance, and there would only be one. I had to do something.
I planned to skip school that day so I could go to HMV ― it was only a few blocks uptown, anyway – and I did exactly that. But first, the evening before, I sat down to write two letters. A note to each that would tell the ladies exactly what this show had done to my heart. It had brought it somehow to life. It had given me hope for what was down the road. It made me want to sing forever. It made me want to stay hopeful. It made me (quite actually) want to live.
At the bottom of my letters, I wrote something similar to each: "If ever we could speak, if only for a moment and if only to tell you this in person, you can reach me..." and without hesitation, I included my home phone number.
It's important to add here that I had absolutely zero fear of rejection. While it never occurred to me that they might actually call, it also never occurred to me that they would not.
My most vivid memory of all: the following evening, at home, doing my math homework from a heavy, red text book, the phone rang in the kitchen. Dad rose from the dining table to answer it.
"One moment," he said, and then turned to me. "Michael, it's Emily Skinner."
"Could this be?" I thought. "He must be joking."
"But," my inner voice argued back, "he doesn't know who that is. It can't be a joke at all."
My whole body started to shake as I approached the phone. Indeed, it was Emily Skinner. It was also Alice Ripley. They were calling me from the dressing room they shared at the Richard Rodgers Theatre.
"We loved your letters," Emily told me. "We couldn't believe they were written by a 14 year-old." And then: "We'd love to invite you to have dinner with us between shows next Wednesday at the theatre."
My heart, as I write this, feels the same awakening it did 20 years ago, and with that, all the physical reactions return. Racing, pounding, disbelief, joy, gratitude, shock. My hands tremble. I feel in every pulse, alive.
The next week I did go to the theatre. We did have dinner. Alice and Emily ordered Mediterranean food and had it brought to their dressing room. We sat and they asked me about myself, about what I liked to do, why I loved theatre, my dream roles, my hopes. They let me have a moment to share, and ultimately to discover, my own "artist voice." I would later go into the business of art, and I would share that voice as loud as I could.
What Alice and Emily didn't know then, and what they likely couldn't know now, is how desperately I needed that voice to be heard, exactly at the time when it was asked to speak. For that, I am forever indebted.
Two months later, sometime after Thanksgiving of '97, I received a holiday card from Emily and Alice, signed with their own names above those of their characters, "Daisy" and "Violet," mailed to my folks' apartment on the Upper West Side, for me.
I've never forgotten what it meant to feel remembered, to feel included, to feel "a part of" something spectacular. I have kept the card for 20 years, close to wherever I have been at any time. It reminds me, always, not to be afraid to ask. It reminds me, always, to use my voice.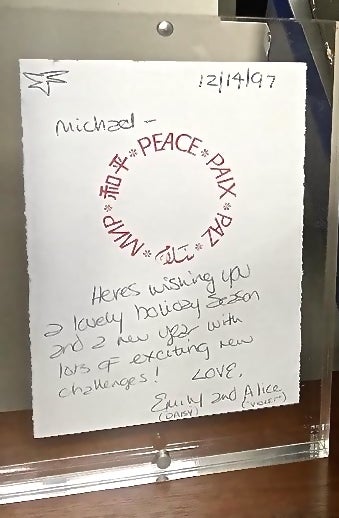 Popular in the Community