Part 2 – I Can "Cook" Too, or The Continual Aspiration to Sing Like a Legend
My uncle, Bruce, loved Barbara Cook. He had seen her star in a preview of "Plain and Fancy" in Boston in 1954. Imagine that. He would have been 20 at the time. I often attempt to conjure what it might have been like to be there then. In the theatre, "out-of-town," with an ingénue, brand new to the scene, named Barbara Cook, whose glorious, luscious soprano and intrinsically deep, thoughtful, grounded connection to the lyric would make her one of the great legends of musical theatre and cabaret, forevermore.
Bruce enjoyed boasting about the experience of seeing her then, when he had discovered Ms. Cook, "a wee slip of a thing," as he fondly described her to me. It was his early depictions of hearing her sing that first introduced me to Barbara Cook by name.
Bruce's "study" (the second room at his apartment with my aunt on the Upper West Side – it was always called "the study") was another home away from home. He was a trumpet player and tried to teach me how to play, too, beginning at the age of eight (though I was very resistant – I preferred to sing).
It was in the study where I first heard Ms. Cook's voice, on a record of her 1975 Carnegie Hall concert. I couldn't have been more than 11 at the time. "Wait Till You See Him" was the song. I was hooked.
As the voice climbed, it scaled the heights of the musical line and so specifically expressed the desperate, passionate excitement in every lyric, with particular words painted in fine, exquisitely rendered, vocal brush strokes:
"Wait till you feel the warmth of his glance,
Pensive, and sweet, and wise.
All of it lovely, all of it thrilling,
I'll never be willing to free him.
You won't believe your eyes!"
When Ms. Cook sang to us, it was as if we were being treated to the words for the very first time. The voice itself was miraculous, but then there was the interpretation. Even as I type the lyrics here, I hear Ms. Cook's effortless voice swell and I am as captivated as I was those many years ago. I'll paraphrase my position on this very same idea, here and now, and add: Every time you hear Ms. Cook interpret a song, no matter how many times you've heard that very rendition of that very same song, it's the first time.
From that moment in Bruce's study, and onward to this day, I would listen to and see everything of Ms. Cook that I could. My folks supported the mission through my teen years, and as a kid I would get to experience the voice and the singer, live in person, at Lincoln Center Theatre (Beaumont and Newhouse), Carnegie Hall, The Metropolitan Opera for her 80th Birthday Concert, and later at Feinstein's at the Regency, The Carlyle, The Allen Room, and 54 Below.
These concerts were always timed to family events. They were birthday gifts, holiday presents. They were celebrations. Glasses would raise, cheers would abound, and Ms. Cook would sing to us all. These concerts are some of the happiest memories of my own life in progress.
On August 8th this year, Ms. Cook passed away at the age of 89. While I can't help but feel a sadness around the loss, I also feel elated for the life she got to live and the music she was able to make for almost all of those years. How remarkable, truly.
August is the month of Bruce's birthday. Though he passed away nearly a decade ago at the age of 73, I think of him every day, and especially at the time of Ms. Cook's departure. I imagine the two of them now, perhaps enjoying one another's company. Perhaps she sings while he plays along on the horn.
Cancer took Bruce, quickly, when he passed. I was there at the moment, by his side. He was a brilliant man of infinite talent. He also had a perfect command of language, and a peculiar way with words and ideas. His last thought expressed to me on the day he passed, in May 2008:
"I've never died before," he whispered. "A new adventure."
I cried from a deep, dark place.
And then he continued: "When does yours start?"
"August," I replied, and I held his hand.
My adventure, to which Bruce was referring, was a new show I was about to begin later that summer, on tour across the country. He was excited for my journey. I was to be on the road for at least a year, starting the month I told him. I'd just finished a tour the previous year. I was 24. It was a dream-come-true.
What followed, by the time August arrived, however, was not quite a dream, though now that a decade has since passed, there are dreamlike elements, for sure. What followed would be a very difficult chapter in a journey of mental wellness, recovery, and discovery, one that has taken nearly all of a decade to finally piece together.
When the "dream" reached its climax, then, and when I awoke to the painful and surreal reality of myself as an inpatient at a hospital, somewhere upstate New York, just one month later, in September, once again a song from Ms. Cook's cannon lingered in my soul. This time, it was "What'll I Do?"
And I am blue, what'll I do?
…When I'm alone, with only dreams of you,
Suddenly, the "you" to whom I sang, quietly and to myself — the "you" from whom I was so painfully divided – this person was not a long lost love, as might have been intended by the lyric.
The "you" wasn't another at all.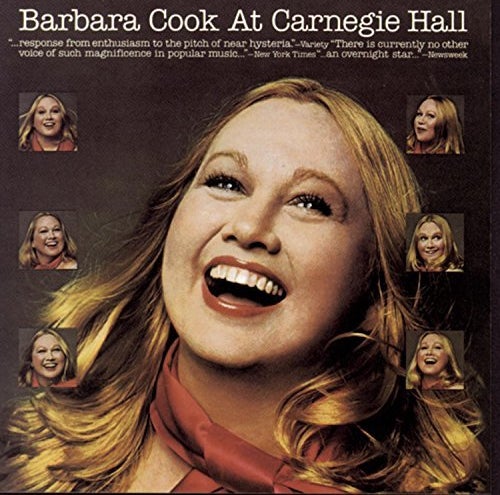 Related
Popular in the Community