Part 4 - "And the Sparklers Light the Sky"
As the air turns crisp and chilly, my mind is taken back to the same season many years ago, when I returned to the city from the road, much sooner than expected, and not altogether well. It would be many more seasons before I would grasp what transpired, how it affected and transformed my life and the lives of my loved ones, both present and future, and where I would endeavor to go next.
The process upward from a psychological upheaval is painfully undefined. The experience of being disconnected from one's self -- from one's sense of cognition and emotional steadiness -- is impossibly rattling. What begins, post-departure, once returned, and after the self has settled back inward, is a long and intense process of learning to trust it again -- to trust the very essence of who you are, and what you know to be true.
Through the seasons in between then and now, what remained consistent was an undying love — a beautiful obsession — with music, with lyrics, and what happens when they come together to make a song. This truth about myself was the only essence that never, ever faltered.
My mind may have temporarily fled, but somehow my singing voice -- and my desire to use it -- never did. Throughout my recovery, I sang, often only to myself, and otherwise in lessons with my beloved voice teacher, Liz, who reminded me often that my singing voice is a direct connection to my heart. As long as my voice was well, I was well too. This powerful lesson, I came to learn, would be the basis for reclaiming the very nature of who I am, and my ability to share it with the world outside of myself.
As my own specific unraveling had transpired in close proximity to a theatrical world — I was working on a show at the time — there was a prolonged period where visiting a theater space created an intense trigger. Stepping foot inside the same venues -- the Broadway houses -- that had once been my sole places of comfort, now felt unsettling and painful. I could not sit still. My legs, pelvis, and torso would shake furiously from within, in a way too painful and physically challenging to control.
Still, the love for what was happening inside those buildings never left me, and my desire to be well enough to return to enjoy it remained. After some time, I was able to reconnect with theater-going, my most beloved passion.
I am reminded of something the great lyricist, Fred Ebb, said in a documentary about his work with John Kander — a documentary that I loved very much as a student. I'll paraphrase it here:
There is something very specific and beautiful that happens when you hear the conductor tap the baton on the podium, and you know it's about to begin, and the sound of the wheel that raises the curtain comes next, and these people who you've never met become other people for a couple of hours, and they take you somewhere you haven't been before, and when it's over they come forward and humbly thank you for letting them take you there, and you applaud to thank them in return, and that specific moment will never happen that way again.
"Simply said," I recall now in the voice of Mr. Ebb, "It just thrills me."
Recently, while watching the perfect revival of "Hello, Dolly!" on Broadway, I felt in every fiber of my body the transforming power of musical theater through the glorious words and music of Jerry Herman, as Dolly — in the person of the Bette Midler on this occasion — declared she will "rejoin the human race," launching, of course, into "Before The Parade Passes By."
"Before it all moves on, and only I'm left," Dolly sings, she will reclaim herself in the world, from inside out, by allowing herself to be freed from the grief that has held her back.
Conjuring my own journey to bring myself back to vivid life in my own way, I cried, quietly and profoundly as the music soared.
"With the rest of them, with the best of them, I can hold my head up high..."
"I've got a goal again. I've got a drive again. I'm gonna feel my heart coming alive again..."
"When the whistles blow, and the cymbals crash, and the sparklers light the sky..."
Those words, that world, the performer, the music, the singular moment. This is the power of the musical theater form in its truest sense -- to connect us, through the emotional impact of music and the intellectual connection to the lyric, to an experience deeply felt in our hearts.
This connection is the through-line of my life. It is the through-line of the lives of so many of my friends and loved ones, and what directly connects us to each other.
The power to bring together and to heal, collectively.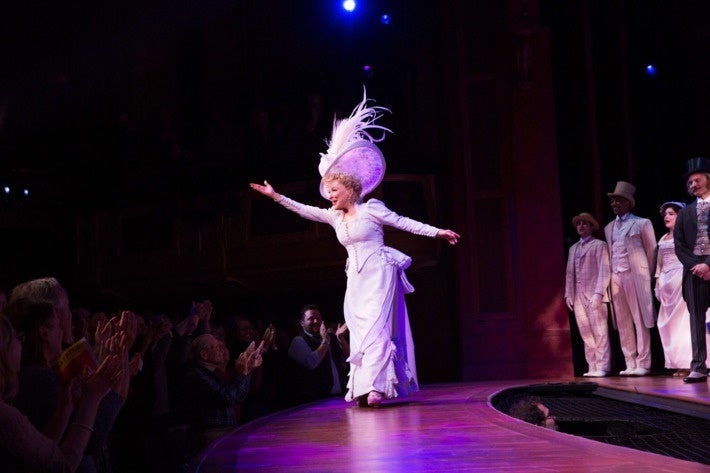 Related
Popular in the Community