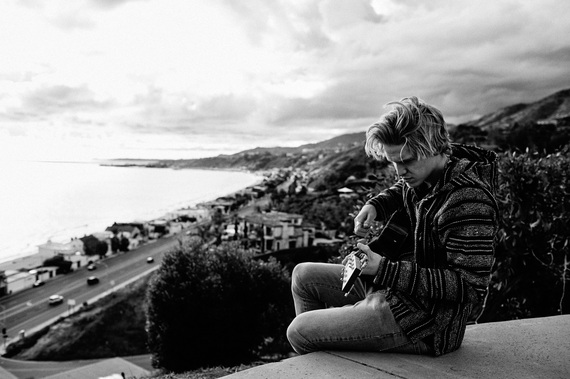 He's become an international sensation. With music fans worldwide, Cody Simpson is the next big star to rise out of social media and yet his music remains underground. Although he rubs elbows with heavyweight friends like Justin Bieber, and has become one of the biggest social media musician stars on the Internet with over 7.5 million Twitter followers, he remains humble.
His mission is to "just make great music" and use his platform to help others. One mission he is passionate about is his work with the organization Movember which is a nonprofit that raises awareness and funds for men's health, specifically prostate cancer, testicular cancer and men's mental health. That's a cause that is close to Simpson.
I had the opportunity to ask Simpson about why Movember is so important to him, his work with the organization, his rise to success and what he does to remain grounded.
What's it like to tour non-stop?
It's been fun. I learn a lot about myself. It's become a vessel for other young people. I'm still growing, learning, trying to get better. It's a priceless education that comes with worldly experience. The kinds of things you learn traveling around the world when you're at an age where you're a sponge of sorts and soaking up every kind of worldly experience, is incredible. I mean, I've lost my voice a couple of times. To recover I sleep a lot, lots of tea and taking vitamins helps me recover. Recently, I've found a nice balance between my private life and my public life. Having enough time to have fun, to do music, to surf.
You're an indie artist now. What's that like not being backed by a traditional label?
I love it. I'm distributing my music. Running the whole shebang independently. It's exciting, keeps me on my feet. I've always been an independent kind of person. I enjoy being able to make all the decisions. To be my own boss creatively, in every aspect.
While other celebrities are focused on yourself, you do a lot of work with charity including Movember. Why them?
It's such an important organization. I do whatever I can. Even if it's something as light-hearted and fun such me trying to grow a mustache to raise awareness for it. I was reading stats that 1 in 2 men will be diagnosed with cancer in their lifetime. I've had friends, such as one of my best friend's dads having to go through chemo. I understand what kind of burden it can be on someone's life and for me to be able to lend a hand to use my platform to speak for people is a real opportunity.
I met the guys that run Movember last year. My road manager, one of my best friends, grew a mustache for me because I can't grow much of one yet. Takes me 6 months to grow one. So anyway, they asked me to be a part of it this year and I'm doing whatever I can to raise awareness.
What have you done to support the organization?
Last year, we went to the offices in L.A. and did the official shave down before the official month. But I'm looking forward to doing a lot more to let people know about it. Cancer can affect every one of us one way or another. And to me, it's not about what you can get out of something, it's about what you can give. It's about figuring out what you stand for. Speaking my mind is important and if that helps organizations like Movember, then I'm more than happy to.
You've gained so much success so fast, how do you handle it all? Do you ever worry about success? Do you ever have doubts?
I still have moments of doubt. Success is great, but it's not everything. As far as happiness, some things can never be quenched by the amount of success or financial gratification. Everyone has those moments of doubt. But it's important to grow all the time. Once I've reached another step, I keep going. Comes with a lot of risk and doubt, but I welcome it. There are things more important than success and working with organizations like Movember have helped me appreciate that.
REAL LIFE. REAL NEWS. REAL VOICES.
Help us tell more of the stories that matter from voices that too often remain unheard.