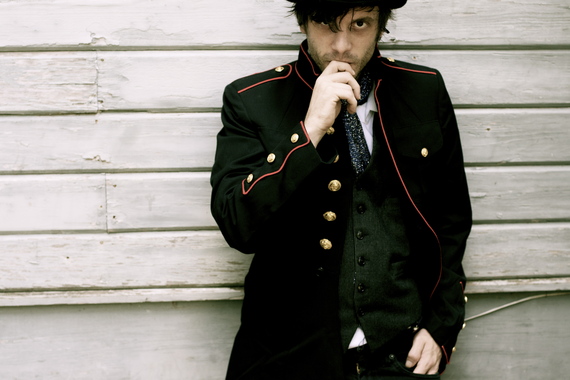 What is it like to be more than an animal? Songwriter and multi-instrumentalist, Mark Stoney, attempts to address this inquiry with his new album. More Than Animals was generated by a muse bug that started a little over a decade ago in Sheffield, a city in South Yorkshire, England. Stoney was about eighteen years old when he bravely took his first self-made record to a local music shop. This is where he first caught the bug. And, like most creative bugs, the bug did not go away.

Stoney's first brush with the promise of grandeur happened in the Sheffield's underground music scene, where he shared the stage with the Arctic Monkeys. As well, many musicians and music experts sung praises on Stoney's behalf; the press and radio applauded him. Even Rick Rubin asked Stoney to meet-up with him in LA to perform a private showcase. But all this recognition was as idle as a painted ship upon a painted ocean, so he moved on to the other side of the world --Austin, Texas.

Texas may conjure up images of conservative, mainstream energies. But, Stoney set up home with a community of poets and painters where the sun could shine on him. His songs pick up the energy of emigrating not only geographically, but also emotionally. To be more than an animal is to have two sides: one being soft and sensitive and the other dark and edgy. Perhaps what he didn't accomplish in the U.K., he might accomplish in the U.S.
The album, which clocks in about forty-five minutes, is poetic. It cohesively portrays the struggle of fighting off the beast that treads close behind. In addition to the beast -- the Albatross hangs around the neck like a curse.More Than Animals is daunting and ends with the same level of trepidation it begins. The only hope is a good dose of penance that might make way for a path of second chances.
When one is more than an animal, the struggle with the dark side can only be defeated with tenderness. And this is what the album is about, the mellow up against the eerie. Songs like "We Belonged" and "Albatross" are compassionately heartfelt while "Devil On My Back" and "The Score" are devilishly menacing.
Stoney is a musician with grit, striving to be different from the herd. In his voice, one can hear the U.K. and the U.S. Most of all, the album is diverse and worthy of the attention that creative bug so desperately wants.
Popular in the Community