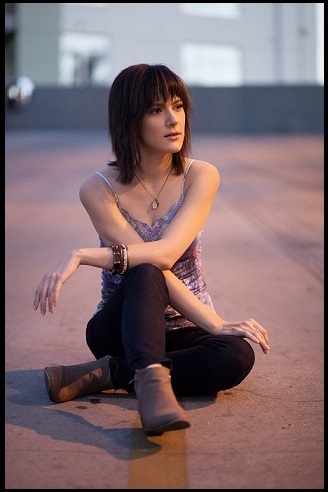 The Chicago-native Sara Niemietz moved to California over a decade ago, and since has starred on Broadway (Carol Burnett's Hollywood Arms), appeared in television and film (Akeelah and the Bee, Glee), released four albums, sang in Times Square before 50,000 people, and spent countless hours honing her craft singing and playing the guitar, bass and piano.
Sara Niemietz Website & Twitter
Photo by Julien Garros.
Sara Niemietz likes to wear hats! Sara's hats are totally different than the ones I wear (my hats are Batman related.) The other difference between Sara and me is that Sara has musical talent!
Sara is also known worldwide as Postmodern Jukebox's striking frontwoman and for her solo YouTube music video releases (her recent Adele cover video has over 8 million views).
Ever since Ellen DeGeneres saw one of Sara's videos and invited her to sing on The Ellen Show, Sara's heartfelt songs and highly interactive approach to social media has garnered millions of video views and over a hundreds of thousands followers and subscribers across various new media platforms.
Please enjoy my interview Sara Niemietz!
You've been singing since you were a tot. At what point in your life did you know that this is what you wanted to do forever?
Music is definitely a "forever" thing for me. Life is full of unknowns, of course, but music is such a constant. My parents are both very musical, so song was kind of a first language for me. From about four years old on, I'd go to local restaurants, school functions - anywhere I could, and sing. Over the years, I've just found new reasons to love it. When I started playing guitar around eleven years old, I just fell further in love with writing and expressing myself through music. My first original song was called "I Love Rabbits and Pokemon."
You've been on tour with Postmodern Jukebox. What's the best and worst thing about being on tour?
I sure am! I'd say there are two "best things." One is being able to perform almost every night in a different city. I love traveling - taking in new sights and sounds and cultures. The other is this band! The PMJ tour band has become a family away from home. I have so much respect for them as musicians, but better yet - they are awesome human beings.
Ellen DeGeneres saw one of your videos and invited you on The Ellen Show. What was your immediate reaction?
I was looking through my inbox and saw an email from a producer at the Ellen Show. It was mixed in among 20% off coupons and random email offers, so it took me a minute to actually go, "Wait a minute! Something is up here!"
After we started corresponding, it moved pretty quickly! Ellen had seen my video and had her team reach out. I think I must have danced around the room for about an hour out of excitement.
When you were 21 years old, you performed Hooked on a Feeling with B. J. Thomas at the Grand Ole Opry. Tell us what went on behind the scenes before and after the show.
The Opry always seemed like the moon to me. I'd heard about it all my life, and it was a magical place, but somewhere I probably wouldn't be able to go. Then, BJ Thomas and I reconnected and he invited me to fly to Nashville to record "Hooked on a Feeling" with him for his new CD. While I was in town, he was scheduled to perform at the Opry and he wanted me to sing my part of our duet from the record. Talk about a dream come true. I did some dancing around the room that day too!
Whenever I go to Nashville, I go a little food crazy. There is so much incredible southern cooking there, not to mention White Castle hamburgers, which we don't have in California and I miss so much from my Illinois days. We got some great food and then ran through the music with the band. I wasn't nervous, just very grateful. It seemed like as soon as the day, had begun it was over. Time really does fly when you're having fun, I guess!
You performed I'm on My Way in the animated Barbie movie Barbie as the Princess and the Pauper. How did you get this gig? Where was the song recorded? Is there any difference in recording a song for a cartoon as opposed to your stint on Glee?
I sang the Barbie song when I was ten years old. As someone who grew up with Barbies it was surreal to sing for the film! I recorded it at a studio in Los Angeles and it was placed in the credits. I do remember my best friend and I dressed up as the main characters for Halloween. That was my first end title placement!
For Glee, I was an onscreen guitarist, so it was a very different gig. The Glee days were long days, as TV shoots often are, but very fun. Again, when you're with kind people doing what you love, it flies by.
Do you consider yourself fashionable?
Perhaps not conventionally so, but I like clothes with a little personality - wacky sweaters, old band shirts, things that look like they have a story to tell. I'm also in love with the 20s and 40s, so I'll break out some vintage inspired dresses on occasion.
Let's take away everything material (like cars, houses, instruments,). What is the most important non-material item in your life?
My family. I know whenever I see them, there's nothing but love and support, which is so inspiring and rejuvenating.
What was it like the first and last time you stepped on a Broadway stage?
When I was cast as a young Carol Burnett in Hollywood Arms, I hadn't done theatre before. The show was directed by Hal Prince and starred some of my favorite actors - and it still blows my mind that I got to work with them! It didn't take long for me to fall in love with New York City and the theatre community there. There is just such an energy and every street seems to be humming with possibility. I'll never forget singing at "Broadway on Broadway" - Time Square's annual Broadway concert. There were 50,000 people in attendance and it is still one of my favorite musical memories.
Our show's cast became like a family. Everyone was very encouraging. I learned so much about theatre, professionalism, and work ethic. Eight shows a week is some serious stuff, but I couldn't dream up a better experience.
I've done lots of theatre since, but the last time I was on a Broadway stage was in that show. Saying goodbye was bittersweet. I was so happy to have been a part of the show and to see what the future would hold, but I knew I'd miss the people.
You write your own music but you also do covers. Which comes more naturally to you? Why?
Writing music comes more naturally. There's nothing so organic as the songs that come from within, for me! I love telling stories, and doing so with music just feels RIGHT.
When I approach covers, it becomes a fun game of how do I comment on this? How do I take what's been written and tell my own story, while honoring the tradition of the music? That's what some of my musical heroes did with the Great American Songbook. Billie Holiday's renditions always get me.
Did you ever take singing lessons?
Yes! I started at seven and still do. In my early teens, I set a goal to warm up my voice every day. It was hard to stay in the practice at first, but now, I can't imagine it any other way!
What advice do you have for children who love to sing and want to sing for a living?
Listen a lot. So much of what I've learned has come from listening to old records, going to shows, and keeping my ears open. Be proactive! It's so important to hone your skills, but you can't exist in a vacuum. So many adventures come about as a result of being on the lookout for new places to sing, other musicians to collaborate with, and just sharing the love of music!
REAL LIFE. REAL NEWS. REAL VOICES.
Help us tell more of the stories that matter from voices that too often remain unheard.