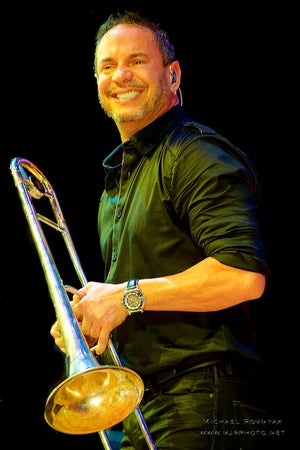 Ozzie Melendez's bags are packed. On this afternoon, Melendez admits he's feeling a bit stressed. He has a long to-do list he must check off before his flight in the morning. For the next month he will be touring Costa Rica and Mexico with Marc Anthony, the best-selling salsa artist of all time.
Melendez is familiar with this pace. For over three decades he has been traveling the world playing trombone for some the biggest stars of all time. During one week this past April, Melendez had to prepare for three gigs with three very different artists.
First, he was in Connecticut with Bernie Williams, the former Major League Baseball player turned Latin jazz musician. Two days later he shared the stage with the legendary Diana Ross for three nights in New York City. He wrapped the week with Marc Anthony in South America.
When Melendez is on stage looking at the sold-out audiences, he says there are times he is overwhelmed.
"It's something I've always dreamed about as a kid," Melendez says. "When I started playing trombone in the fourth grade, I was thinking, 'I would love for one of these days to have whoever is the biggest artist call me to play in their band.'"
In addition to appearing on stage, Melendez has been featured on recordings including multi-platinum albums from Celine Dion, Billy Joel and Jennifer Lopez.
Now Melendez is reversing the roles. He is stepping out of the background and taking center stage in front of the microphone. Recently Melendez released his debut single, "Camaleón." The sexy, pulsating song fuses many musical styles together. Although his fans who only know him as a trombonist may consider singing a new endeavor, Melendez looks at it as somewhat of a comeback.
"I used to have a wedding band," Melendez says. "I always sang the more soulful stuff like Lionel Richie. I loved it. I was a ham."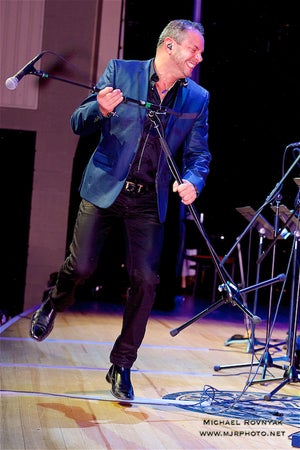 Since 1985, Melendez's vocals have been featured in the Funk Filharmonik, a 12-piece band he co-found. He can also be heard singing backup for rock musician Lita Ford on her 1990 Stiletto album.
Having Melendez sing and record original material was the vision of Aurora Weston. Melendez met Weston over 15 years ago while he was in Mexico playing in singer Emmanuel's orchestra. Weston was looking for musicians to record songs she had written. When she needed a singer who could sing in English, Melendez was recommended. Weston was inspired by what she heard.
"What I have always liked about Ozzie's voice, even in those early years, is not only the color or texture, but the uninterrupted flow of the song and story," Weston says. "I admire his discipline as a person and as a professional."
Weston promised Melendez she was going to get one of his songs on the radio. That day finally came earlier this year when 95.5 in Guadalajara played "Camaleón." To date the song has been played on more than 20 radio stations across Mexico.
Melendez was born in Brooklyn. When he was 5 years old, his family moved to Long Island. Melendez says he was motivated to take trombone lessons when he was 10 years old after seeing his best friend playing the instrument. From the beginning, Melendez says his teachers called him a natural. He's always found that intriguing because from the research he's done, he says there have been no other musicians in his family tree.
Melendez went on to study music at the prestigious Berklee College of Music. Soon after leaving college, he began receiving calls to join bands. Melendez's first big break came when he was hired to do backing vocals and play lead trombone in Willie Colón's band. Melendez says his parents, who grew up listening and dancing to Colón's music, were overjoyed when they learned he would be on stage with their musical hero.
Away from the glaring lights of the stage, Melendez is a father of two grown children. When talking about them, he beams with pride and reveals a very private side of himself.
"I'm a really emotional person. I don't like that," Melendez says. "I can be watching the news and they'll show something really nice like a guy proposing to this girlfriend at a ballgame, and I start to tear up. It's embarrassing. Maybe that comes out in the music."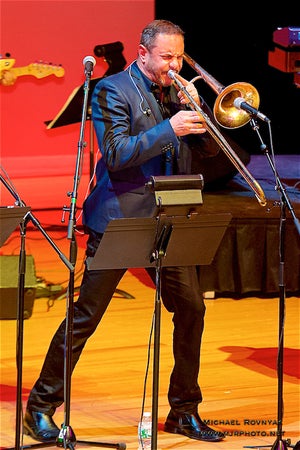 And making music is something Melendez has no plans of stopping. In June he will be playing with Blood, Sweat & Tears, one of his favorite groups. One day he dreams of playing with Chicago.
The single "Camaleón" is just the first song for Melendez as a singer. Others will be released in the near future. Years from now, he says he hopes that like the artists he plays with, he has a fan base that comes out to see him when he's performing. He says what he's achieved so far is more than he ever imagined.
"Did I dream that I would be playing with Billy Joel or even with Diana Ross or Aretha Franklin? I can't say I thought that would happen. I just always wanted to be a working musician," Melendez says.
In spite of all his travels, Long Island still remains home. As Melendez sits in his home recording studio looking out the window, he thinks about the life music has given him. It's then he proves his emotions do, in fact, get the best of him.
"Here come the tears," Melendez says. "Just from playing an instrument that's a piece of pipe, I've been able to sustain my family, put them through college and have a nice house. That makes me proud."
Calling all HuffPost superfans!
Sign up for membership to become a founding member and help shape HuffPost's next chapter