Cristi Catt is a vocal instructor in the Contemporary Improvisation Department at New England Conservatory. She is a highly regarded soloist and chamber musician who specializes in mixing contemporary, folk and medieval music.
Musicians and What They Carry
by Cristi Catt
Musicians have a long history of traveling the world, carrying with them so much more than can fit into a pack. Tunes, traditions, styles, perspectives -- one might think of us as the carriers of a DNA that can both stubbornly endure and spontaneously mutate as we meet other musicians and enter new realms. The Contemporary Improvisation Department (CI) at New England Conservatory is a perfect example -- a place where students and faculty bring their diverse experiences to create community and new music.
I joined NEC's CI Department in 2013, bringing my passion for medieval music, ballad traditions, and collaborating with contemporary composers. Soon after, CI Associate Chair Eden MacAdam Somer invited me to present a lecture-demonstration on medieval composer Hildegard von Bingen (1098-1179). The composer of over 70 songs and one of the earliest known operas, Ordo Virtutum, she was also a prolific author, healer, political activist, and artist who left a rich legacy of music, books, and visual artwork. I am drawn to Hildegard's powerful voice and find a spirit of improvisation and physical abandon in her music that has influenced me greatly, something I carry with me as a performer and teacher.
In 2015, Eden chose Ordo Virtutum as the touchstone for a CI department concert. She invited me to participate as a performer, coach and co-producer. Eden's idea was to explore community and Hildegard's work is a perfect vehicle for this. Written for her own community of cloistered nuns, Ordo Virtutum is an allegory of one woman, Anima, who reaches a crossroads in life. She turns to the Virtues - a band of women who can be thought of as some of the earliest female super heroes, each representing a specific power - Love, Knowledge, Patience, Humility. Together they are an unstoppable force, helping Anima (who represents us all) face her demons.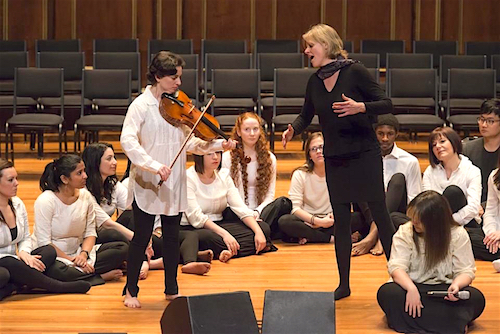 Eden MacAdam Somers, viola and Cristi Catt soprano in Jordan Hall
Photo credit: Andrew Hurlbut/New England Conservatory
For years, I have been experimenting with a shortened version of Hildegard's score that leaves room to adapt the tale to the time, people, and place where a new version can come to life. I find that this piece resonates in a unique way for everyone who encounters it. This was certainly the case with NEC's imaginative reinterpretation that included a Korean exorcism, Tom Waits, new compositions, and shape note singing.
I was eager to see what another community could create. So when Antra Drege, director of the vocal ensemble Putni, invited me to Latvia to teach master classes and help her singers learn Hildegard's notation, I proposed we create a new version of Ordo Virtutum. Our collaboration wove in works from Arvo Part, Marten Jansson, Patricia Van Ness, and Vanessa Lann combined with traditional music for Latvian kokla and Swedish nyckelharpa. Soon, I was on my way to Latvia, pulling one bulging rolling bag, but also bringing memories from the CI Department's production, a composition from that project by CI student Caroline Kuhn, a new work by CI alum James Falzone, and my previous experiences with Ordo Virtutum.
Over the course of eighteen days, our troupe of nine singers and two instrumentalists shaped our program and toured Latvia and Sweden. I returned home without my bulging suitcase, (the airline lost it) but with new music that had come to life and familiar pieces that revealed new contours. I carried gratitude for the kindness of strangers and friends, promises to collaborate on future endeavors, fresh perspectives, and stories I will carry with me forever.
One moment in particular stands out to me, perhaps even more so in light of recent geopolitical tensions in the Baltics... In Latvia, we turned off the highway onto a dirt road and followed it through beautiful woods and farmland for several miles until we came to a sign marked 'Lestene.' There we saw a church, a large cemetery and a few smaller buildings. We entered the church to find it stripped bare except for a few items including the foundation of the altar, which was being rebuilt. After the concert, our host took us to the cemetery and told us the story of Lestene. The village was destroyed during World War II. We walked through the cemetery surrounded by walls listing name after name of the residents who died during the war and subsequent Soviet occupation. We returned to the church and looked at photographs and paintings of a place that is nearly gone. But a group of people remain there, they remember and endure. There is still hope there and they are slowly rebuilding the church.

CI Alum James Falzone's setting of Christian Wiman's poem opens this Ordo Virtutum. I carry this piece connected for me now with memories of Lestene...

My God my bright abyss
Into which all my longing will not go
Once more I come to the edge of all I know
And believing nothing believe in this.
Listen to MY BRIGHT ABYSS here.
Text by Christian Wiman; Music by James Falzone, Cristi Catt, soprano. Live recording, Sofia Church, Stockholm, June 2016

About Cristi Catt
Cristi Catt has performed throughout the U.S. Europe, and South America, and is a founding member of the internationally renowned vocal ensemble Tapestry, winners of the Echo Klassik and Chamber Music America's Recording of the Year. A frequent performer of modern music, she performed Steve Reich's Tehillim with the Colorado Symphony and Cabrillo Festival Orchestra conducted by Marin Alsop, as well as at Jordan Hall conducted by Steven Drury. Recordings include Telarc International, MDG, Erato/Time Warner and numerous independent labels. Catt has served as music director for several productions in the US and abroad and has a long history with the music of Hildegard von Bingen. Gramophone Magazine writes "high soprano Cristi Catt has captured the spirit of Hildegard von Bingen with extraordinary insight."
Popular in the Community