 In honor of National Voter Registration Day today, Dave Matthews Band is releasing an updated edition of the video for their new single "Mercy" with a special message from Dave about voting and includes an embedded link to HeadCount.org's voter registration page. Tuesday's release is part of the first-ever National Voter Registration Day (NVRD) that brings together volunteers, artists, celebrities, organizations and corporations for a single day of coordinated voter registration efforts. NVRD was established to help make voting easier and more universal because in 2008 75 million Americans who were eligible to vote didn't, many because they weren't registered.
Studies have shown that musicians like Dave Matthews who encourage civic engagement and voter registration amongst their fans are doing so at impressively high rates. Furthermore, in the last election voter validation studies confirmed that on Election Day these newly registered music fans turn out and vote in higher than average numbers. This election, because of the confusing voter ID laws that are being proposed in places like Pennsylvania, the willingness of musicians to engage in the work of voter registration is even more admired and their effectiveness much needed.

This is why is it so remarkable that Dave Matthews is not alone in encouraging fans to register to vote. Many other musicians are also lending their efforts to National Voter Registration Day. Chicago punk band Rise Against has posted a message to their website and Facebook pages encouraging fans to register and vote. Michael Franti recorded a video specifically asking his fans and others to make sure they are registered on National Voter Registration Day. Many other musicians are doing similar work.

Perhaps the largest artist effort around voter registration is also the simplest: over 200 musicians, actors, comedians and artists have taken pictures with "Register to Vote" clipboards and on National Voter Registration Day will tweet and post their photos with voter registration links en masse. This effort, organized by HeadCount.org with help from Reverb.org and others, promises to be the largest social media-based voter registration campaign ever.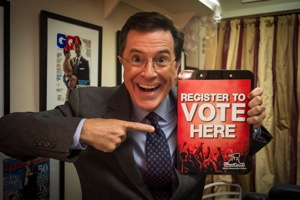 When not rallying against sanity, Stephen Colbert gets behind for voter registration.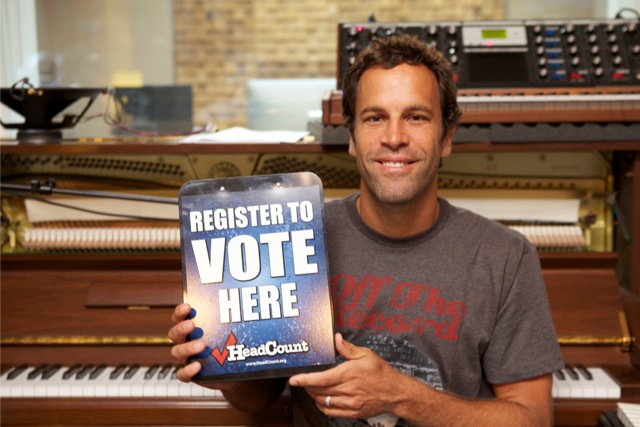 Jack Johnson hosts voter registration at most of his concerts, as well as his action website www.AllAtOnce.Org.
Related
Popular in the Community