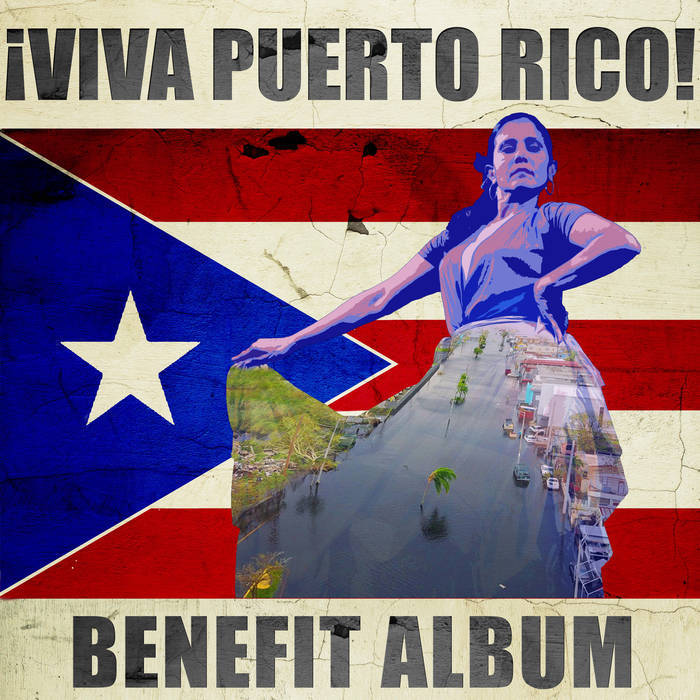 Benefit album for Puerto Rico organized by Taina Asili features DJ Johnny Juice of Public Enemy, Lila Downs, Talib Kweli, Downtown Boys, Hurray for the Riff Raff, Ana Tijoux, Olmeca, Hasan Salaam, and Immortal Technique.
A group of well known Puerto Rican, latinx and black artists released a benefit compilation album today to raise funds for relief efforts following the devastation on the island caused by Hurricane Maria. The album, titled "Viva Puerto Rico," was organized by NY-based Puerto Rican singer and activist Taina Asili, and features nearly 20 rising and renowned musicians including DJ Johnny Juice of Public Enemy (who remixed Asili's song "Sofrito" for the project), Grammy winning singer Lila Downs, hip hop icon Talib Kweli, "America's most exciting punk band" Downtown Boys, and indie stars Hurray for the Riff Raff.
Proceeds from the compilation will go directly to MariaFund.org where one hundred percent of monies raised will be used to support immediate relief, recovery, and equitable rebuilding in Puerto Rico for the communities hit hardest by the storm. The Fund is governed by organizations like Puerto Rico-based Taller Salud, the G8 of Caño Martín Peña, and other local, grassroots organizations.
"Music as a form of resistance and resilience runs deep in our Puerto Rican culture and history," said Taina Asili. "Gathering musicians together to do something to support those rebuilding from the hurricane is an act I take as a continuation of our ancestral legacy."
Taina Asili is known for her politically charged performances and recordings. Her music video "Freedom," was lauded by critics as a "Black Lives Matter" anthem, and her work has been featured in Rolling Stone, Latina Magazine, and HuffPost.
"As a member of Public Enemy, I have contributed to disaster efforts like Katrina and the earthquake in Haiti," said DJ Johnny Juice, "This however is different. As a proud Boricua from the South Bronx, I have family members on the island. The spirit of my ancestors inhabit Borikén. To help rebuild the land of my people is a moral imperative. I thank Taina Asili for allowing me the honor of participating."
The full list of artists on the compilation includes: Ana Tijoux, Cabas, Chancha Via Circuito, Chazmere, Climbing PoeTree, Downtown Boys, Hasan Salaam Ft. Immortal Technique, Hurray for the Riff Raff, Katani, Lah Tere, Krudas Cubensi, Lila Downs, Nomadic Massive, Olmeca, Gina Madrid, Resident Anti-Hero, Reyes, Taina Asili, Talib Kweli, and X-Vandals.
Support HuffPost
The Stakes Have Never Been Higher
Related
Popular in the Community