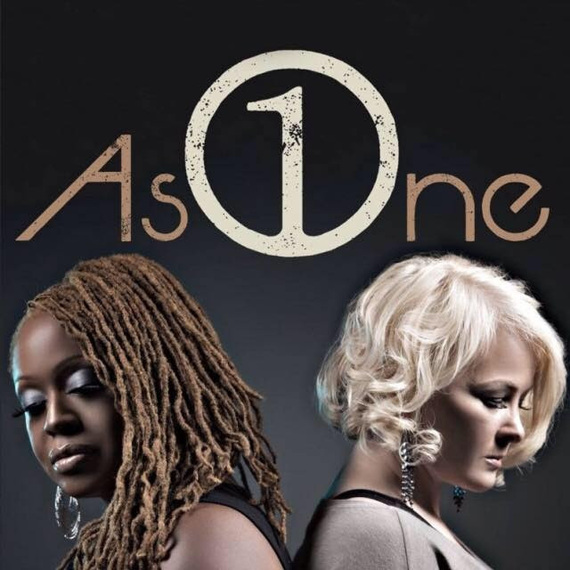 At a time when the nation is being afflicted with very brutal and visible acts of racial tension and discouragement, a new musical act is combating the stigma.
"We aren't a manufactured product of the industry... We united organically," said Teresa Bailey, 37, of the formation of AsOne -- the music industry's first-ever interracial female duo.
Bailey is a longtime black musician who has done music for some of your favorite film/TV shows, while also providing background vocals for big names like Chaka Khan, Queen Latifah, Jennifer Hudson and more.
The proud Berklee College of Music alumna is accompanied by the revered white Nashville gospel singer/songwriter, Lisa Wright.
"Racial unity and harmony serves as the overarching message from our music," Wright, 47, said of her driving point behind their self-titled debut album that recently have spent back-to-back weeks at number one on the Billboard Top Inspirational Albums chart.
An album that has been three years in the making finally found its jolt during a time when the national arguably needed it the most.
"When Ferguson happened last year, we ultimately went back to the studio and wrote new songs for the project... That moment spoke to us," Bailey said. "It was time for a divine coming together and this album represented that."
Such a divine intervention led the project from the start. Bailey and Wright met after the former won a songwriting contest the Gospel Music Association's prolific IMMERSE Conference. Wright had already been working with a manager that would later be the judge for Bailey in a contest performance that impressed him enough to request the two to meet.
"We met that same night and wrote several songs together on the spot.. The chemistry was totally there," Wright said of the first time the duo interacted.
Two weeks after that, they were signed by a label and set off to work on their debut album. The duo says that it has been a "grassroots" effort to get their music out there due to the "unique collaboration of their sounds and image."
"Some radio stations and industry insiders try to put us in a box," Bailey says. "They find it hard defining us to the point that we have often faced push back on airplay."
"Either they consider us too white for gospel soul or too black for Christian contemporary," Wright says of the excuses they hear from the industry. "But we refuse to change our authenticity as a result."
Their sound is an infusion of R&B, gospel, and pop influences. Musically, the duo is motivated by the work of Jonny Lang, Jonathan McRenolds and Mali Music as standouts.
It was this broad appeal that has allowed AsOne to work with a more diverse management that help them earn special guest appearances on programs such as The Donnie McClurkin Show, The Nightly Spirit with Willie Moore, Jr., and The Yolanda Adams Morning Show.
It was these pivotal moments in their career that they believed gave them the "proper understanding" necessary to help push their "platform of speaking to racial unity and equality."
"Our grassroots push of proactively taking our music wherever people are willing to accept it has been working," Wright says proudly of their coast-to-coast traveling. "When people actually see the love that we have as a unit in the studio...all bias and separation for our music dissolve."
Their debut self-titled album was released last month and has received standout critical acclaim for a duo that has no prior solo industry releases within their past musical experience. They co-wrote the entire album while having it be produced by Stellar Award-winning producer Paul Wright lll who have worked with the likes of Fred Hammond and Hezekiah Walker.
When they are not promoting their music, the two are teaching their separate families about what "racial equality and harmony is all about."
"We have so much in common outside the differences in our skin color," Bailey said of them both being married and having their own individual trio of children. "Our music reflects that we can do such much more together than divided."
"If anything, we hope listeners will judge our music by the content of the sound...and not by the cover," Wright added in reference to the artwork depicting the interracial pair side by side.
As their sales and visibility gain traction, the duo has been enjoying "the blessings of their labor of love." Once only receiving small gospel venues to promote and perform their music, they have now gotten booked on national networks and stations such as TV & Radio One.

But despite the newfound fame, AsOne emphasizes that they remain truly faithful and humbled by the experience and will continue to "take a stand."
"As the first female interracial duo in music, we aren't afraid of being trailblazers," Wright said.
"If anything, this proves that music is ready when the world is of what equality and faith can do," Bailey adds.
Hopefully the world listens, for their sound has come a time where we need it the most.
Popular in the Community