THE SONGWRITERS HALL OF FAME HAS COME OF AGE
The Songwriters Hall of Fame Induction ceremony and dinner is one of music's greatest nights all year, yet has been off the radar for much of the general public for years. Unlike the Grammys, MTV Awards, American Music Awards it is a warm and cozy night honoring those who create the brick and mortal foundation of MUSIC itself- the song.
The membership of the hall of fame foundation consists of songwriters, publishers, producers, and those that bring music to the ears and playlists of the world. Yet this year with tickets selling out early, marks a turning point for The Songwriters Hall of Fame.
The class of 2017 inductees includes Jay Z, Max Martin, Kenneth "Babyface" Edmonds, Berry Gordy who is the founder of Motown Records who created the "Motown sound", Robert Lamm and James Pankow who are the group Chicago's principle songwriters, and the superstar production team of Jimmy Jam & Terry Lewis. On hand to receive "honoree" awards are superstar Ed Sheeran, Pitbull, and longtime publisher and caretaker of many of the world's most beloved songs Caroline Bienstock .
Add in award presenters including Jon Bon Jovi, Usher, mega manager Irving Azoff, Benny Blanco, Whoopi Goldberg and many others this makes the Songwriting Hall of Fame induction dinner THE hottest ticket, and music's hottest summer night in New York. This array of stellar talent takes the Songwriters Hall of Fame to a new level in my opinion alongside the Grammys.
I have been a lifetime member of Songwriters Hall of Fame for several years now, and have had many memorable moments.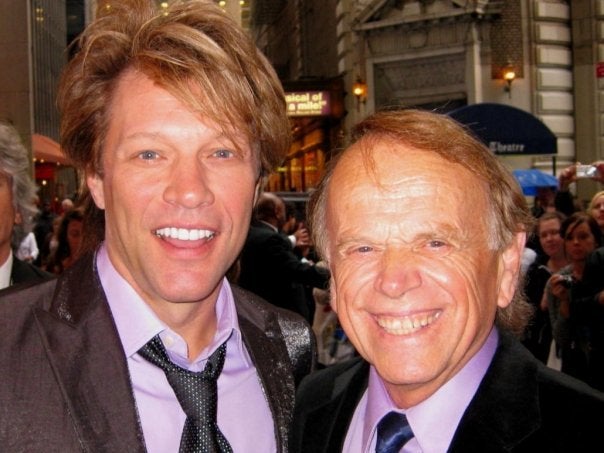 The time James Brown was announced from the stage, and his band struck the opening riffs to "I Feel Good." I went in the hallway to use the bathroom and was taken by surprise to find Mr. Brown, who was supposed to be onstage, in front of the mirror of the general public bathroom primping and priming his hair and makeup all by himself. I gently tried to pursuade Mr. Brown that indeed he was on. His band was already playing that famous groove to "I Feel Good" and band members were looking around to see where he was. JB casually told me in third person "when James Brown feels good and ready he'll come on." Frantic production folks with headsets were combing the halls, and I told someone exactly where to find the star. About 3-5 minutes after the band started, Mr. Brown took to the stage and in true icon form- just swaggered right into the perfect move and note with a yelp and split as he swung the mic stand and sang I feel good, (nananana,) like I knew that I would (nananana).
Or, the time Crosby, Still, and Nash were being inducted. I have worked with many Grammy winning artists including members of The Beach Boys since the early 1990's. I took Beach Boy Al Jardine, and we were seated at inductee David Crosby's table, next to Stephen Stills and Graham Nash's tables. Mr. Jardine and CSNY have long been friends and toured together since 1960's, with Neil, Stephen, and David having sung on Al Jardine's brilliant, critically acclaimed, yet under appreciated solo album "A Postcard from California." I grew up listening to CSN and Y so was in awe of my surroundings when Graham came over to the table. Al asked something to the effect of "why wouldn't you return my calls to come sing on my solo album when Neil, David, and Stephen all lend their voices?" Mr. Nash and Jardine almost erupted into a fistfight when Graham mistook Al's first voice mail message invitation as a way of getting the CSNY "brand" on his album for exploitation purposes, rather than musical. I had to come between them and gently say "Al sometimes says one thing when he really means another. He loves your voice and would have been honored to have you sing." Fistfight averted and Graham Nash's email went in my Tuxedo jacket for some possible future recording collaboration between them.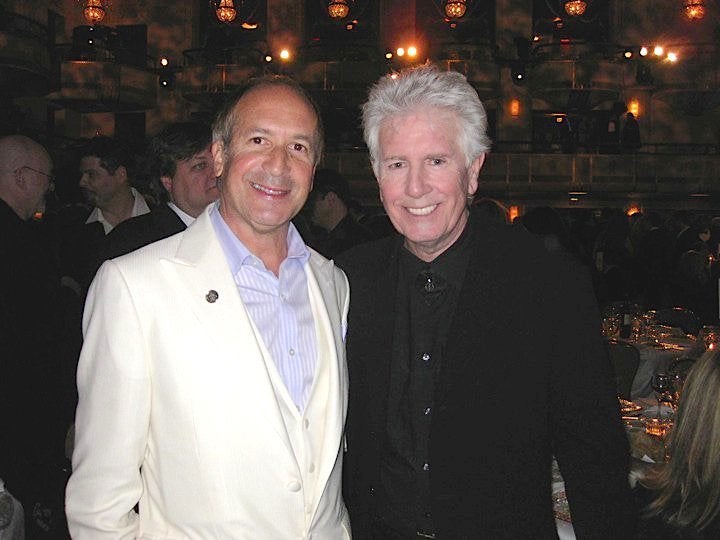 Such is the wild unexpected FUN, of the Songwriters Hall of Fame night. Anything can happen. Guests of guests mingle with stars.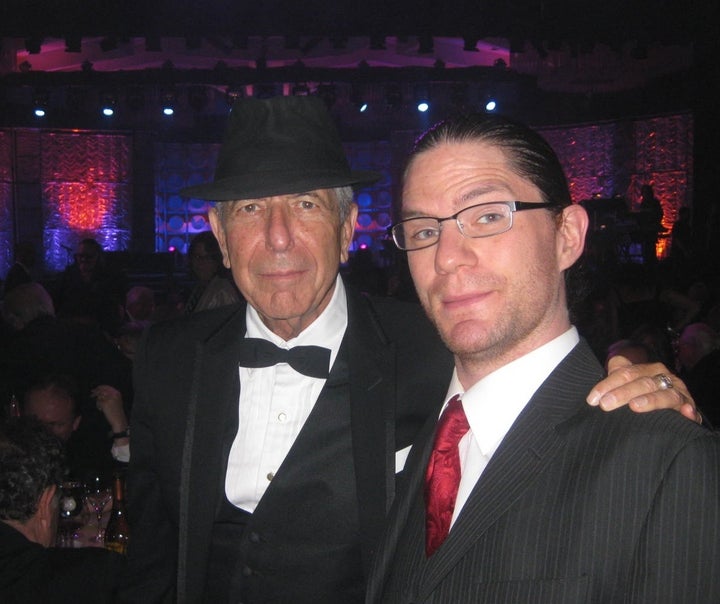 Inductee Leonard Cohen with my guest Bryan Kane of Bone Gunn
Stars mingle for selfies with guests and everyone has a more comfortable time than at most other award ceremonies. This is because in my opinion the song, and its creator is the star of the night and not just the celebrity who brings it to fame. Sometimes they merge as in the case of Robert Lamm and James Pankow of Chicago, and Jay Z, but often it can be someone unknown to casual music fans.
The inductee's are selected by the Songwriters Hall of Fame membership consisting mostly of their peers much in the way the SAG Awards are chosen by fellow actors. A select committee of highly respected industry professionals elect the "honoree" list. The highest award of the evening is called the Johnny Mercer Award. This year's recipient is Alan Menken who is already an inductee. Mr. Menken has won 11 Grammys, 8 Academy Awards, and a Tony award. More total awards than any living person.
This year's lineup is as diverse, as it is stellar. I can't wait to share more stories after the June 15th induction dinner in New York.
Popular in the Community