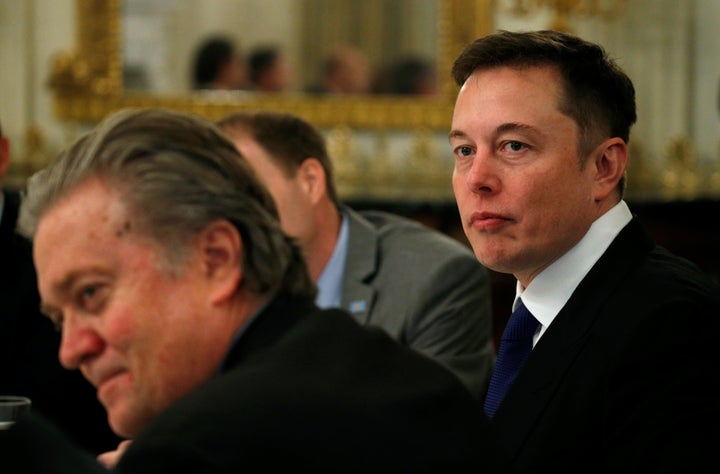 Progressives bristled when Elon Musk, a purported leader of the green movement, associated himself with President Donald Trump by joining two advisory councils. After all, as a presidential candidate, Trump had claimed global warming was a hoax perpetrated by the Chinese government.
When Trump announced on June 1st that the United States would withdraw from the Paris climate accord, Musk, the guru behind green companies Tesla Motors and SolarCity, resigned from the advisory councils. "Climate change is real," Musk wrote in a tweet. "Leaving Paris is not good for America or the world."
For standing up to Trump, progressives applauded Musk, who regained his liberal bona fides. Or so it seemed. In fact, another problem looms for Musk that could have a much more devastating effect on his image, for while Musk is good on most leftist issues he has not always been good to the employees who work for him.
Consider a report issued in May from Worksafe, a California-based organization devoted to reducing workplace hazards. Based on figures obtained from the Occupational Safety and Health Administration, a federal agency, Worksafe made some startling conclusions about conditions in Tesla's Fremont, California, plant, which employs some 5,000 people. "Tesla's total recordable incidence rate in 2015 was 31 percent higher than the industry-wide incident rate," the report stated, noting there were 8.8 injuries per 100 workers. More troubling, "the rate of serious injuries at [the] plant ― those that result in days away from work, restricted duty, or job transfer ― was approximately double the industry rate for 2015." Tesla is nonunion; Musk has resisted efforts to unionize.
That same month, The Guardian published an alarming article detailing Tesla workers laboring under "grueling pressure ― which they attribute to Musk's aggressive production goals." According to The Guardian, "Ambulances have been called more than 100 times since 2014 for workers experiencing fainting spells, dizziness, seizures, abnormal breathing and chest pains…. Hundreds more were called for injuries and other medical issues."
Firsthand worker accounts were harrowing. One worker recalled a scene all-too-common at Tesla: "I've seen people pass out, hit the floor like a pancake and smash their face open. They just send us to work around him while he's still lying on the floor." Another said: "We had an associate on my line, he just kept working, kept working, kept working, next thing you know ― he just fell on the ground." Yet another, Michael Sanchez, disabled with two herniated discs, described what it was like working while injured: "You can make it through Monday. You can make it through Tuesday. Come Wednesday, you start to feel something. Thursday is pain. Friday is agonizing. Saturday you're just making it through the day."
The current controversy about labor practices started in February when Jose Moran, a Tesla employee for four years, wrote a blogpost on Medium that attracted national attention. "I'm proud to be part of a team that is bringing green cars to the masses," Moran began. "However, I often feel like I am working for a company of the future under working conditions of the past...  Most of my… coworkers work well over 40 hours a week, including excessive mandatory overtime. The hard, manual labor we put in to make Tesla successful is done at great risk to our bodies... Preventable injuries happen often... A few months ago, six out of eight people in my work team were out on medical leave at the same time due to various work-related injuries." Moran revealed that he had put in 60 to 70 hours a week for the four years he worked at Tesla.
Subpar working conditions produce subpar results, which explains why, some observers contend, Consumer Reports placed Tesla 25th out of 29 brands in 2016. But workers at Tesla should not point out flaws to management, or there will be consequences, according to Cristina Balan, a former Tesla employee who became concerned about the company's quality standards. "I wanted to alert Elon," Balan told The New Yorker in January, "without lawyers or V.P.s present, that his company was in trouble. People are afraid of losing their jobs if they speak up and this will get worse as they try to mass-produce automobiles in a company that isn't ready to do that."
The magazine reported "Balan says she was demoted, harassed, and ultimately forced to quit" because she spoke up about "shoddy workmanship," though "Tesla denies that Balan was forced to quit over the issues she raised." On June 26, the matter will come before a judge in an arbitration hearing in San Francisco.
REAL LIFE. REAL NEWS. REAL VOICES.
Help us tell more of the stories that matter from voices that too often remain unheard.