Religious discrimination is an ordinary occurrence for the majority of Muslim Americans, and President Donald Trump's election has spread fear throughout portions of the community, according to a nationwide poll released Tuesday.
The Institute for Social Policy and Understanding think tank surveyed 800 Muslims from Jan. 4 to 23 for a wide-ranging look at the particular struggles they face. The report, "American Muslim Poll 2017: Muslims at the Crossroads," compared their responses with those of people of other faiths and the U.S. population at large.
Sixty percent of Muslims reported personally experiencing religious discrimination in the past year, compared with 17 percent of the general population. Forty-two percent said their kids had experienced bullying in the previous year.
The new administration loomed large in Muslims' responses. More than a third said they feared for their own or their family's safety from hate groups in the wake of the election. A smaller number of Muslims said that since the election they had made preparations to leave the country if needed, changed their appearance to be less obvious as Muslim or signed up for a self-defense class.
A rash of hateful comments and actions directed at Muslims following the Nov. 8 presidential election has perpetuated that fear, Council on American-Islamic Relations spokeswoman Zainab Chaudry said at a panel announcing the report.
"We saw that taper off after the first couple weeks after the election," Chaudry said, but "the concern, the anxiety and fear, is still very real."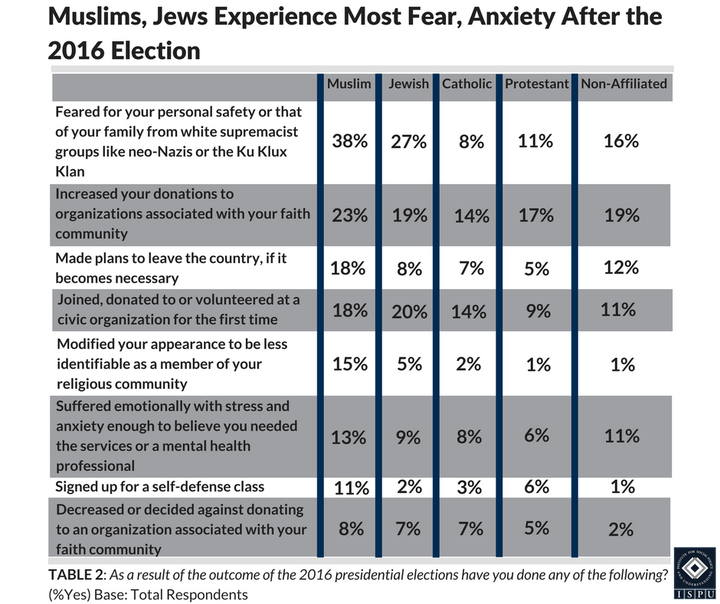 "There's been more than 15 years of propaganda, miseducation campaigns, to convince the American public that Islam is inherently evil and violent and that Muslims should be associated with terrorism and fear in their communities," Charles Haynes, founding director of the Newseum Institute's Religious Freedom Center, said Tuesday.
"Even in the corridors of power now, this narrative, this propaganda which used to be on the fringe has moved into the center, and it's now mainstream," Haynes added.
Only 15 percent of Muslims favored Trump in the election, according to the survey. Just over half supported Democratic presidential nominee Hillary Clinton, and nearly a third didn't support either candidate.
Muslims are the most racially diverse religious group among those surveyed, according to ISPU, with no one race holding a majority. Half of American Muslims were born in other countries.
ISPU hopes its findings will give the public and policymakers a better understanding of a group often overlooked by pollsters and stereotyped by pundits.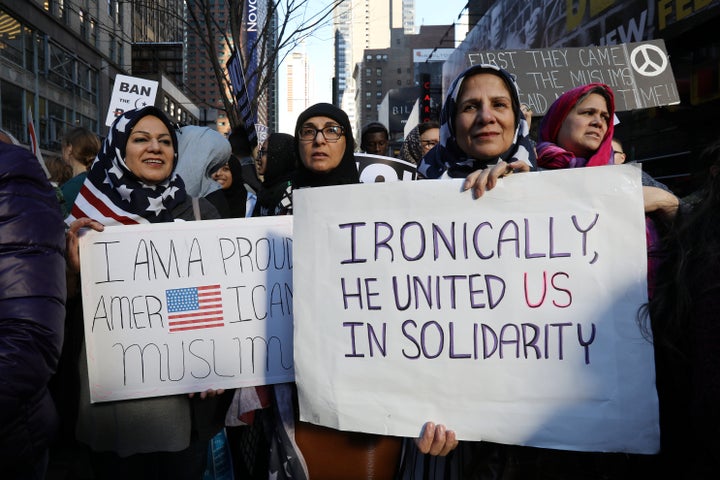 While the experts discussing the report Tuesday constantly referred to the precarious situation for Muslims under Trump's administration, they also pointed to some bright spots, including a wave of support from allies and increased community activism. Nearly a fifth of Muslims reported getting involved with civic organizations for the first time after the election.
The political climate and Trump's executive orders targeting some Muslims have actually brought out the best of the community, Chaudry argued.
"We're seeing young folks step up to the podium," she said. "They're saying that we're not going to be silent bystanders. We're not going to allow our religion to be hijacked. We're going to make sure that we shape our own narrative."
For the institute's report, research firm SSRS surveyed 800 Muslims and 340 Jews by cell phone, landline and online panel. Triton Polling conducted a poll of the general public, interviewing 1,250 people by phone to examine the views of Protestants, Catholics and people who weren't affiliated with a religious group. The responses from the two separate surveys can be accurately compared because each captured a representative sample of its target populations, according to SSRS chief methodologist and executive vice president David Dutwin. The margin of error for the SSRS poll is plus or minus 5.1 percentage points for Muslim respondents and 6.5 percentage points for Jewish respondents, and the Triton poll included a margin of error of plus or minus 2.8 points.
Before You Go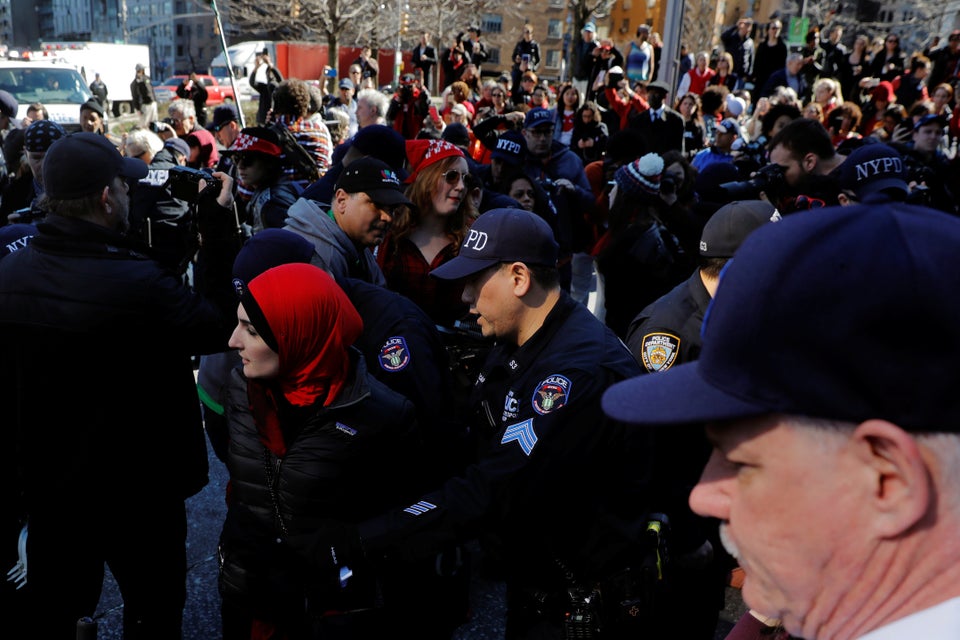 Muslim Women Protesting Around The World
Popular in the Community