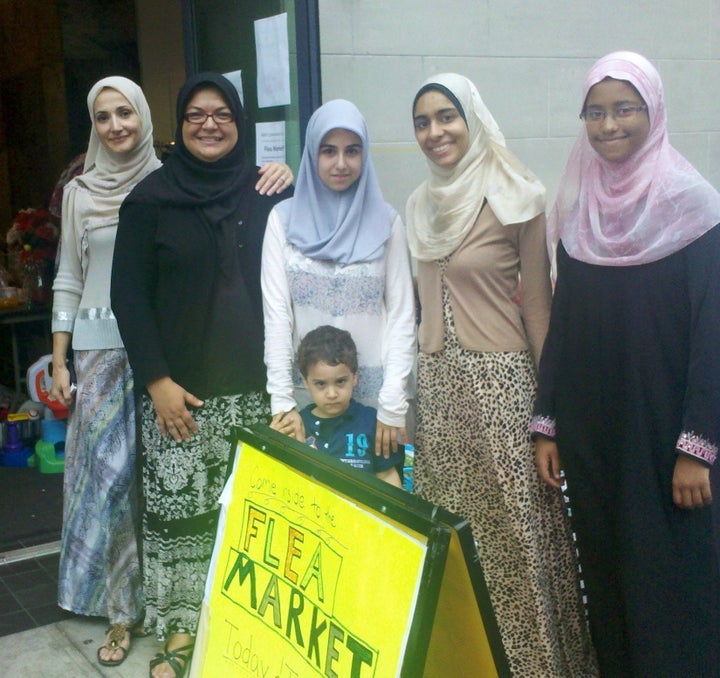 Editor's note: Every week, HuffPost Religion shines a spotlight on religious people doing good work in their communities. If you would like to recommend a faith-inspired organization, initiative or person in your community, send an email to religion@huffingtonpost.com or tweet to @huffpostrelig using the hashtag #faithinspires.

On a hot weekend in July, Muslim women were hard at work operating a flea market to raise funds for fall programming at their Muslim American Society community center in Astoria, N.Y.
The flea market sold an eclectic array of second hand possessions including clothing, household goods and entertainment items. Hosted during the Islamic month of Ramadan, flea market volunteers expressed some fatigue from fasting in the heat but the overall atmosphere was joyful.
The flea market serves as community fundraiser where proceeds are donated to the center that offers programs in education, community service and youth development.
Community center administrative director Sadete Mujovic told The Huffington Post, "We sold most of the items and did very well. People who bought things ended up making donations too."
The flea market had a dual purpose because community members found out about the programs as they shopped. Through the event, Mujovic fielded new suggestions for how to structure and schedule upcoming programs.
While the center offers a variety of programs, Mujovic is in charge of the women's fitness and health programs which range from Pilates classes to health awareness courses about various issues like diabetes. One notable event is a youth program called Friday Night Live, where young people gather for lectures on different topics in Islam and society. A recent topic from Friday Night Live was how young teens can increase their confidence.
Astoria is home to ethnic groups like Italians and Greeks. Ahmed Jamil, president of the community center, told the Times Ledger when the center opened its doors in February 2012 that the center's focus is to "lift up the individual, family and society for every New Yorker -- both Muslim and non-Muslim alike."
Diverse passerby stopped by the market set up near two Mosques that are walking distance of community center just south of 25th Avenue in Astoria. Speaking about the market's deeper purpose to connect Astoria residents, Mujovic told The Huffington Post, "We are from different parts of the world. We are believers of different religions but we are one entity."
The center is a branch of Muslim American Society (MAS), which is a nationwide nonprofit, religious, social and cultural organization. According to their website, MAS's mission is to move people to strive for God-consciousness, liberty and justice, and to convey Islam with utmost clarity.
Now, we want to hear from you! Who's making a positive impact in your community? Let us know by sending an e-mail to religion@huffingtonpost.com or tweeting to@huffpostrelig with the hashtag #faithinspires.

Calling all HuffPost superfans!
Sign up for membership to become a founding member and help shape HuffPost's next chapter
BEFORE YOU GO