A new report by Pew Research Center shows that U.S. Muslims feel unsure of their place in society, face increasing discrimination and are dissatisfied with the president.
But optimism remains. The vast majority of Muslim Americans are proud of their religious and national identity. And a growing number say they've received statements of support from fellow Americans in the midst of an Islamophobic climate.
Between January and May of this year, Pew interviewed roughly 1,000 Muslim adults living in the U.S. The survey found that a majority of Muslim Americans feel on edge about Trump's presidency and aren't confident that other Americans accept Islam as part of the national fabric.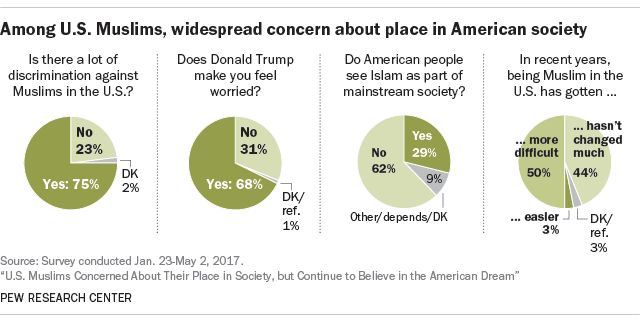 Just 12 percent of Muslims say Trump is friendly toward members of their faith, compared to 64 percent who said the same of President Obama in 2011.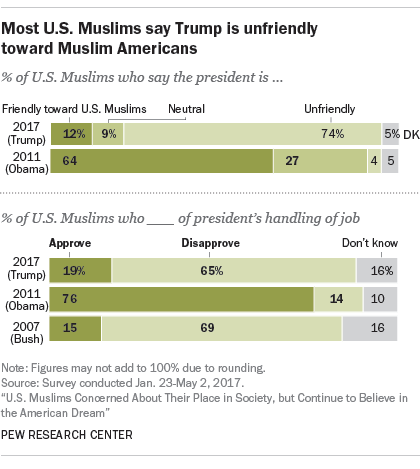 Roughly a third of Muslims say they have been treated with suspicion over the past year because of their religion. Roughly one in five say they have been called offensive names or profiled by airport security, and ten percent report being singled out by other law enforcement officials. Of those surveyed, six percent say they have been physically threatened or attacked.
Overall, almost half of Muslim Americans ― 48 percent ― say they have experienced at least one of these forms of discrimination over the past 12 months. That number has risen slightly from when Pew asked the same question in 2011 and 2007.
"I'd say it's been increasingly difficult," one man said of his experience being Muslim in the U.S. in an interview with Pew. "People like the alt-right or ultraconservative Trump supporters now have a larger voice that was suppressed just years ago, and now they're really allowed to make heard what they think about Muslims and minorities in general. So it's a lot of tensions have been rising and fears that we're going backward."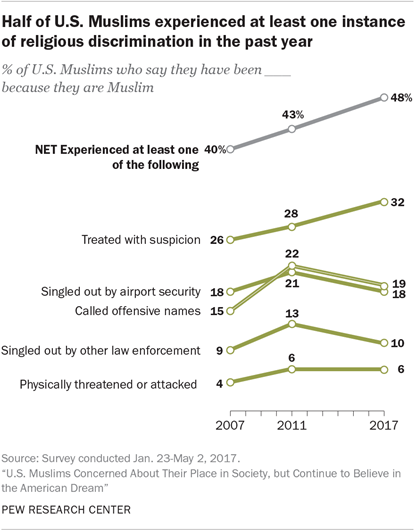 Pew also found that Muslims whose appearance identifies them as members of the faith report more experiences of discrimination than those who aren't recognizably Muslim.
Thirty-eight percent of Muslims – including almost half of Muslim women – say that their appearance, voice or clothing might make others perceive them as Muslim. Within that group, sixty-four percent say they have experienced at least one of the specified types of discrimination, compared to thirty-nine percent of those who do not have a distinctively Muslim appearance.
Though Muslims increasingly report experiences of discrimination, they also say they've received greater amounts of support from fellow Americans. Nearly half of Muslim Americans say someone has expressed support for them because of their faith in the past year, up from 37 percent in 2011 and 32 percent in 2007.
And despite the challenges of being Muslim in the U.S., Muslim Americans on the whole are proud of their religious and national identities. Pew found that 97 percent of those surveyed say they are proud to be Muslim. Ninety-two percent say they are proud to be an American, and 89 percent overall say they're proud of both identities.
As one woman told Pew: "What I have in common with most Americans is a dedication to this country. We also have in common our shared humanity. … We're all struggling to earn, pay our taxes and raise our kids."
REAL LIFE. REAL NEWS. REAL VOICES.
Help us tell more of the stories that matter from voices that too often remain unheard.
BEFORE YOU GO
PHOTO GALLERY
Muslims Of America