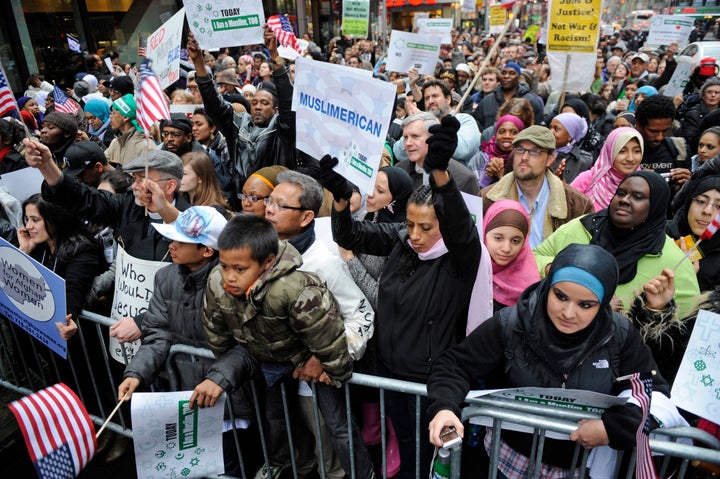 WASHINGTON -- Members of the Muslim community on Wednesday denounced hearings scheduled by Rep. Peter King (R-N.Y) on the radicalization of American Muslims. The controversial House Homeland Security Committee hearing is scheduled for Thursday.
"Representative King's two main allegations -- that American Muslims do not cooperate with law enforcement, and that 80 to 85 percent of their leadership are 'extremists' -- are demonstrably false," said Council on American-Islamic Relations' Nihad Awad. Top law enforcement officials such as FBI Director Robert Mueller and Los Angeles Sheriff Lee Baca, commander of the nation's largest sheriff's department, have reported Muslims support and cooperate with law enforcement, Awad noted.
King has called Muslims "part of the mosaic" of America and argued they shouldn't feel threatened or intimidated by his line of inquiry. But many fear that King is on a witch hunt, comparing the chair of the House Homeland Security Committee to Joseph McCarthy, and hundreds of Muslim Americans gathered in New York City this weekend in protest of the hearings.
Alejandro Beutel, policy analyst at the Muslim Public Affairs Council in Washington, has been tracking terrorist incidents since the 9/11 attacks and said that while the problem of the radicalization of young Muslims is real, broad-brushing an entire community will only handicap the fight to prevent extremism, which depends on the cooperation of citizens unafraid to contact authorities.
At a press conference held Wednesday at the National Press Club, Mohammad Dawood of the Muslim American Society agreed:
"We are concerned that the hearings called by Representative Peter King will not uncover new information about criminality or radicalism in America. Nor will the hearings in their current form examine the presence ... of the groups that openly espouse the overthrow of the government ... rather these proceedings will give voice to people with clear agendas against the very religion of Islam and those who have made a cottage industry out of the demonization of the entire religious community."
Shahid Buttar, executive director of the Bill of Rights Defense Committee, argued the hearings constitute not just a crisis confronting the American Muslim community, but a crisis confronting the United States.
"The freedoms to belief, to speech, to associate, these are fundamental -- they're in the First Amendment for a reason," Buttar told reporters on Wednesday. "These are integral not just to any community's opportunity to participate in our society, they're integral to our society as a whole," he added. "And when we compromise them for any given community, it sets a precedent that opens the door to more."
Popular in the Community