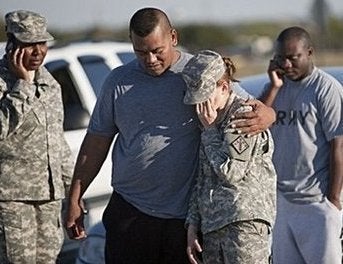 Arab and Muslim political groups are bracing themselves for a wave of anger and attacks after news broke on Thursday that the primary suspect behind the shooting deaths of twelve soldiers at Fort Hood had a Arabic and/or Muslim-sounding name.
Major Nidal Malik Hasan, a native of Virginia, is believed to have been responsible for opening fire on his fellow soldiers at the U.S. Army base.
It was not immediately clear whether Nidal Malik Hasan was, in fact, a Muslim, though reports surfaced that he had converted to the religion late in life. Late on Thursday a family member revealed that he had been a life-long Muslim.
By then, nevertheless, Arab-American and Muslim-American advocacy organizations were already readying themselves for a backlash. The Arab-American Institute said it received one threatening call from an unidentified male shortly after reports surfaced that the name of the alleged shooting suspect was Nidal Malik Hasan. The group, which condemned the massacre, said it was expecting more.
"We like to give people the benefit of the doubt and chalk it up to being a reactionary thing," said Leigh O'Neill, director of government relations for the organization. "But there is a lot of hate out there and hate is hate. It is bipartisan and doesn't have geographic balance. We feel terrible for the victims today. And I wish people will understand when crime is crime and terrorism is terrorism."
The Council on American-Islamic Relations, a civil liberties organization for American Muslims, was, meanwhile, working fast to get ahead of a potential rise in anti-Muslim sentiment. The group was set to host a press conference at 8 p.m. on Thursday evening to condemn the attacks and "urge calm" in the aftermath of the shooting.
Ibrahim Hooper, the group's communications director, told the Huffington Post that they had not, as of 6:30 p.m. received any threatening calls, emails or other communiqués. The organization, he said, would be announcing publicly any such threats as they occurred - in hopes of dissuading people from making them in the first place.
At this juncture, it was believed that Nidal Malik Hasan was suffering from intense stress over a pending re-deployment overseas. He had been serving, ironically, in the Department of Psychology at the Center for the Study of Traumatic Stress at the Bethesda Naval Facility in Bethesda, Maryland. He is believed to be 39 or 40 years old.

Popular in the Community