NEW YORK ― Rama Issa-Ibrahim says she and her fiance had planned to get married in the next few months. Not anymore.
The Trump administration on Thursday night began enforcing travel restrictions, days after the Supreme Court partially reinstated President Donald Trump's ban on travel and immigration by citizens of six majority-Muslim countries: Libya, Somalia, Iran, Yemen, Sudan, and Syria. 
Issa-Ibrahim, 29, said she has a lot of extended family members who are Syrian nationals. Some are still in war-torn Syria, and there's a cousin in Lebanon, and another cousin living as a refugee in Austria.
Issa-Ibrahim said she worried that the return of the ban would block all of these family members from coming to America for her wedding, or that they would be detained or deported if they tried.
She doesn't want to get married without them, so she and her fiance have decided to put the wedding on hold. 
"What makes me most upset is that this administration is really redefining what family means," Issa-Ibrahim, who works as executive director of the Arab-American Association of New York, told a crowd of protesters Thursday in Manhattan's Union Square.
The federal government, she said, shouldn't have "the right to say who should be part of your family."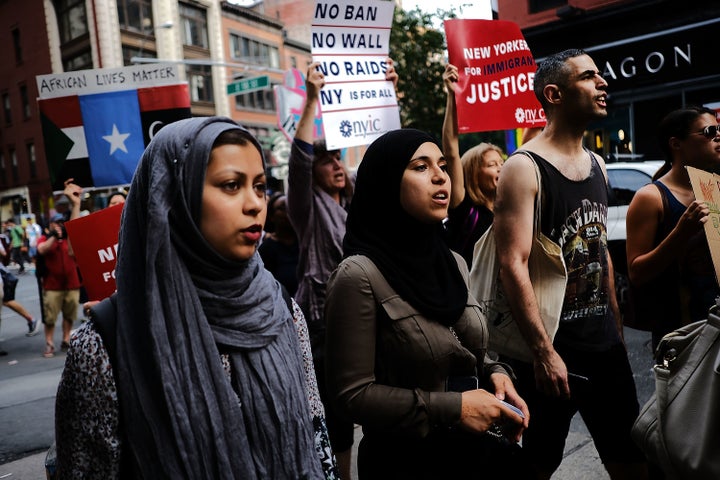 In its unsigned order this week, the Supreme Court stipulated that Trump's ban could be implemented while the court considers an appeal, but that it wouldn't apply to individuals "who have a credible claim of a bona fide relationship with a person or entity in the United States."
Trump's State Department sent a memo Wednesday night to American embassies interpreting "bona fide relationship" as excluding "grandparents, grandchildren, aunts, uncles, nieces, nephews, cousins, brothers-in-law and sisters-in-law, fiancés, and any other 'extended' family members" from coming to the U.S. 
Widad Hassan, a 28-year-old Yemeni American graduate student from Brooklyn, also showed up at the Union Square protest, where hundreds held "NO BAN" signs and chanted, "Say it loud! Say it clear! Immigrants are welcome here!"
"I do have a grandmother who is in Yemen right now, and I personally can't do anything for her," Hassan said. "I know people in the community who have been devastated because they've been petitioning for extended family members ― grandparents, nephews, nieces ― [to come to the U.S.] and they can't do anything for them at this point."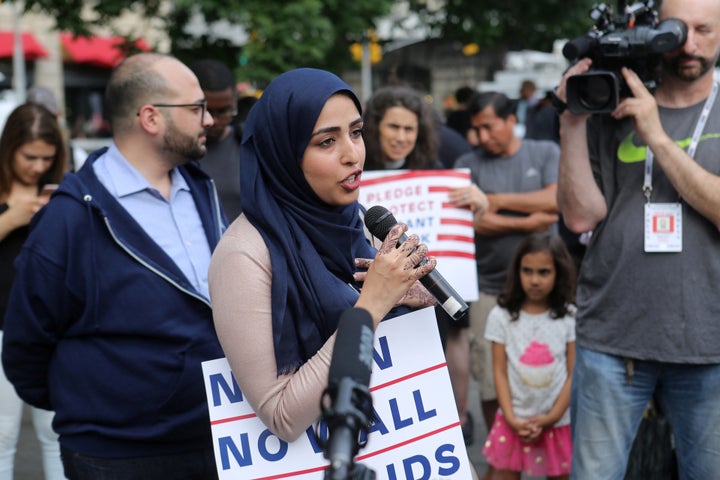 It's frustrating, she added, for people to work hard for years to bring their family members ― many of them from war-torn countries ― only to be suddenly told no.
"I think there's just the emotional strain of being separated from your family members and knowing they're not in a safe place," Hassan said.
As the 8 p.m. starting time for Trump's ban neared, volunteer lawyers flocked to airports in New York, San Francisco and Washington, ready to assist any travelers from the six affected countries who might find themselves detained by border agents.
It's all déjà vu for Tarek Ismail, senior staff attorney at the City University of New York Law School's Creating Law Enforcement Accountability & Responsibility project. He helped Muslim travelers in January, when Trump first signed an executive order indefinitely banning Syrian refugees from coming to the U.S., shutting down the whole refugee program for 120 days, and barring all immigrants and visitors from the six countries, plus Iraq.
Federal courts halted Trump's ban ― as well as a revised version Trump issued in March ― ruling that both unlawfully discriminated against Muslims. Although the revised ban may be less severe, Ismail said it was still cruel and discriminatory. And it's not normal.
"The idea that a refugee should have to prove a bona fide relationship to the U.S. in order to substantiate coming here is completely counter-intuitive," Ismail said. "It completely defies purpose of having laws facilitating refugees seeking safe haven in this country.
"The Statue of Liberty doesn't say, 'Give me your tired, your poor ... as long as you have a bona fide connection to the U.S.," he added.
What's needed is protests, like the massive demonstrations that broke out in January at the country's airports, Ismail said. Decision-makers, he said, including elected representatives, Customs and Border Patrol agents, and judges, need to see that there's resistance.
Thursday's protest was certainly a start.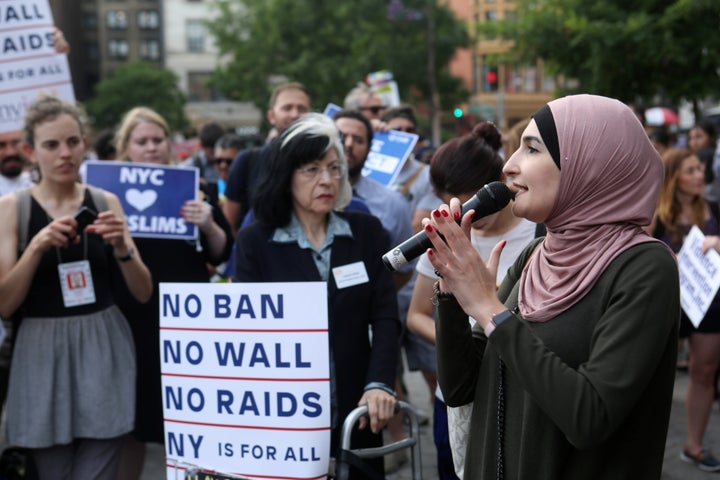 "We should be ashamed of ourselves that there are people sitting in refugee camps who are the victims of terrorism and violence, and we are telling them that they do not belong here," Linda Sarsour, the prominent Muslim American activist and Women's March organizer, told the crowd. "So what I say to you is this: We have to stay loud and outraged every single day."
The crowd then marched uptown through Manhattan, taking up whole city blocks on the way to a town hall meeting on the ban, where they planned to discuss resistance strategies. 
"No ban, No wall!" they yelled, as tourists and other onlookers stepped out of shops to photograph them.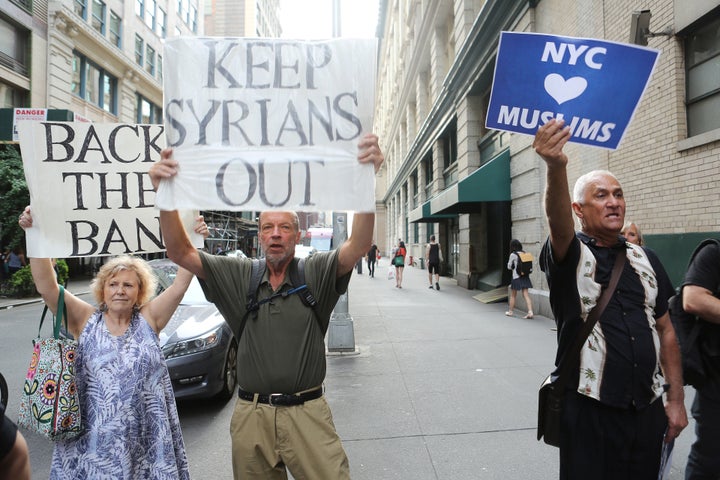 When they arrived at the town hall meeting on 19th Street, they were greeted by a middle-aged white man and a white woman, carrying signs that read, "Keep Syrians Out" and "Back the Ban."
The couple began chanting, "Back the ban!" But the crowd of protesters drowned them out with a chant of their own.
"Say it loud, say it clear, refugees are welcome here!"
Calling all HuffPost superfans!
Sign up for membership to become a founding member and help shape HuffPost's next chapter
BEFORE YOU GO