It was supposed to be their wedding day in Fairfax, Virginia. A simple ceremony at the courthouse to make things official, then a celebration with friends and family. They were supposed to move into their new apartment, too, where they were excited to begin their lives together. He had just signed the lease.
But instead Faisal Radwan, 27, and Duaa Abdelrahim, 26, were trapped in a small room at King Abdulaziz International Airport in Jeddah, Saudi Arabia, wondering whether the world would ever let them be together.
"I'm really upset over this situation," said Abdelrahim, who described her heartbreaking predicament in a series of WhatsApp voice messages sent to The Huffington Post.
"Please help us," she continued, choking back tears. "Please help me enter the U.S. I have so much hope in you guys, after God."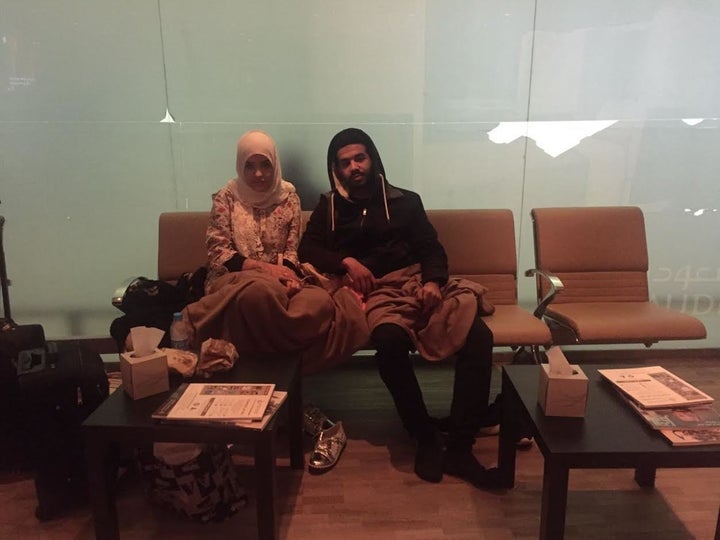 On Friday, Jan. 27, President Donald Trump issued an executive order temporarily banning individuals from seven Muslim-majority countries ― Yemen, Iran, Iraq, Syria, Somalia, Libya and Sudan ― from entering the U.S.
Trump said the order would keep America safe, even though there have been no fatal terror attacks on American soil by immigrants from those seven countries. The order partially fulfilled the president's Islamophobic campaign promise to ban all Muslims from entering the country.
Hours after the order was issued, stories surfaced of immigrants and visitors being detained, deported or both. Others were turned away at airports overseas.
"'You're not allowed to enter the U.S. because of your Sudanese passport,'" Abdelrahim said airport officials in Jeddah told her the morning of Sunday, Jan. 29, as she and her fiancé were preparing to leave Saudi Arabia.
She had a U.S.-issued fiancée visa to move to the U.S. and marry Radwan, an American citizen. She'd waited so long ― over a year ― for that little piece of paper. She'd filled out all the right forms. Paid all the expensive dues and fees. She was immigrating to the U.S. legally.
Abdelrahim's visa was among some 60,000 visas provisionally revoked by Trump's executive order ― 60,000 people suddenly either unable to leave the U.S. for fear of not being let back in, or unable to come to the U.S. to see their families, attend college, escape war or marry and live with the person they love.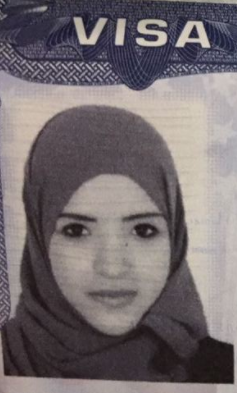 Abdelrahim was also no longer allowed to enter Saudi Arabia, the country where she was born and raised.
Abdelrahim's parents are Sudanese immigrants to Saudi Arabia. There, citizenship is based on your father's citizenship, and residency is granted to immigrants' children through their fathers' visas.
In the process of preparing to come to the U.S., Abdelrahim's father had canceled her Saudi residency.
So she and Radwan were stuck in this limbo ― a drab room designated for passengers catching connecting international flights ― contemplating a deeply uncertain future.
If only their flight to America had been 48 hours earlier.
"I've been in this airport for days," she said. "There's no comfort. We can't rest, we can't sleep ... I can't go pray."
"They won't let me leave this room and it's a really small room ... there's just a few chairs," she added. "When I try to leave the room, they search me."
Abdelrahim provided HuffPost with photos of her U.S. fiancée visa, her exit visa from Saudi Arabia, and her plane tickets. A U.S. State Department official said that "visa records are confidential under U.S. law; we're not able to discuss the specifics of any visa case."
Neither Customs and Border Protection nor the Department of Homeland Security immediately responded to a request for comment on this story.
"God doesn't want me to enter this country.""
On Tuesday, Jan. 31, after spending over three sleepless days at the Jeddah airport, Abdelrahim sent a WhatsApp text message: "The plane is moving now. I have faith in God ..."
She and Radwan were told they were no longer welcome in Saudi Arabia, and were put on a flight across the Red Sea to Sudan, the country where the couple had met four years prior at a wedding.
While Abdelrahim is legally allowed to stay and live in Sudan, Radwan is not, she said. He has a temporary visa to be in that country, and will have to leave soon. Plus, he has to get back to his job at his dad's gas station in Virginia to earn money.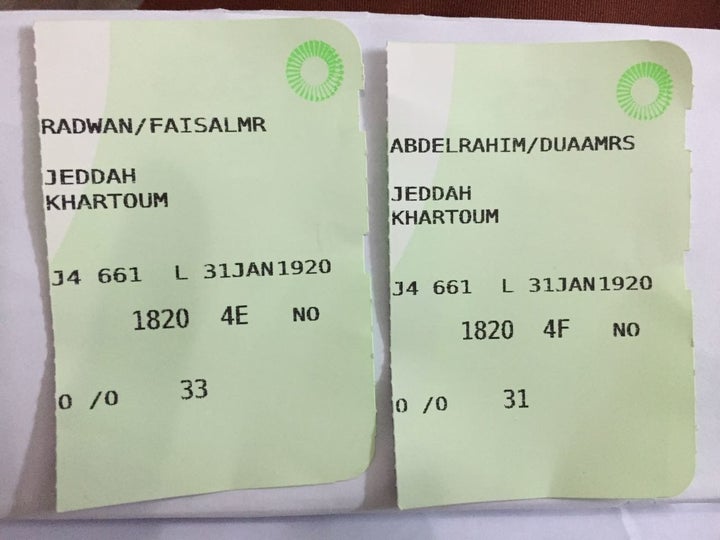 On Monday, Feb. 6, the couple said they went to the U.S. embassy in Khartoum, the capital of Sudan, to see if they could get an extension on Abdelrahim's fiancée visa. It expired on Feb. 4, mere hours after a federal judge in Seattle temporarily blocked Trump's travel ban, allowing immigrants and visitors with valid paperwork to once again enter the U.S.
If only the ruling had come a day or two earlier.
Abdelrahim said the embassy denied their request for an extension on her fiancée visa. Embassy officials saw henna on her and Faisal's hands. This was a sign that they were already married, the officials told them, which means Abdelrahim is no longer eligible for a fiancée visa.
The couple received the henna, a custom at many Muslim weddings, during a small ceremony in Saudi Arabia they held for family and friends unable to come to the U.S. for their wedding.
They tried explaining that their real, official wedding was in the U.S., but the embassy officials weren't moved, saying they'd have to start the visa process all over again, this time applying for a spousal visa.
More paperwork. More expensive dues and fees. More time ― maybe another year ― until they'll be able to start their life together. And that's assuming that within a year, Trump will no longer have an immigration ban in place.
"God doesn't want me to enter this country," Abdelrahim said.
Now she faces a new life in Sudan, a country she has never lived in, without Radwan. She says she's lucky to have family there ― her grandmother, her brother, and some aunts and uncles.
Asked if she thinks she'll ever make it to the U.S., she said, "I have hope in God that nothing is impossible."
"But I personally don't have any hope," she added. "I am so exhausted by this situation."
Radwan plans on going back to the U.S. soon without Abdelrahim. Though he is an American citizen, he'll undoubtedly face a lengthy interrogation by U.S. border officials about his time in Sudan.
He might have to cancel the lease on their new apartment. For now, he'll return there alone.
Popular in the Community