NEW YORK CITY ― Mayar opened her eyes slowly, trying to adjust to the light before closing them again. The 2-week-old girl was swaddled in a pink and white polka dot blanket. She crinkled her nose, yawned and within seconds fell back asleep.
Mayar, so small and so quiet, was born barely over 5 pounds. Since her birth, she has been surrounded by a contingent of women repeatedly peeking into her white bassinet to make sure she's OK.
"She has this thing where she keeps gagging out her milk. Because she's just so tiny, it doesn't fully digest well for her," said 25-year-old Sondos al-Silwi, Mayar's mother. "So we always have to constantly check up on her."
But one person unable to check up on her is her father.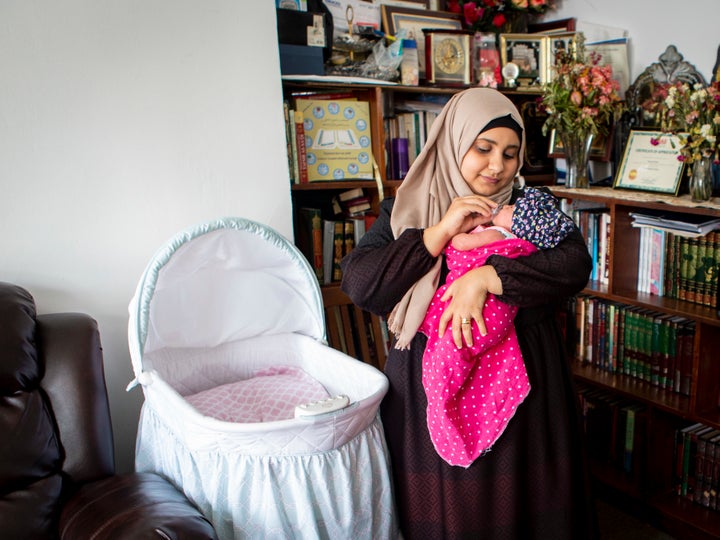 Sondos al-Silwi's husband, Abdullah al-Silwi, lives in Sanaa, the capital of Yemen, which has been ravaged by civil war since 2015. He is unable to travel to the United States to meet his newborn daughter because of President Donald Trump's ban on immigration and travel from several predominantly Muslim countries, Yemen among them. At the end of June, the Supreme Court upheld the ban.
Now Sondos al-Silwi — a New York City charter school teacher who was born in Pennsylvania, was raised in the Bronx in New York and married Abdullah al-Silwi on a trip to Yemen in 2016 — is planning the unthinkable. She and Mayar will move to Yemen to be with him when their daughter is 4 months old. (Sondos al-Silwi petitioned for her husband to join her in the U.S. when they married, but the process was halted by the Muslim ban.)
She has no other choice, she said.
"It's not an ideal place. It's not where I imagined myself for my family," she told HuffPost, sitting in the living room of a three-bedroom apartment in the Bronx that she shares with her sisters, as Mayar snuggled in her arms. "But now I'm forced to go back because God knows when this ban is going to end. It's just wrong to deny my daughter her father."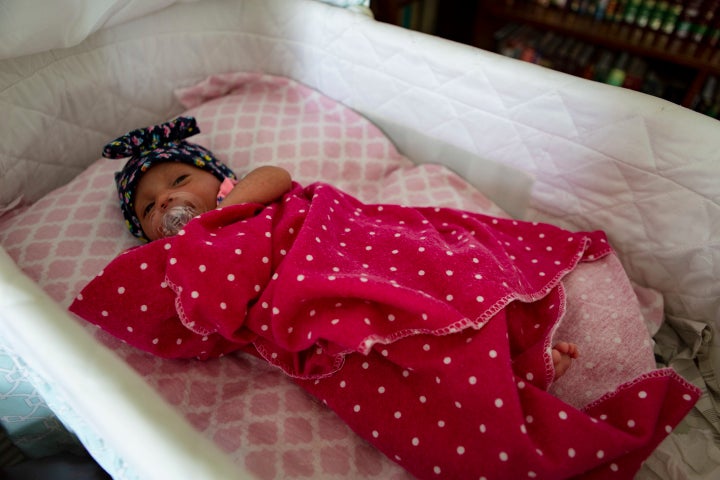 Americans In Exile
The Silwis aren't the only one caught in an extraordinarily difficult bind because of the Trump administration's travel ban.
Ismail Alghazali is a 25-year-old U.S. citizen who lived in New York before meeting a 26-year-old Yemeni citizen. Like the Silwis, the couple fell in love and married in Yemen, in 2013. A year after the wedding, Alghazali returned to New York and filed immigration paperwork to sponsor his wife, Hend Alghazali, to join him in the United States. (The process is usually a lengthy one, taking up to several years and requiring multiple interviews with immigration officials.)
Before the Muslim ban, Hend Alghazali received initial approval for a visa; the couple was confident that soon she would be able to immigrate to the U.S. In 2015 the U.S. closed its embassy in Yemen because of security concerns, and the Alghazalis traveled to neighboring Djibouti. After the administration issued its travel ban, officials denied her visa request.
She was no longer allowed to move to the U.S. to be with her American husband. She was eight months pregnant at the time and has since given birth to a boy.
"I can't believe that this is the United States," Ismail Alghazali told HuffPost in a phone call from Djibouti. "This is not the United States that I know."
He continues his fight to bring his wife and son to the States. When he recently reached out to the U.S. Embassy in Djibouti, he was told he was welcome to return to America anytime — but not with his wife.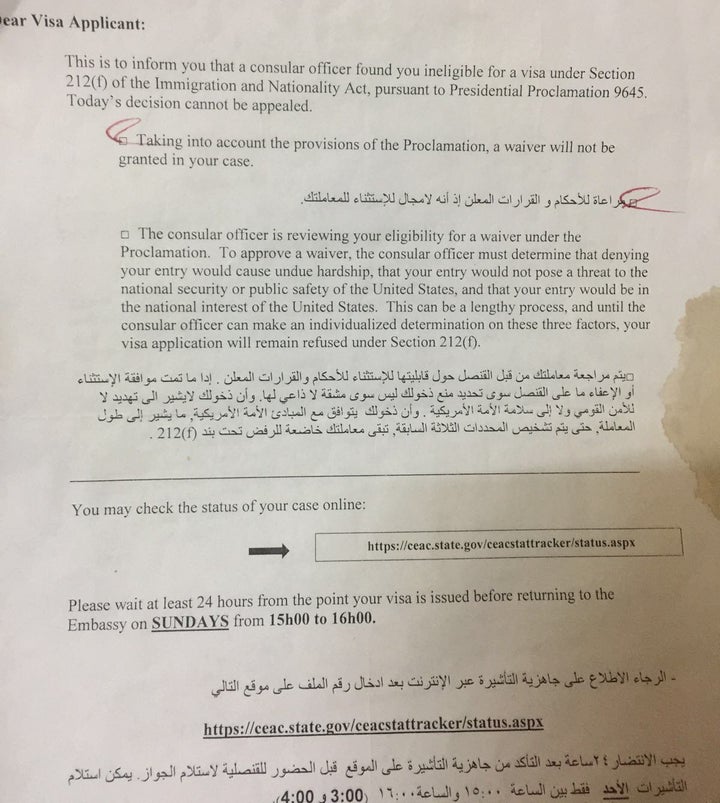 He is among 36 plaintiffs in a lawsuit filed this week by the legal advocacy group Muslim Advocates and other organizations, claiming that visa applications are being wrongfully denied or stalled by the federal government.
"[The Alghazlis] should be a shoo-in to be allowed to come to the United States, but they haven't been granted a waiver, and now they are in this limbo position where they just don't know what to do," said Sirine Shebaya, a senior staffer at Muslim Advocates. "It highlights the complete lack of transparency in this process and that people are not being genuinely considered."
Ismail Alghazli's life is in New York, where the rest of his family members live and work. He said he has no choice but to stay in Djibouti, despite what immigration officials told him: Leaving behind his wife is not an option.
"I'm living in darkness," he said. "I feel like a bird without wings."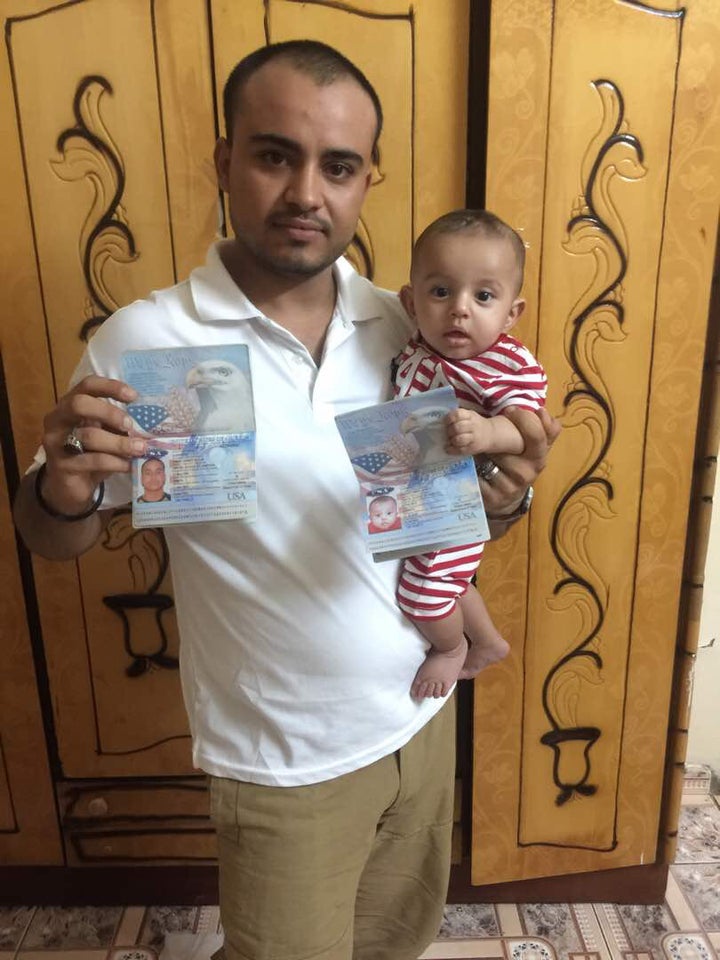 In their Bronx apartment, Mayar was fast asleep in her bassinet. Sondos al-Silwi sat nearby, glanced over to check on her baby and smiled.
"I still have hope that everything will work out," she said.
Her family feels otherwise. Her sisters said that they don't want her to leave and that they tried to reason with her. They told her to visit Yemen to see her husband and leave the baby with them.
But al-Silwi has made up her mind. She refuses to be kept apart from her husband.
For now, she talked about Mayar, like any other woman excited about her baby. The new parents picked out Mayar's name together.
"It means 'a magnitude for goodness,'" al-Silwi said — a hopeful name for an uncertain future.
Popular in the Community