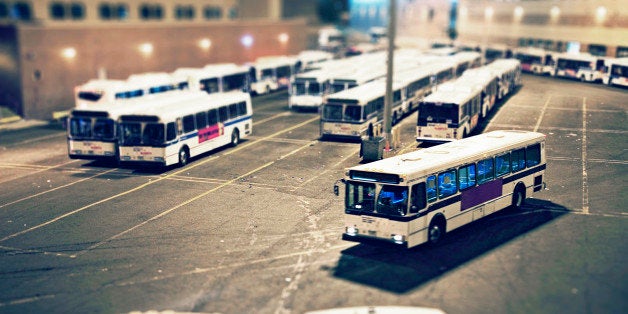 A Muslim boy was reportedly called a "terrorist" and was booted from a bus in New York City after the driver overheard him reciting an Arabic prayer.
The incident happened back in October 2012 when the 10-year-old boy was getting on the B-39 bus on his way home from school in Sheepshead Bay, Brooklyn, the New York Post reported. While attempting to board, the boy is said to have become flustered when he couldn't find his MetroCard and said a prayer in Arabic -- "I start in the name of God, the most merciful, the most beneficent" -- to help him find it.
Although he eventually located the card, the bus driver allegedly called him a "terrorist" and forced him off the bus before closing the doors.
"The driver said 'Get off!' and used the T-word," the family's lawyer, Hyder Naqvi, told the New York Daily News. "He [the boy] was two days shy of turning 11 when this happened, but he's old enough to know what it feels like to be discriminated against."
His family previously reported the incident to the city's transit system, but, on Friday, they filed a lawsuit in Brooklyn Federal Court, according to the Daily News.
They are suing the agency and the driver for undisclosed damages for religious discrimination and civil rights abuses, the Post reported.
The New York chapter of the Council on American-Islamic Relations (CAIR-NY) responded to the lawsuit in a statement obtained by The Huffington Post Tuesday.
"It's very disappointing to see how young children have become the targets of discrimination because of their religion," CAIR-NY Director of Operations Sadyia Khalique said. "CAIR-NY applauds the filing of the lawsuit and we hope the MTA can take disciplinary action against the employee. We urge the MTA to provide diversity trainings to its employees to reflect cultural and religious competency in their attitudes, policies and services to ensure that no New Yorker becomes a victim of hate speech by MTA officials."
This is not the only discrimination issue New York's Metropolitan Transportation Authority has faced in recent years. Last year, the MTA settled a discrimination lawsuit brought by the United States Justice Department that accused the agency of targeting Muslims and Sikhs with a uniform code, The New York Times previously reported. No fault was found, but the MTA was ordered to pay $184,500 to eight present and former employees, and to adopt more inclusive policies.
Calling all HuffPost superfans!
Sign up for membership to become a founding member and help shape HuffPost's next chapter