 The choice of Egyptian Information Minister Salah Abdel-Maqsoud came as a blow to activists, press freedom fighters and journalists who'd suffered under previous oppressive regimes and saw in this Muslim Brotherhood (MB) member a retrograde approach to the media.
"The information minister is a Muslim Brotherhood fanatic," headlined Egypt's Al Wafd newspaper quoting political activist Hazem Abdel Azim on the choice of a man charged with running the country's official media and setting policies for news and entertainment organizations.
"Appointing an information minister who's an extreme Muslim Brother is very dangerous and should be closely monitored. Media equals the people's conscience. It's no joke," tweeted Abdel Azim (@Hazem_Azim).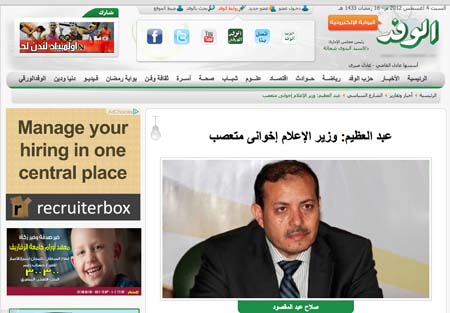 Screen shot of Al Wafd headline
Al Wafd, tagged an opposition publication during the rule of ousted president Hosni Mubarak, also quoted Abdel Azim as saying he'd met the minister during a BBC panel and found him totally unsuited for the job given his narrow-mindedness and irrational defense of the Brotherhood, come hell or high water.
Writing for the leading daily Al Ahram, Nasr Al Qafas warned Egypt now had a government of arsonists, in reference to all the political fires its members would be setting.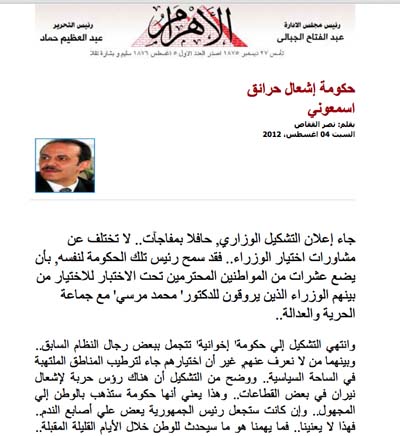 Screen shot of Al Ahram's take on new government
Of the minister's choice, Al Qafas opined derisively:
The appointment of Salah Abdel Maqsoud as information minister is a coup d'etat against the civilian government in every sense of the word. He'll start by distributing a list of those banned from appearing on TV and behind (radio) microphones, after selecting those he deems good tools to execute his orders. It's a simple task that can be accomplished in no time. But he'll face stormy crises, starting with the fact he knows nothing about the nature of the operation he's to administer, and if he makes an effort to learn, he will have left the government at the first cabinet reshuffle.
The ultimate irony is that the Salafist Islamic party in Egypt expressed displeasure with the new cabinet as it was excluded from the lineup.
Analysts believe this government may be short-lived -- its demise foreseen after a new constitution is in place -- and that its authority will remain subservient to the Supreme Council of the Armed Forces (SCAF), the real power behind the throne.
Egyptian economist Mohamed El Dahshan feels Abdel Maqsoud, like most MB members, rose through the organization's upper ranks thanks to blind obedience, not creative thinking.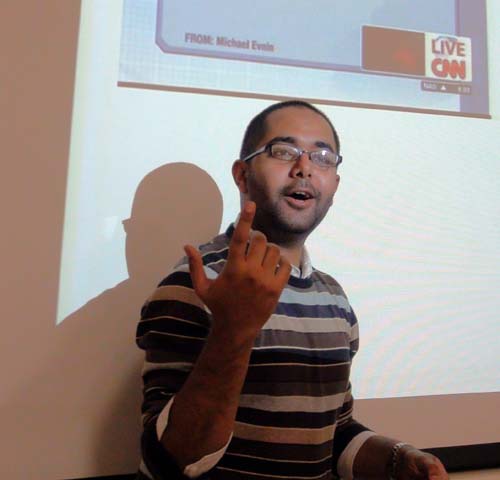 Mohamed El Dahshan (Abu-Fadil)
"He has worked in MB-funded publications and was (President Mohamed) Morsi's campaign media advisor," El Dahshan said. "I look forward to watching him clash with SCAF, which has used Egyptian television and their own propaganda network."
Tweep Yasmin Mahfouz (@YasminMahfouz) was equally uncomplimentary noting Egypt's media had become totally slanted in favor of the Brotherhood, and that she found no difference between the current regime's choice and those of the Mubarak era.

Screen shot of Yasmin Mahfouz tweet
Another Twitter campaigner, Peter Fayez (@peterfayez), likened Abdel Maqsoud, whose brother is the MB's attorney, to a bearded version of the discredited former information minister
, who is serving a jail term on corruption and abuse of power charges.
Lebanon's Al Akhbar daily that is close to Hezbollah's thinking also chipped in with a provocative headline: "Egyptian Media in the MB's Net."
Its lead reminded readers how countless Egyptians had called for the abolition of the Information Ministry following the Jan. 25, 2011 revolution.
The ministry disappeared in February 2011, only to be revived by the interim government in July 2011, to the dismay of all those who'd fought hard to undo what they saw as a "ministry of disinformation."
It's not unusual for all government institutions to follow the MB line, and since the Information Ministry is among the important ones, given its control of state-run radio and TV, it was handed to key MB figure Abdel Maqsoud, Al Akhbar said.
"He was a board member and acting president of the Journalists Syndicate after the forced resignation of former union president Makram Mohammad Ahmad," it said,
A new union president was elected last year.
During his tenure Abdel Maqsoud had invited several leading MB members to the syndicate, including the Brotherhood's spiritual leader Mohammed Badie, which journalists feared would turn their union into an MB stronghold, the paper noted.
Author Gamal el-Ghitani described Abdel Maqsoud's selection as an MB plot for domination of government-controlled media and subjugation to all the Brotherhood's ideas.
el-Ghitani feared the Brotherhood, through the new minister, would appoint all editors in chief of state-run newspapers, thereby securing its control of government media and turning them into their stifled tool, just like the former ruling National Democratic Party did pre-revolution.
"Egypt's media will become more retarded than Iran's," he weighed in, adding that Abdel Maqsoud's appointment was a catastrophe.
Abdel Maqsoud countered in an interview with Al Watan saying he would not render official media into MB tools, but seek to turn them into vehicles representing the state, all political currents and people's different spectrums, and, would promote media freedom in Egypt.
A report by the official Middle East News Agency (MENA) in Sada Al Balad said Abdel Maqsoud was an alumnus of Cairo University's School of Communication and had worked for several leading Islamic publications, including Al Daawa, Al Iitissam, Al Mukhtar Al Islami and Al Nour, among others.
He was also a board member of the Beirut-based International Jerusalem Foundation, a member of the Arab Journalists Federation, and vice chairman of the press freedom committee of that federation, MENA said.
On the plus side, he had launched and supervised a medical plan and emergency fund for journalists in addition to fighting several battles to ensure the syndicate's independence and support for free expression, MENA said about his services during an unprecedented four-term stint as a board member.
Popular in the Community