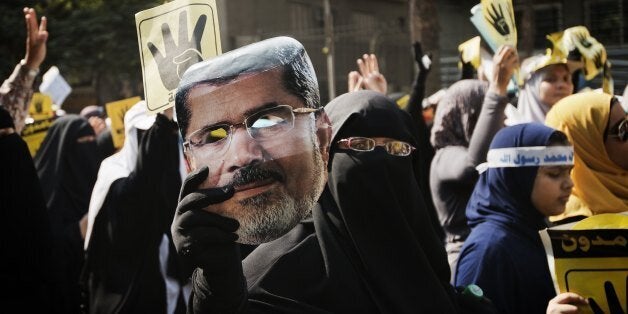 BEIRUT -- The English-language spokesman for the Muslim Brotherhood was arrested on Tuesday by Egypt's military-backed government, as part of an expanding crackdown on leading opposition figures that has swept the country since a military coup in July.
The charges come at a time when Egypt's interim government seems to be solidifying its hold on power by issuing arrest warrants for a wide range of dissents and opposition figures, including virtually every top political officer in the Muslim Brotherhood and a number of secular political activists.
In mid-August, the military ordered police to storm a pair of Brotherhood-affiliated sit-ins that had formed in large traffic intersections in Cairo, protesting the military's removal and arrest of the Brotherhood president, Mohamed Morsi, one month prior. Hundreds of people were killed in the raids, and many more died in the days of street clashes that ensued.
Morsi and several of his top aides are currently facing trial on charges similar to those apparently filed against el-Haddad: urging or permitting the use of violence against citizens who had gathered outside the parliament in 2012 to protest the Brotherhood's rule.
Last week, the military-backed government announced that a one-month national state of emergency that had been imposed on the day of the raids would be extended for two more months.
El-Haddad has long been a controversial figure in Egyptian politics. A prolific and articulate utilizer of social media, he regularly filled the inboxes and twitter feeds of international journalists with diatribes and quick-reaction soundbites that varied wildly in their affiliation with the truth.
He was particularly reviled among secular opponents of the Brotherhood during its year in power for repeatedly promoting what many viewed as a skewed -- and, for an international audience, softened -- version of the party. He was also caught recycling photographs from events in Syria or other conflicts as if they were breaking news in Egypt.
But on Tuesday, some of the activists who most vociferously criticized el-Hadad's inaccuracies and propaganda quickly took to Twitter to decry his arrest.
El-Haddad was also a valued interlocutor for international diplomats, for whom he provided the most readily approachable contact point for the enigmatic Muslim Brotherhood. His father, Essam el-Haddad, is a top foreign affairs adviser for the group's political party.
After going quiet for several weeks following the initial wave of arrests, el-Haddad had slowly shown signs of re-emerging -- returning to his Twitter feed and responding to old emails from reporters.
In an email exchange with The Huffington Post over the weekend, el-Haddad insisted that he would not let the government crackdown on the Brotherhood keep him from doing his job.
"If I keep my head down, they would've gotten what they wanted," el-Haddad wrote. "One rarely has a chance to define a future of a nation like this one."
REAL LIFE. REAL NEWS. REAL VOICES.
Help us tell more of the stories that matter from voices that too often remain unheard.
BEFORE YOU GO
PHOTO GALLERY
Egypt's Dalga