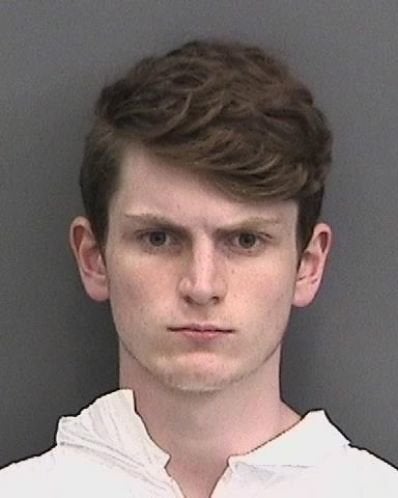 A onetime white supremacist in Tampa, Florida, claims he killed two neo-Nazi friends because they objected to his newfound Muslim faith, police said.
Devon Arthurs, 18, of Tampa, was apprehended Friday. He is accused of taking three hostages at a Tampa Palms smoke shop, according to a copy of the police report. After police talked Arthurs into surrendering, he made references to "Allah Mohammed" and said, "I had to do it. This wouldn't have had to happen if your country didn't bomb my country," Tampa police reported. Arthurs is a U.S. citizen.
When an officer asked Arthurs if anyone was hurt, he reportedly replied, "The people in the apartment, but they ain't hurt, they're dead … they're definitely dead."
Authorities say Arthurs then led investigators to his New Tampa apartment, where they found the bullet-riddled bodies of his roommates, 18-year-old Andrew Oneschuk and 22-year-old Jeremy Himmelman.
Police said Arthurs told them he shot his roommates because they'd been "disrespecting Arthurs' Muslim faith" and that all three of them "had been friends with a common neo-Nazi belief until Arthurs converted."
In addition to the victims' bodies, investigators found bomb-making materials and white supremacist propaganda, according to federal documents obtained by The Tampa Bay Times. Those items were reportedly linked to a fourth roommate, identified as Brandon Russell, who is in the Army National Guard.
Russell called himself a national socialist and member of a white supremacy group, police said. He has been charged with possessing an unregistered destructive device and unlawful storage of explosive material.
Authorities have not accused Oneschuk and Himmelman of being involved in any illicit activities. It's also unclear if they were neo-Nazis, as claimed by Arthurs. Himmelman's sister, Lyssa Himmelman, told The Tampa Bay Times that her brother and Oneschuk had only recently moved to Florida from Massachusetts. She also said both men had been planning to leave because they disagreed with Arthurs' views.
"Jeremy was a sweet, funny, amazing, loving brother who would never hurt a fly," Lyssa Himmelman said. "He thought this was his friend who would never hurt him, and he betrayed him."
Arthurs said he'd only recently decided to kill his roommates, according to the Tampa police report, which says:
"Arthurs stated he has become angered by the world's anti-Muslim sentiment and had wanted to bring attention to his cause. Arthurs also stated that, prior to the murder, he had been privy to neo-Nazi internet chat sites threatening to kill people, and he had developed a thinking that he should take some of the neo-Nazis with him."
Arthurs faces two counts of first-degree murder, two counts of aggravated assault and three counts of armed kidnapping. He is being held without bond at the Hillsborough County Jail pending a Wednesday morning court hearing.
David Lohr covers crime and missing persons. Tips? Feedback? Send an email or follow him on Twitter.
Calling all HuffPost superfans!
Sign up for membership to become a founding member and help shape HuffPost's next chapter
BEFORE YOU GO