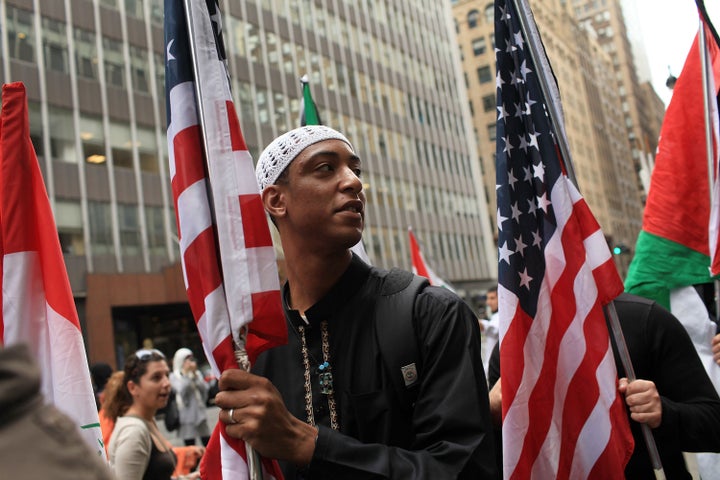 (Reuters) - American Muslims face a rising tide of religious discrimination in U.S. communities, workplaces and schools nearly a decade after the September 11 attacks, a congressional committee heard on Tuesday.
Evidence of growing anti-Muslim bigotry, aired at a Senate Judiciary subcommittee hearing, poses a challenge for President Barack Obama as his administration works to foster good relations with American Muslims and secure their help against the threat of home-grown terrorism.
But the challenge is compounded by remarks by public officials and others in prominent positions that have inflamed public debate and threaten to facilitate discrimination, according to witness testimony.
"We continue to solicit and receive the support of many Muslim Americans who love this nation and work with our government to protect it," said Democratic Senator Dick Durbin, who chaired the proceedings.
"At the same time, many law-abiding Muslim Americans face discrimination and charges that they're not real Americans simply because of their religion."
Senator Lindsey Graham, the panel's top Republican, sounded a more hawkish tone, saying he supported Muslim rights but calling on Muslim Americans to do more to protect the United States from attack.
"Get in this fight," Graham said. "You're going to have to help your country, probably uniquely compared to anyone else, understand what's going on and fight back. The front lines of this war are in our own back door and our own neighborhoods."
Thomas Perez, the assistant U.S. attorney general for civil rights, told the panel that anti-Muslim sentiment has brought a surge last May in the number of federal discrimination cases involving zoning boards and other local authorities that have acted to prevent mosques from opening in their communities.
That comes on top of more than 800 incidents of violence, vandalism and arson against people believed to be Muslim, Arab or South Asian, that the Justice Department has investigated since the September 11 attacks.
Perez said there has been a 150 percent jump in workplace discrimination against Muslims, often over religious dress and worship schedules, while Muslim youth can often become the victims of school yard bullying.
"In each city and town where I have met with (Muslim) leaders, I have been struck by the fear that pervades their lives," Perez told the panel.
Muslims have also witnessed a fierce debate over a Florida minister's threat to burn a Koran, as well as efforts in half a dozen U.S. states to ban the use of Muslim religious law on the pretext of a threat to the American legal system.
Perez praised Obama and former President George W. Bush for using the presidential pulpit to speak out eloquently against anti-Muslim sentiment. But witnesses complained that not all public servants have followed suit.
"In the last several months, anti-Muslim rhetoric has reached a disturbing new level. Prominent religious, military and even political leaders have joined the fray, feeding fear and hysteria," said Farhana Khera, a former Senate aide who now heads a group called Muslim Advocates.
Durbin became embroiled in a spat with Peter King, the Republican chairman of the House Homeland Security Committee, who held a controversial hearing on radicalization in the U.S. Muslim community earlier this month.
King blasted Durbin's proceedings in the media as an exercise in political correctness that would "perpetuate the myth that there is a serious anti-Islam issue in this country."
Durbin responded with a veiled reference to controversial remarks attributed to King and Newt Gingrich, a former Republican House speaker now considering a bid for the White House.
"A leading member of Congress stated bluntly: 'There are too many mosques in this country.' A former speaker of the House falsely claimed: 'America's experiencing an Islamist cultural political offensive designed to undermine and destroy our civilization'," said Durbin, the Senate's No. 2 Democratic leader.
"Such inflammatory speech from prominent public leaders creates a fertile climate for discrimination," he added.
(Additional reporting by Jeremy Pelofsky, editing by Philip Barbara)
Related
Popular in the Community