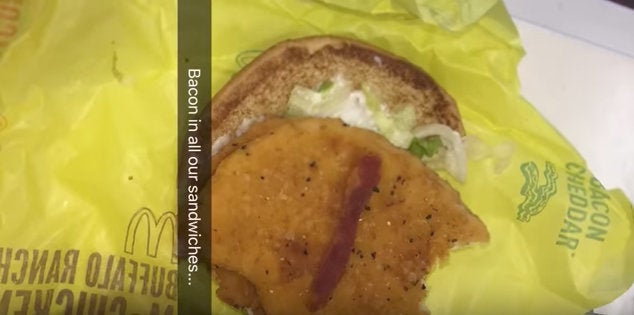 An advocacy group is crying foul after pieces of bacon were apparently discovered in a Muslim family's order of McDonald's McChicken sandwiches. 
CAIR-Alabama's executive director, Khaula Hadeed, is calling on McDonald's to investigate further and fire any employees found responsible.
"Based on the evidence in this incident, as well as the unprecedented spike in anti-Muslim bigotry nationwide, we believe this was an intentional act of religious and ethnic bigotry," Hadeed said in a statement. "McDonald's should investigate this incident, identify and terminate the employees responsible, and take proactive steps to satisfy this American family's concerns, starting with an apology."
The family of seven consisted of three women, all wearing Islamic headscarves, and four children under ten. After visiting a nearby water park, they stopped by a McDonald's on Point Mallard Parkway and ordered 14 McChicken sandwiches. As they were eating, they started noticing a strange, "smoky" taste that was unfamiliar to them. 
"One of the kids opened one of the sandwiches and it had bacon it ― like a very small, chunk of bacon in there. They were really surprised and kind of horrified," Hadeed told HuffPost. "They opened all of them and, lo and behold, all of them had a small of chunk of crudely torn bacon piece in them ― either underneath the patty or on top of it in a way where you wouldn't see it."
The family went up to the counter and asked the staff at the restaurant for an explanation. Hadeed said that one employee suggested that the bacon had fallen into the sandwiches. She found that unconvincing, since the bacon was apparently torn up. 
"The employee in the restaurant initially explained that the bacon ended up on all those sandwiches because the bacon somehow fell off the shelves, which is silly and beyond the pale. Even without that comment, the fact that tiny pieces of bacon, just small enough to avoid easy detection, ended up in all 14 sandwiches that would not normally have bacon is evidence enough of purposeful intent," she said. 
One adult in the family apparently vomited twice after eating the bacon. 
HuffPost reached out to McDonald's corporate office for comment. It passed along a statement from the representative of the local Decatur restaurant. 
"We want to assure our customers that this was not an intentional act by our employees," the statement read. "We value every customer and strive to ensure all orders are accurately prepared and served. We are looking into the matter to understand what happened." 
The operations manager for the local McDonalds restaurant did not return HuffPost's requests for comment.
The manager ended up giving the family a refund, Hadeed said.
But Hadeed emphasized that this was about more than the bacon ― it was about the "maliciousness and cruelty" of the act. She said the family feels targeted specifically because of their faith. 
Against that backdrop, Hadeed said that knowingly serving pork to a Muslim is "symbolic of a grave expression of hate and a robust emotional assault."
"[This was] an act of intimidation, extremely harsh, and undeserved," she said. "There is no other way to look at it. The message being sent to the family was, you are unwelcome and your way of life is unacceptable."
Hayley Miller contributed to this report. 
UPDATE: This article has been updated with more information from CAIR-Alabama.
REAL LIFE. REAL NEWS. REAL VOICES.
Help us tell more of the stories that matter from voices that too often remain unheard.
BEFORE YOU GO
PHOTO GALLERY
Muslims Of America