This story is part of a series on Muslim college students: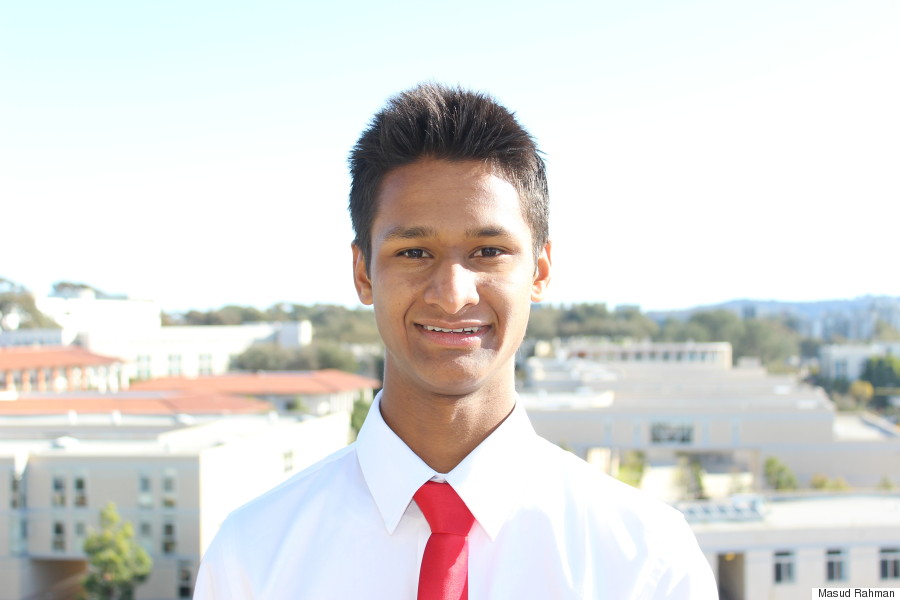 Masud Rahman is a mathematics-computer science sophomore at the University of California, San Diego, where he serves as the rush chair for Alpha Lambda Mu, the country's first Muslim fraternity.
Rahman says he has not experienced discrimination on campus for his faith. For over a decade, the Muslim Students Association has organized an annual "Islam Awareness Week," where students gather in front of the library "letting everyone know what Islam is and breaking stereotypes," Rahman said.
He initially chose UCSD for its prestige and its STEM program -- and for another reason, one that many college students can relate to: "I'm originally from Northern California, so I wanted to get a little bit far away from my parents."
Rahman spoke with The Huffington Post about Alpha Lambda Mu and the importance of having a shared community of faith. Here's his story, as told to Alexandra Svokos:
I think having community is a really good way to strengthen faith and stay more committed to religion and to feel something in common with other Muslims. A lot of us who are coming here from high school or community college are used to a more religious background. Although of course we have things in common with other students, we want to associate with people similar to us.
I'd say most Muslims think their religion is really important to them -- definitely for me, that's the case. It's something I don't want to lose. So to associate with others who have this shared identity helps out.
Something unique here at UCSD is we actually have a Muslim fraternity on campus, ALM -- Alpha Lambda Mu -- and I am a member of that. That's a really cool thing. It just got started last year; I joined near the end of last year. It incorporates parts of fraternity brotherhood and bonding, and we also have our Muslim values set in. We're part of our college's IFC (Interfraternity Council).
We go by Islamic values, so I guess we are kind of set apart from other fraternities. We're a completely dry fraternity, and that's a huge thing. We don't have any parties or formals, per se. But we focus on more of the positive aspects of giving, community service, having philanthropy and things like that. So far it's been going really well.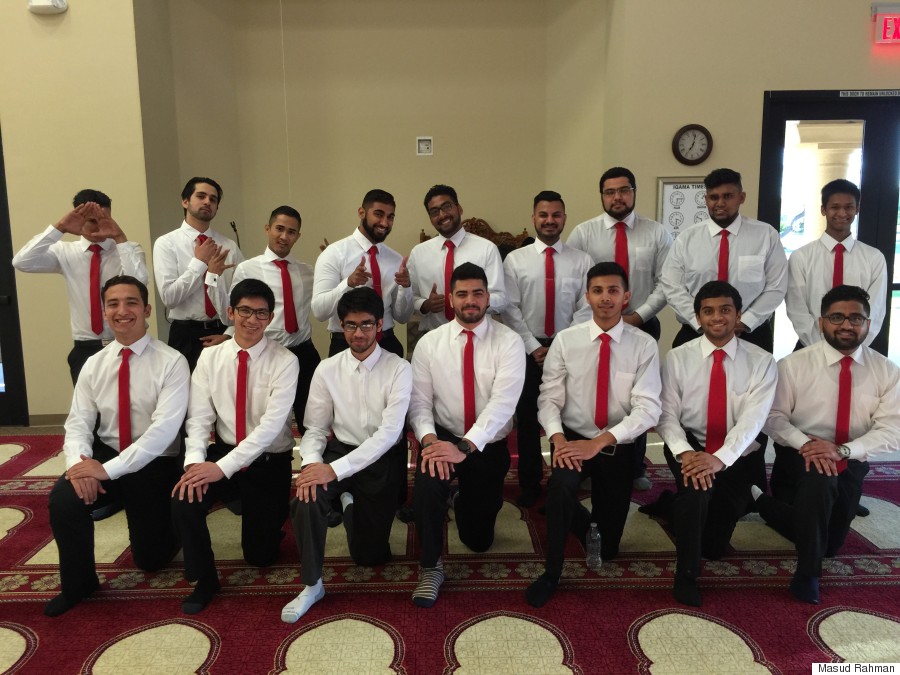 ALM at the March 2015 initiation.
My frat "bros," you can call them, are all Muslim so far. We've also helped out with the Muslim Student Association a lot and with making the Muslim community stronger. I think the fraternity and MSA are really valuable.
We're a Beta chapter of the fraternity. The Alpha chapter was started at the University of Texas at Dallas. So far we have four chapters, at least. On the East Coast, our Gamma chapter is at Cornell University. Our Delta chapter is at San Diego State University, which is really close to us. We have a few others incubating, I think one in Florida and Penn State. It's expanding all over the country.
Our demographic is kind of more unique, so we try to focus recruitment on students in the MSA. Obviously it's open to all, but members of the MSA are probably most inclined to join.
I'm the rush chair for the fraternity. We have events during our rush week, which is the beginning of each quarter (since we're on a quarter system). We start with an info night, just like any other fraternity, where we tell them a little bit about it. We have three or four events, bonding things. We've done bowling, pizza night, just like hanging out.
Then we have bid night. These new pledges are offered a bid, and if they accept, they go through at least one quarter of prospective member status and they're initiated at the end of the quarter. It's similar to most other fraternities.
We definitely incorporate the Islamic aspect of it. One of our requirements is that to be initiated, you have to memorize part of the Quran. That's unique.
The fraternity strengthens all our faith and our brotherhood, our community. It's made our university better overall, so that's pretty cool.
This interview has been condensed and edited for clarity.
Related
Popular in the Community