Hassan Shibly is an armed American Muslim.
The 29-year-old Muslim civil rights attorney, sporting a kufi cap and a long beard, is sitting at his desk inside the Tampa, Florida, office of the Council on American-Islamic Relations.
"You can be working, and if there's any sort of threat..." Shibly pauses before swiveling in his office chair and revealing a Sig Sauer P238. "Within a second, it's there."
"And we hope we never, ever, ever, ever need it," he says.
Shibly already had two rifles, but bought the handgun in July at the urging of some law enforcement friends worried about his safety.
"Unfortunately, and very reluctantly, this past year, especially with the dramatic increase in anti-Muslim hate crimes that's followed Donald Trump's rhetoric that demonizes the American Muslim community, I felt it necessary for my own safety and the safety of my loved ones to start carrying a weapon at all times when possible," he explains.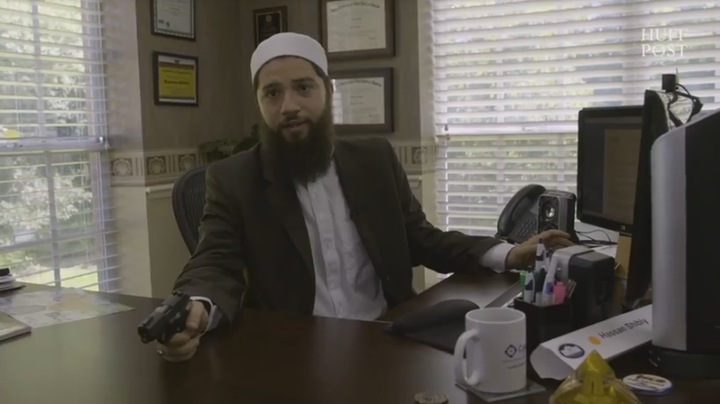 Shibly says CAIR-Florida has seen a 500 percent increase in the number of anti-Muslim incidents and hate crimes across the state over the last year. The hate has reached CAIR's front doorstep, too.
"We've had a couple incidents where we've actually had to call the police to remove trespassers or remove people who potentially pose a threat to the office," he says. "Not long ago, somebody actually even lit a Quran on fire and threw it at our old office, which potentially could have set the whole building on fire."
Recently, the organization had to report Twitter threats against its office to federal law enforcement.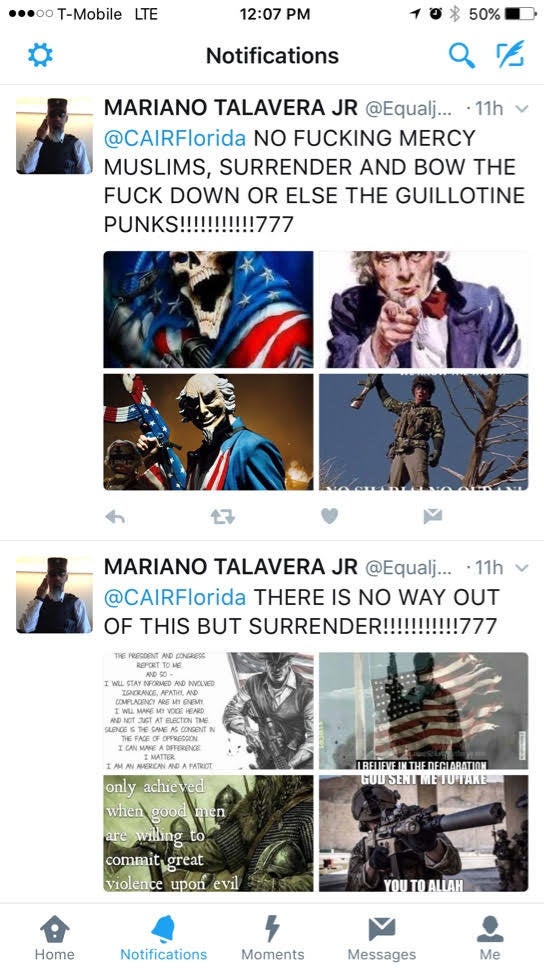 And a few miles away from CAIR's office in Tampa, five mosques caught on fire during a three-week span from July to August. Authorities later determined that two of the fires were caused by arson.
There have been numerous other examples of anti-Muslim hate crimes and hate speech in Florida this year.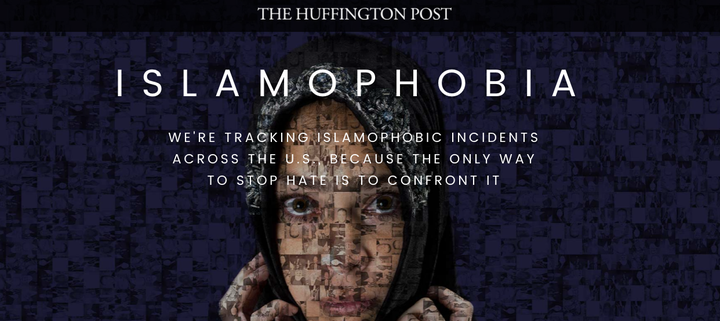 It's hardly surprising that anti-Muslim hate crimes have increased dramatically across the country this election season. Republican presidential nominee Donald Trump has proposed banning Muslims from entering the U.S., called for the creation of a national database of Muslims, said that mosques should be surveilled and Muslims should be profiled, and once flat-out said that "Islam hates us."
A recent report from the Center for the Study of Hate and Extremism at California State University, San Bernardino, documented at least 260 hate crimes against Muslims in 2015 ― a nearly 80 percent rise from 2014 and the highest annual number of such crimes since 2001.
"We've been, unfortunately, demonized tremendously," Shibly says. "What the propaganda and the fear and the hate does is it ultimately dehumanizes people like myself. It dehumanizes members of the American Muslim community. When you dehumanize someone, then it's not that difficult to react violently to them."
"As a last line of defense, people who are out there challenging injustice and bigotry, they should be trained and ready to protect themselves and their loved ones.""
And so, if white, Christian Americans can publicly embrace the Second Amendment, Shibly says it only makes sense that Muslim Americans, facing ever-increasing Islamophobia, should embrace it, too.
"Basically, myself having a firearm here, keeping one in my office, is no different than any American business owner or leader or person, regardless of their race or religion, [who] may exercise their Second Amendment protected rights to carry arms," he says. "It's what we do as Americans. It's part of our culture and tradition, for better or for worse."
Arming himself is a "last line of defense" against Islamophobia, Shibly adds. "A first line of defense is proactively promoting education and tolerance and peace and love and compassion and interfaith unity and solidarity, but as a last line of defense, people who are out there challenging injustice and bigotry, they should be trained and ready to protect themselves and their loved ones."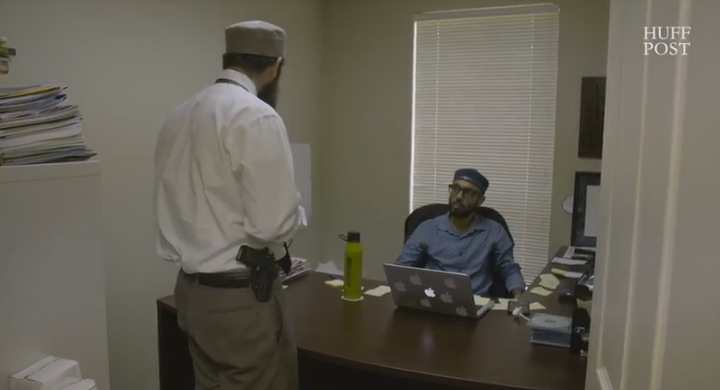 But mostly, Shibly wants to encourage the members of his community not to be intimidated by a climate of hate and intolerance. He's most preoccupied these days with making sure American Muslims perform their civic duty in November.
"The American Muslim community's vote is critical to winning the election," he tells HuffPost. "In fact, I think it's becoming increasingly clear that it is difficult to win even the national presidential election without the support of the American Muslim community's swing vote ... In Florida, elections are often won by a few thousand votes."
So Shibly has been speaking to mosques across the state, signing up as many Muslims as he can to vote so they can make their voices heard.
"Look, I'm a proud American citizen," he says. "I've been raised in this country. Unfortunately, what we've often seen is sometimes American Muslims are actually shying away from both their First and Second amendment protected activity. You find that some American Muslims are literally hiding their identity, changing their name because they're afraid if they express their First Amendment protected activity, if they express their faith or their political views, they'll be targeted by the government, they'll be targeted by hate crimes."
"I think that's the worst thing you can do, is give into fear and hate and intimidation," he adds.
Shibly delivered a similar message to parishioners in a speech earlier this summer. "When we hide our identity and when we're not engaged in society, we've let the Islamophobes win," he said. "But when we stand strong to our faith and we engage society in the best of ways through service to our community and the community as a whole, that's when we overcome Islamophobia and we can turn our worst enemies into our greatest friends and heroes, as the Messenger of Allah did."
Video produced by Sharaf Mowjood and edited by Maria Tridas and Zachary Chapman.
The Huffington Post is documenting the rising wave of anti-Muslim bigotry and violence in America. Take a stand against hate.

Popular in the Community