Zamir Hassan, founder of Muslims Against Hunger, was feeding homeless people in Boston's central public park with a group of volunteers Saturday morning when he first learned of the attacks in Paris the previous night.
As the group made their rounds, a homeless man asked one of the volunteers what church she belonged to. Upon learning that she was Muslim, the man asked if she had poisoned the food. Five minutes later, Hassan told The Huffington Post, another man bit into a hummus sandwich handed to him by a volunteer and said, "This is delicious!"
The irony of those two very different exchanges, within minutes of one another, struck Hassan.
"This is a time when Muslims have to engage and show the good side [of our faith] because the bad guys are vocal," Hassan said.
"It's a very small group of people that has essentially no religion, but they claim to be Muslims," he told HuffPost. "In each faith group there is always this fringe group which has a fringe agenda. The good people have to be louder."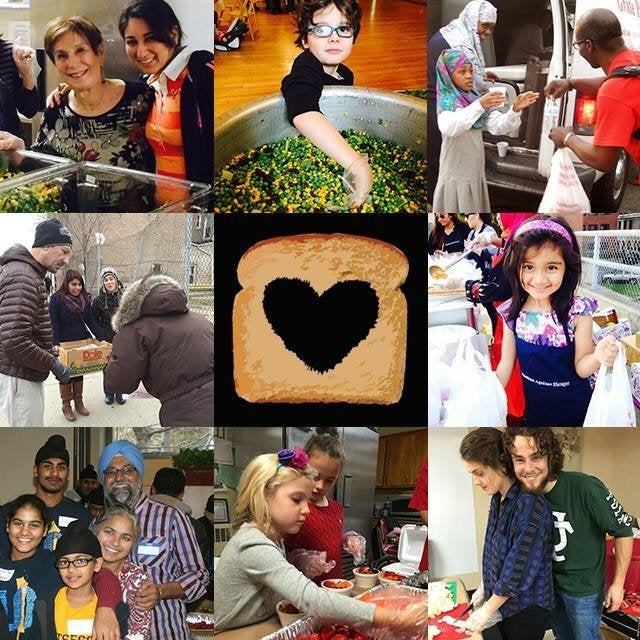 On Sunday, Muslims Against Hunger is partnering with the Foundation for Ethnic Understanding and The Brotherhood Synagogue in New York City for a Muslim-Jewish rally and community service project. The event has taken place annually for five years, Hassan said, but this year's gathering will take on new importance in the wake of Friday's attacks.
Volunteers from both communities will gather at the synagogue on Sunday morning to prepare food packages for homeless people, and then hear from religious leaders like Imam Shamsi Ali, Rabbi Yehuda Sarna, Daisy Khan and others for a rally on the theme of "We Refuse To Be Enemies." Mayor Bill de Blasio and Manhattan borough president Gale Brewer have also been invited to attend. After the rally, volunteers will deliver the food to homeless people in Tompkins Square Park.
"Now more than ever we need to do this," said Walter Ruby, Muslim-Jewish Program Director for FFEU. "We've been hearing ugly voices over the last 24 hours making suggestions mosques should be closed and such. It's very worrisome."
Within days of the Paris attacks, Muslims in France and around the world have already been targeted. Mosques have been threatened and vandalized; individuals have been harassed; and right-wing politicians have aimed much of their anger at the thousands of Syrian refugees, many of whom are fleeing violence from the Islamic State.
"The effort of ISIS is to drive us into separate camps and make us afraid of each other," Ruby said. "Our response is to reach out to each other and embrace each other."
The Paris attacks reflect "terrible violence committed by extremists" who are far from the norm, Ruby said. "The vast majority, huge majority of American Muslims are peaceful, loyal citizens and should be in no way stigmatized," he added.
Fear and hatred stem largely from ignorance, said Hassan. The activist grew up in Pakistan and said he had a negative view of the Jewish community in his youth, though he had never met a Jewish person. When he finally did, Hassan said, he "realized that people are people" and the two faiths have much in common.
Central to both faiths is the importance of community service, called "tikkun olam" in Judaism and "islah" in Islam, Ruby and Hassan noted.
Sunday's event sidesteps traditional interfaith dialogue, Hassan said, to get people of faith working together for the common good.
"Our program is the best dialogue," Hassan said. "We just get together, make food, and go together out in the street to feed the homeless."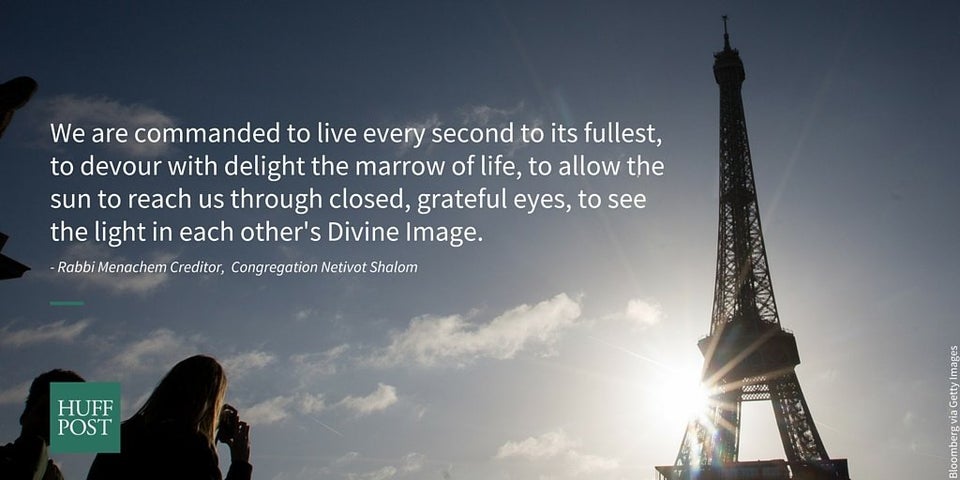 Interfaith Prayers For Paris
Related
Popular in the Community