What began as a picnic in the park quickly escalated into what police are now investigating as a hate crime attack when a Canadian Muslim man was reportedly called a terrorist and beaten viciously in front of his family.
Muhammed Abu Marzouk; his wife, Diana Attar; and their two daughters were on their way home from the Mississauga Valley Community Centre in Mississauga, Canada, on Sunday evening when two men allegedly kicked the family's car and shouted racial slurs at the family.
When Abu Marzouk, 39, exited the vehicle to confront the men, they alleged that he almost hit them with his car.
Suddenly the pair allegedly delivered a series of brutal kicks and blows to his head until he fell to the ground and lay unconscious in a pool of blood while Attar frantically sought help. Abu Marzouk was then rushed to a nearby trauma center, where he was treated for multiple fractures to his face and a serious brain hemorrhage, which required surgery at St. Michael's Hospital in Toronto.
A family friend who was at the picnic that night tried to stop the attack and was treated for minor injuries. Attar, who threw herself over her husband to protect his head from further injuries, was also hurt.
"You don't keep kicking a man when he's down laying in the ground in a pool of his own blood," Abu Marzouk's younger brother told The Mississauga News. "You don't keep kicking a man's wife trying to cover her husband's head laying on the ground."
The two alleged attackers, identified as 27-year-old Adem Corhamzic and 19-year old Janis Corhamzic, brothers from nearby Brampton, were charged with aggravated assault and two counts of assault.
The Peel Regional Police initially identified the attacks as road rage but is now investigating them as a "hate-motivated crime," the department told HuffPost.
"We were provided information that the initial incident started as a result of the road rage, a dispute that happened in the parking lot. Witnesses subsequently came forward and talked to investigators and provided them with some statements that were made while the incident was unfolding by the two arrested and charged males," police spokesperson Akhil Mooken said.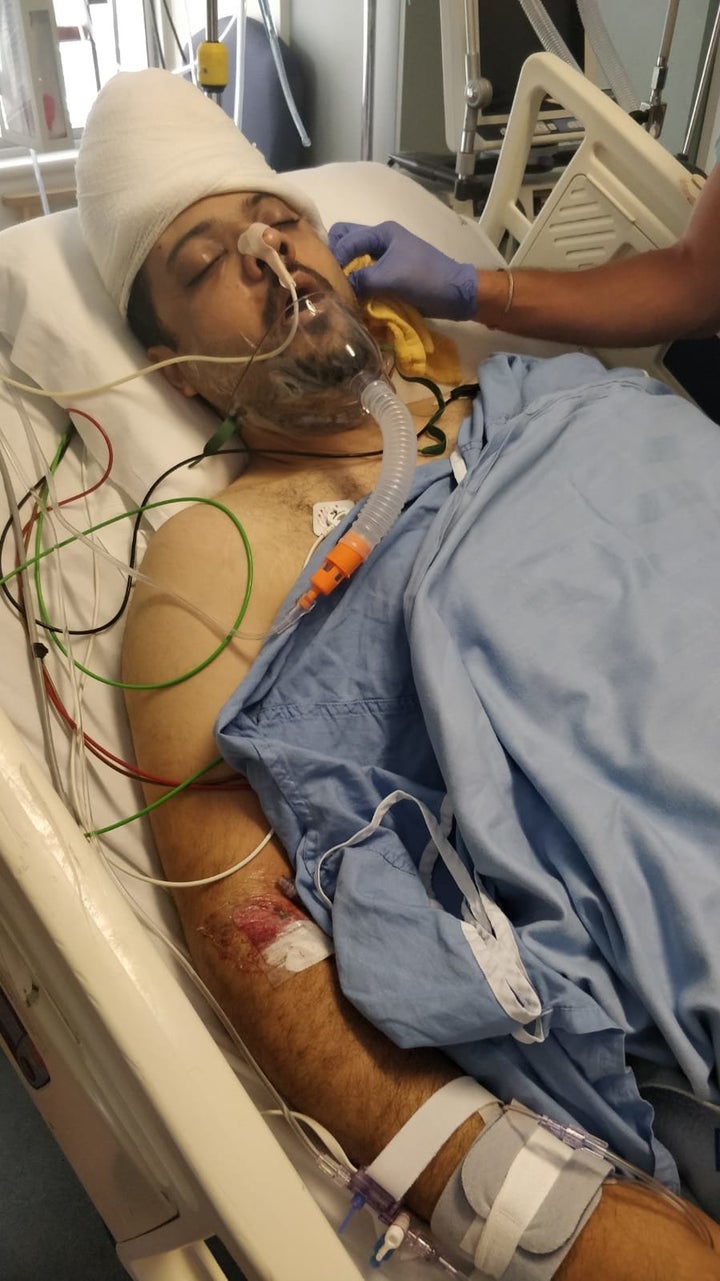 Ibrahim Hindy is a close friend of the Abu Marzouk family and the imam of the Dar Al-Tawheed mosque, where the family attends services. He has been in communication with the family since the alleged attacks and told HuffPost he spent all day yesterday with the family at the intensive care unit.
Attar and the children are deeply traumatized, he said, adding that the girls, ages 4 and 6, are now wetting themselves.
"They think their dad died," Hindy said. Although Attar and other family members tell the children otherwise, they don't believe anyone, and all they can remember is seeing their father's bloodied body on the ground, Hindy said.
"They saw everything. They saw all the blood," he said.
Hindy said that he is relieved police are investigating the attack as a hate crime but that Islamophobia has been on the rise in Mississauga.
"We have to be clear that this was hate, because we're never going to be able to address this as a society and to recognize it and to call it out for what it is," he said. "It's shocking from how brutal and heartless it was, but it's also not surprising because we've seen this increase in hate crime happen over the last few years unabated."
Hindy said that there's a "deep level of concern" among members of the area's Muslim community but that they have been pushing through their fears and stepping up to aid the Abu Marzouk family by cooking meals, running errands and donating time and money.
By Wednesday morning, an online fundraiser raised over $60,000 to help support the family and pay expenses. Abu Marzouk is the sole breadwinner for the family, and his recovery is expected to take several months, according to the fundraiser page.
Over the last year, hate crimes targeting Muslims in the Peel region, which includes Mississauga, jumped more than 90 percent, according to local police. Canada saw a 60 percent nationwide increase in hate crimes against Muslims documented by the government's statistics agency.
America does not do a good job of tracking incidents of hate and bias. We need your help to create a database of such incidents across the country, so we all know what's going on. Tell us your story.
Popular in the Community