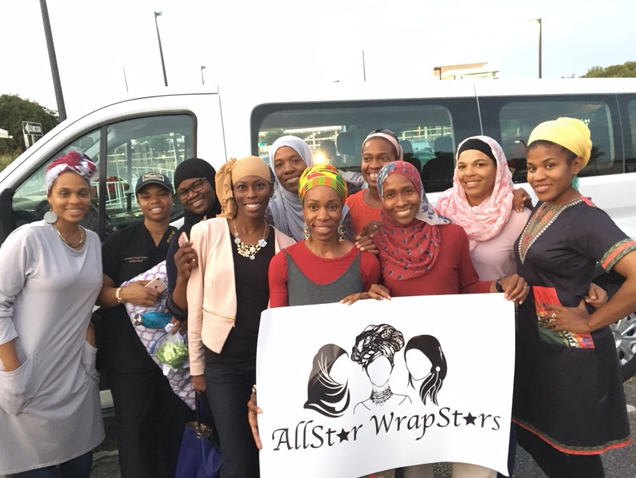 Sports have long been linked to American identity. They have played a major role into efforts to combat discrimination and exclusion, and now that's beginning to be true for Muslim women.
But local visibility is important too, and Muslimah 'Ali Najee-ullah is doing her part.
Known as Dr. 'Ali, The Fitness Doc ― she holds a doctorate in anatomy and neuroscience ― the Baltimore-based author, science teacher and fitness coach is busy fighting misconceptions about Muslim women by inspiring them to compete.
She has run three marathons and 14 half-marathons, and last year led a 12-woman, all-Muslim team in a 200-mile nonstop race called a Ragnar Relay. She believes it was one of the first entirely Muslim teams to run a Ragnar.
Dr. 'Ali chatted with HuffPost about the race, representation, and what she wants to accomplish as both a runner and a Muslim-American athlete. 
Why was it important to you to run the Ragnar Relay with an all-Muslim team?
For that reason of representation. I think things are getting better as far as people seeing Muslims as American people. We're American, we do things like everyone else, we are born here and raised here. So it's that hope that awareness is growing. 
It must have been a really powerful experience to run that distance together. 
To see a group of Muslim women just running and being fearless through the day and night and bonding, I think that was really important for me to have that experience. And then in the spiritual aspect, I mean, there were times when it was rough, and being able to pray together and understand that sort of thing, the spiritual bonding. 
Once you see someone out there running who is still maintaining modesty and is Muslim, it's like, 'Oh, she can do this, I can do it too.'
Why do you think Muslim women might shy away from participating in athletic events like this one?
I think there are two reasons. One is attire. A lot of the attire for sports is somewhat skimpy, and with most of us choosing to dress modestly, it does not fit in with our modesty requirements. I think because of that from a young age, it's harder to get into it when you're older, especially when you have children. A lot of women on the team were mothers, so it was a nice way to show that not only are we Muslim women, we're Muslim mothers who are out here giving ourselves self-care and representation. 
Nike made headlines when it launched a hijab for athletes. Do you think things are getting better as far as options and representation? 
I think apparel and attire are definitely expanding to allow for not just Muslims, but other women who dress modestly. I think it's great to expand, as long as it doesn't interfere and give a competitive edge, which it doesn't.  
Why is it important to you to put yourself out there for other women?
Seeing someone is the first step. Not seeing anyone who looks like you, you might be like, "Oh, I don't know about this." But once you see someone out there running who is still maintaining modesty and is Muslim, it's like, "Oh, she can do this, I can do it too." 
What do you love about running? 
I like the freedom. It's just me and my thoughts and wherever I choose to go. I like to run early in the morning, I think that's kind of a special time, before it gets busy and it's still a little quiet. As a mother of three, as a wife, as a teacher, just having a little me time gives me calm and ultimately energy throughout the day. It's also my time to have conversations with God, things like that. 
Feeling inspired to hit the pavement? Learn more about Dr. 'Ali on her website. 
Calling all HuffPost superfans!
Sign up for membership to become a founding member and help shape HuffPost's next chapter
BEFORE YOU GO