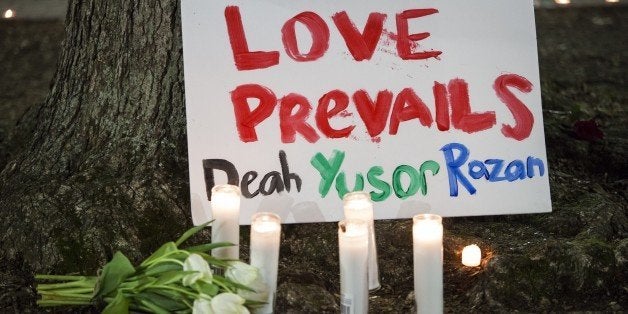 After the shooting of three Muslim students in Chapel Hill, North Carolina, a message of compassion rose up from many corners of the Muslim community.
Farris Barakat, the brother of one of the victims, spoke at a vigil at the University of North Carolina at Chapel Hill the day after the shooting, saying:
"I plead that you live in their legacy, that you share the good that you know of them ... It was quite possible, that this was an act based off of evil and a scared, ignorant man, do not let ignorance propagate in your life. Do not reply to ignorance with ignorance. Become an amazing, bright intellectual leader that I know this university can create."
Thousands heeded Barakat's charge in the days that followed, organizing vigils, canned food drives, fundraisers and more to honor the lives of Deah Shaddy Barakat, Yusor Mohammad Abu-Salha and Razan Mohammad Abu-Salha.
Muslim activists launched a campaign called "Feed the Hungry" to encourage groups and individuals around the country to participate in a nationwide canned food drive, referencing Deah Barakat's last Facebook post, which showed him delivering food and free dental supplies to homeless people in the Chapel Hill area.
Barakat was involved with dental health initiatives outside of North Carolina as well, helping propel a project called "Refugee Smiles," which focused on providing dental care to Syrian refugees in Turkey and raising funds to support local dentists. He also started a campaign on YouCaring.com to collect donations for the Syrian American Medical Society.
By the morning after his death, the fund had more than doubled its goal of $20,000, reaching over $49,000. A week after the shooting, the fund had reached $450,000 in donations.
Despite these efforts, the Center for American Progress has warned that the roots of Islamophobia run deep and take many shapes, which became ever more apparent in the days following the Chapel Hill shooting. Just three days after the tragedy an Islamic center in Houston was set on fire, and over the weekend a Muslim school in Rhode Island was vandalized with offensive graffiti, launching an FBI civil rights investigation.
A man arrested for the Houston fire called the incident an accident, which some Muslim groups found hard to swallow in the context of other anti-Muslim attacks and threats reported in recent days.
Nonetheless, Ahsan Zahid, assistant imam at the Quba Islamic Institute in Houston, said he was ready to turn the other cheek -- regardless of the man's motives.
"We have forgiven, we have forgotten and we'd like to express that we'd love to have [the arsonist] come by and see us and let us know what was the misconceptions that he had about us that led him to commit such a crime," Zahid told local ABC affiliate, KTRK.
"There's no reason for there to be so much hate within someone to want to do something like that, at that level of violence," he said. "But at the same time, we have forgiven. We don't want to know necessarily his motives, but we want to help him get better and get to know us better as well."
The center estimated the cost of damage to be $200,000 and launched a crowd funding campaign to help raise the money for repairs.
REAL LIFE. REAL NEWS. REAL VOICES.
Help us tell more of the stories that matter from voices that too often remain unheard.
BEFORE YOU GO
PHOTO GALLERY
Chapel Hill Shooting Memorials