After three Muslim students were fatally shot on Tuesday by a self-described "anti-theist," Muslims were divided about whether the shooting was a hate crime motivated by prejudice against Islam.
The victims were University of North Carolina at Chapel Hill students Deah Barakat, his wife, Yusor Abu-Salha, and Yusor's sister, Razan Abu-Salha. The suspect, 46-year-old Craig Stephen Hicks, has been charged with three counts of first-degree murder.
According to reports, Hicks has openly expressed his anti-theistic views on Facebook. On a page that appears to belong to him, Hicks expressed his distaste for religious beliefs, posting photos and quotes that mock religion. At the same time, he seems to have used the page to argue in support of equality and free speech.
Chapel Hill Police Chief Chris Blue said at a press conference on Wednesday that his department will continue to look into whether or not the shooting was a hate crime. For now, the police are investigating the possibility that the killings were motivated by a longstanding dispute between Hicks and the victims over parking.
But some Muslims are finding that reasoning hard to swallow.
Dr. Mohammad Abu-Salha, the father of the two female victims, told the News & Observer, a Raleigh, North Carolina, newspaper, that he's certain the shooting was a hate crime.
"This was not a dispute over a parking space; this was a hate crime," Abu-Salha told the paper. "This man had picked on my daughter and her husband a couple of times before, and he talked with them with his gun in his belt. And they were uncomfortable with him, but they did not know he would go this far."
Omid Safi, director of the Islamic Studies Center at nearby Duke University, said that it's difficult to see this crime as a random act of violence. Rather, he thinks it may be the product of a general sense of Islamophobia that he says has pervaded American culture.
"The police are still saying they're not ready to classify this as a hate crime, but from the point of view of the community over here, it's hard not to see the connection," Safi told HuffPost. "Every time you turn on the TV, you see this bombardment of Islamophobic stories and vitriol -- it's hard not to see them as connected with violence against people of color and marginalized communities."
But others were hesitant to conclude that the incident had to do with the victims' religion.
Abdullah Antepli, the chief representative of Muslim affairs at Duke, cautioned against immediately assuming that Hicks was motivated by hate.
"It's really too soon to call any kind of judgment," Antepli said on HuffPost Live Wednesday. "We don't know yet the motivation. Everyone should remain calm and trust the system and wait for the facts to emerge."
Corey Saylor, a spokesman for the Council on American-Islamic Relations, warned that it was too soon to label the killings a hate crime. However, he pointed to an anti-Sharia law bill, passed in 2013 by the North Carolina state Senate without the governor's signature, as a possible indication of unfavorable sentiment toward Muslims.
"It's unfortunate when the political leadership of a state is going to promote anti-Muslim sentiment," Saylor said. "The legislature was willing to push through a piece of legislation that was unnecessary other than to vilify Islam."
FBI statistics indicate that North Carolina had a total of 48 reported hate crimes in 2013, the most recent year for which data is available. Across the country, there were 135 hate crimes specifically against Muslims in 2013, the FBI data show.
In a Wednesday press conference, Hicks' wife Karen said she "never would have expected this," but said she wanted to express with full certainty that the shooting had nothing to do with race, and everything to do with the parking issue.
"This incident had nothing to do with religion or victims' faith but instead had to do with the longstanding parking disputes that my husband had with the neighbors," she said, choking back tears. "He often champions on his Facebook page for the rights of many individuals. Same-sex marriages, abortion, race, he just believes that everyone is equal. Doesn't matter what you look like or who you are or what you believe."
Many social media users compared the incident to the attack on the headquarters of Charlie Hebdo in Paris last month, and said they hoped to see an outpouring of support similar to the one that followed the Paris attack. Others argued that if the Chapel Hill shooting had been committed by a Muslim, critics would be quick to label it terrorism.
"FACT: If a Muslim killed 3 white UNC students over a 'parking issue' & even mentioned Islam on social media...It would be called 'terrorism,'" human rights lawyer Arsalan Iftikhar said on Twitter.
The hashtag #MuslimLivesMatter swept across Twitter in response to the killings, with people chiming in from all over the world. The hashtag is a modification of #BlackLivesMatter, a campaign that sprang up following the deaths of Michael Brown in Ferguson, Missouri, and Eric Garner in New York City. Both Brown and Garner were killed by police officers.
Imam Khalid Latif, a chaplain at New York University, said the two movements are certainly linked by the same spirit: that all lives matter. The solution, he says, is for supporters of both groups to stand up and speak out.
"There's a failure on the part of humanity to recognize what we have in common," Latif told HuffPost. "What the last few months have indicated to us is that there are many different minority groups in the U.S. that aren't treated the way their counterparts are treated. It's up to us not to treat these hashtags just as slogans and delve deeper into the lived realities of these groups that need to have their voices amplified."
But Dawud Walid, the executive director of Michigan's chapter of the Council on American-Islamic Relations and a black Muslim, opposed the new hashtag campaign. He said #BlackLivesMatter was a response to the "state-sanctioned murder of blacks by police," whereas Tuesday's shooter was a lone wolf.
"Please do not use Muslim Lives Matters as a hashtag," Walid wrote on Facebook. "We need to be sensitive & not alienate Christian BLACK ALLIES also."
Support for the victims poured in online on Wednesday. All three were described as creative and service-minded, and supporters on social media expressed outrage that young lives brimming with such possibility had been cut short. Mourners used Facebook to plan vigils in the victims' honor. A global Quran reading was planned in their memory, with participants volunteering from as far away as New Zealand and Kuwait.
A Facebook group that appears to have been set up by the victims' family members thanked the public for their support.
"Many, many amazing people have condemned this crime from across the world including many random people who seem to want to apologize for the heinous acts of this man," a post on the page read. "Muslims know all too well that the actions of few may not define the masses. Love shall overcome."
CORRECTION: A previous version of this story stated that the North Carolina state Senate passed an anti-Sharia law bill over the governor's veto. The governor declined to sign the bill, but he did not veto it.
Michael McLaughlin and Paul Raushenbush contributed reporting.
Before You Go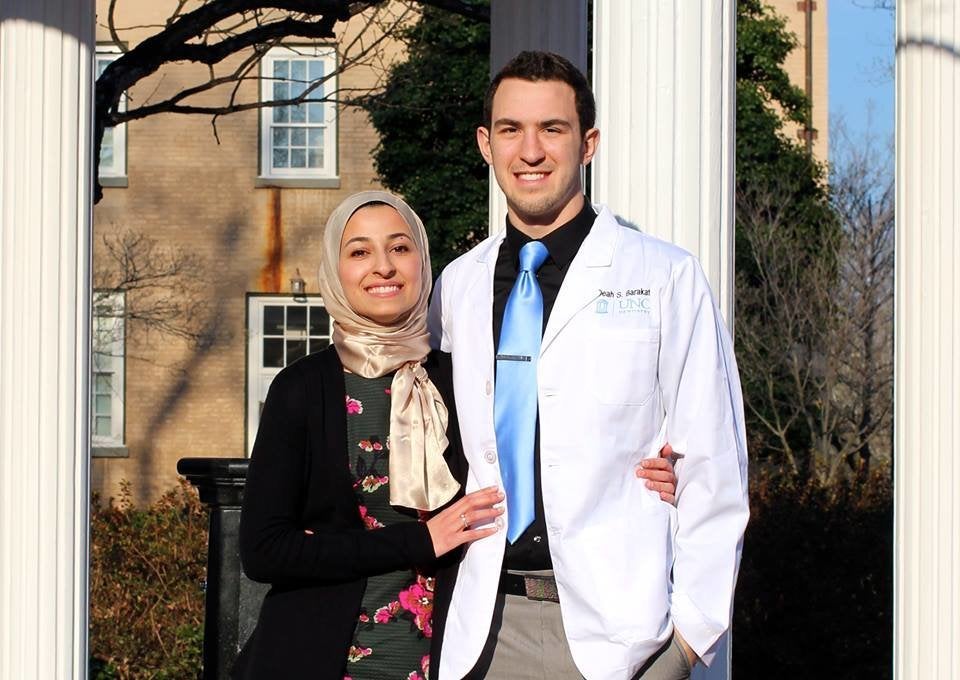 Chapel Hill Shooting
Popular in the Community