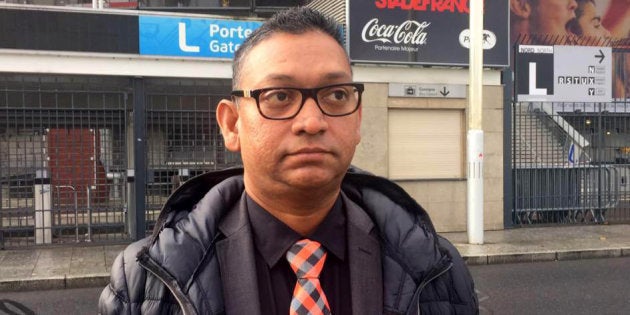 Many survivors of the Paris attacks say their lives were altered on that horrifying night. Salim Toorabally is no exception, but it took him days to realize that he had experienced Nov. 13, 2015 differently from his colleagues.
Toorabally, a French-Mauritian Muslim security guard, was stationed at the national stadium, Stade de France, when three suicide bombers blew themselves up nearby ― the first in a series of deadly terrorist attacks claimed by ISIS that left at least 130 people dead and hundreds wounded.
Five days later, on Nov. 18, 2015, he walked into police headquarters in the town of Bobigny, in the northeastern suburbs of Paris, and studied photos of a dead man. Only the young man's head was visible; the rest of his body had detached when the explosive belt he was wearing went off.
The man in the photos was Bilal Hadfi, a suicide bomber. Toorabally recognized him as the person who had tried to get past him at the stadium on the day of the attacks ― but because of him, Hadfi hadn't succeeded.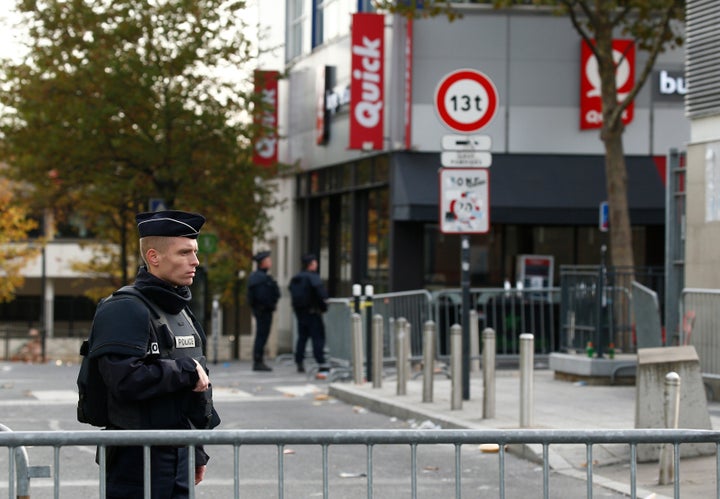 Though he had worked as a guard for 13 years, that night was Toorabally's first guarding the Stade de France. Approximately 80,000 spectators had gathered in the national sports stadium to watch France play Germany in an international soccer friendly. As a passionate soccer fan, it meant much more to him that just another shift.
"It was a very powerful moment, and I was proud to be there," he told HuffPost France, nearly a year after the Paris attacks. "It was a long weekend because of Nov. 11 [Armistice Day], and people were happy to be there. There were also German supporters, families and children present."
Hadfi tried to get in without a ticket, telling Toorabally, "I have to go in, I have to," the security guard recalled.
"He came to the L Gate, walking very closely behind one of the spectators," Toorabally said, adding that Hadfi had looked "stressed and in a hurry."
After spending approximately 10 minutes trying unsuccessfully to get inside, Hadfi gave up and walked away, according to Toorabally. The first explosion occurred less than an hour later.
""I thought I would not be able to go back home, and that I would never see my daughter again."
A total of three explosions around the Stade de France killed one person and injured 56 others. Three of Toorabally's colleagues were hurt ― one of them was hit with nuts and bolts all along the leg.
As he tried to help the victims and calm the crowd down, Toorabally felt scared, and his family was constantly on his mind.
"I thought I would not be able to go back home, and that I would never see my daughter again," he confessed.
His 16 year-old daughter, Yza, had been worried about him, telling Toorabally, "Be careful, Papa, something could happen," before he left for the stadium that day.
They were prepared to handle hooligans, he said, "but not this."
The media quickly declared Toorabally a hero for keeping Hadfi out of the stadium, and he was invited to speak at various international events. In July, he traveled to Orlando, Florida, to give a speech at the National Sports Safety and Security Conference.
He also made appearances and received awards at conferences in Arizona, Massachusetts and Mississippi.
"I go there to remind security forces that we represent our country, that we represent the law," Toorabally said.
Toorabally is making it his mission to tour the world and tell his story. "Those who do not speak have fear, and I find it terrible to be fearful," he said.
Still, he doesn't deny that he's encountered waves of fear himself. "As the days went by, I realized that I didn't stop just anyone, but a soldier of Daesh," he added anxiously, referring to the Islamic State group by an alternative name.
Toorabally has made it a point to return to the Stade de France more than once to "get rid of this fear and to try to come to terms with what happened."
His experience with the attacks bolstered his love for his country and pushed him and his family to put "the Republic first, and religion second," he said.
A version of this piece originally appeared on HuffPost France. It has been translated into English and edited for clarity.
Related
Popular in the Community