 The wave of political revolutions sweeping the Arab world has not necessarily translated into a more recognized progressive role for women or stemmed gender-based violence. To the contrary, there is a fear of regression as male religious conservatives appropriate power. The suspicion is real even perhaps if the fear may be overstated. This was evident on a global stage at the United Nations Headquarters in New York City over the last two weeks as the 57th session of the Commission on the Status of Women debated stronger statement/efforts particularly to counter gender-based violence directed at women/girls.
First Steps Toward Criminalizing Gender-Based Crimes as Category:
In the political violence and turmoil that has engulfed the globe over the last two decades, women/girls have ever more become the targets rather than coincidental victims. Collateral damage or "boys being boys" does not explain the violence directed at women/girls. It is a false rationale that may also marginalize the victims. Women are perceived by some perpetrators as strategic targets.
In significant part as a consequence of the sexual violence, mass rapes and "enforced pregnancy" waged against mostly Muslim Bosnian/Herzegovinian (BiH) women during the 1990s conflict, we managed to press through a more focused/robust Rome Statute in 1998 regarding gender-based violence that is now incorporated at the foundation of the International Criminal Court. The BiH Delegation, (which I had the honor of leading during the deliberations at the Rome Conference), urged more conservative Catholic and Muslim state leaderships to adopt such focused/robust efforts as means to re-empower largely female victims who otherwise might be consumed with despair or simply forgotten. The reality of the targeting of women/girls then in BiH was more compelling than the theoretical concern that more focus on gender-based violence might somehow promote greater promiscuity as then voiced by some male-oriented delegations.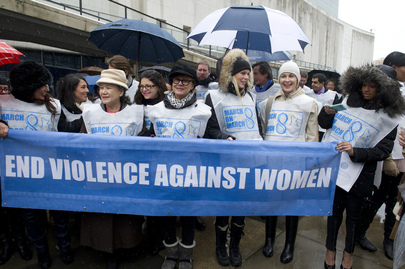 Muslim Women as Targets from Bosnia to Egypt to Syria:
The Arab revolutions from the civil war in Syria to the street protests in Egypt have evidenced how vulnerable women/girls are within patriarchal societies. Verbal proclamations and guarantees to respect and protect have proven porous. More conservative attitudes toward sexuality have only aroused a greater appetite on part of some to employ violence against women/girls as a weapon and presumably insult against one's adversary. As @UN_Women has outlined: "Violence against women is a universal problem that requires, and has now received, a universal response. Violence occurs in multiple forms in all countries and settings; it harms women and their families and communities, impedes development, and costs countries billions of dollars annually in healthcare costs and lost productivity."
A Comprehensive Action Plan from Education to Countering Gender Inequalities:
In the face of further compelling evidence of harm to women and society as a whole, most states have joined an overwhelming tide of civil society calling for a more effective action plan. This past week the UN sponsored Conference adopted a document that condemns the pervasive sexual violence and also "calls for increased attention and accelerated action for prevention and response. UN Women welcomes the important focus on prevention, including through education and awareness-raising, and addressing gender inequalities in the political, economic and social spheres."
"Brotherhood" or Arab Spring that is Inclusive Regardless of Gender?
Arab women have led the call and action for political change in their countries. Many became casualties. Calls for change ironically resulted in a reactionary response toward women, a reversion to a diminished status. Did the Muslim Brotherhood seek to dampen the breadth and depth of the Conference's outcome, at least as it could apply to Egypt and other Arab states? Perhaps the statement read by the head of Egypt's delegation, Dr. Pakinam El Sharkawy, to the Conference was heard more clearly at the UN than Cairo:
"The Egyptian woman was, and remains, strongly present in the Egyptian Revolution. Her heroism inspired the world. She is also contributing to the democratization process... The post revolution democratic Egypt undertakes to preserve the gains women achieved over a long history of struggle and to stand against any attempts to derail the course of their progress. The experience of revolution has heightened Egyptian women's awareness of the intrinsic value of civilization and their role and effectiveness. They have started a new path of work to consolidate their rights through religious, cultural and human references and by participating in the nation building process."
This past week (March 16, 2013), the Egypt delegation "pleasantly" surprised many of the Conference's participants and perhaps some of the male-dominated leadership in Cairo by joining the overwhelming consensus to support the empowering Declaration concluding the two weeks of deliberations at the UN. Perhaps implementation will be lacking on the ground in Egypt, as well as many other states where sexism is embedded in its various forms.
Nonetheless, words, symbolism and labels can chart the course of action. (Egypt needs to overcome a sectarian as well as gender and political divide.) Perhaps it is time to have a Muslim Sisterhood in Egypt pilot the ship which definitely needs all men and women on deck in the face of multiple challenges.
Photo: UN / Evan Schneider
Calling all HuffPost superfans!
Sign up for membership to become a founding member and help shape HuffPost's next chapter