A member of a Chicago-area civil rights group made a disturbing discovering when she found a neighborhood card and novelty shop selling a card that depicted a young hijab-wearing Muslim girl — as a terrorist.
A communications coordinator with CAIR-Chicago spotted the card at the Lakeview store He Who Eats Mud — a shop the coordinator told HuffPost Chicago she's frequented for years.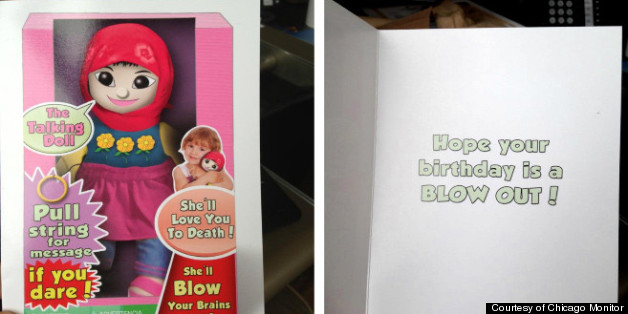 "The woman in Massachusetts just two weeks ago that was punched while walking her kids for no other reason than wearing a hijab on her head, was because someone thought that because she wears it, she is a terrorist," Rehab told CBS.
The Monitor called out the card's ugly inference, noting:
"Notice that nothing identifies this doll as a terrorist in the minds of the card designers other than that she wears a Hijab. Moreover, she -- like many Muslim girl who choose to wear the Hijab -- is a smiling, non-threatening normal-looking female wearing a pink Hijab and a flower-patterned dress. The unmistakable message behind the "humor" is that even the most peaceful looking Muslims are synonymous and exchangeable with terrorists."
"Political humor, religion and current events are among the themes to which NobleWorks gives a sick, provocative and sometimes controversial spin. In fact, our other slogan is "Dare to Laugh." I can only imagine folks and friends, who receive or read our cards, can help but wonder as to whether 'laughing' is the appropriate thing to do. But as our moto [sic] goes: "F*** 'em if they can't take a joke!" (did I mention we love using the F word wherever possible? F*** yeah!"
One thing Noble Works might not find so funny is a lawsuit.
Desi Doll Company sells various toys, including talking dolls that help teach children religious greetings and sayings in Arabic like the Muslim greeting meaning "peace be upon you" and messages like "Let's play together" and "if God wills it."
The store's owner defended his decision to carry the card to CBS, saying it's a free society — though he did not tell CBS if he'll reorder more.
CAIR's communications coordinator said there were only two copies left when she first saw the card several days ago and purchased one of them as part of CAIR's investigation.
Popular in the Community