 Over the past year in San Francisco, the war over the popular conception of Islam has been continuously fought on the unlikeliest of battlefields--the sides of the city's buses.
Purchased by the pro-Israeli American Freedom Defense Initiative, the most recent set of ads show inflammatory, anti-gay quotations from Muslims like controversial cleric Yusuf al-Qaradawi, Iranian President Mahmoud Ahmadinejad and U.K. radio personality Sister Ruby Ramadan.
"The punishment of homosexuality is the death penalty."

- Leading Islamic cleric, Sheik Qaradawi, of the Muslim Brotherhood

"Homosexuaity is ugly...In Iran, we don't have homosexuals like in your country,"

- President Ahmadinejad of Iran, where homosexuality is punishable by death

"If there are two such persons among you, that do this evil, the shameful act what do you have to do? Torture them, punish them, beat them and give them mental torture."

- Sister Ruby Ramadan, presenter on a Muslim radio station in Britian
Geller, a conservative blogger who gained national prominence for opposing the so-called "Ground Zero Mosque" during the lead-up to the 2010 mid-term elections, told the Examiner she was inspired to take out this latest series of ads when her previous ones, which prominently featured Osama bin Ladin, were denounced by city leaders. At the time, San Francisco District Attorney George Gascon told the Associated Press, "these offensive ads serve no purpose than to denigrate our city's Arab and Muslim communities."
The San Francisco Municipal Transportation Agency, which is none too thrilled to be running the ads, had decided not to reject them due to a judge's ruling that a similar series in New York City subways could not be censored solely based on their political content.
The design of ADFI's ads are meant to satirize another series of ads by a group called MyJihad, which attempted to redefine the popular conception of the word "jihad."
"The intention of the [MyJihad] campaign is to educate our fellow Americans on what the word 'jihad' means," Zhara Billoo, the executive director of CAIR's Bay Area chapter, told ABC 7 News. "A common misconception of the word 'jihad' is that it means armed struggle or holy war...The proper meaning of jihad, as many of us frequently describe it, is 'to struggle' and that's it...For many that means building relationships with their neighbors to making it to work on time or doing better on their diets."

Update: "The SF official reaction to my ads is obscene and absurd," said Pamela Geller in a statement to the Huffington Post. "They wouldn't condemn the hateful statements on the ads, even when specifically asked to do so. They're only condemning me for drawing attention to those statements--as if this problem will go away if we ignore it."
"Refusing to call attention to the plight of gays under Islamic law is killing people," she added.
Check out this slideshow of the original MyJihad ads: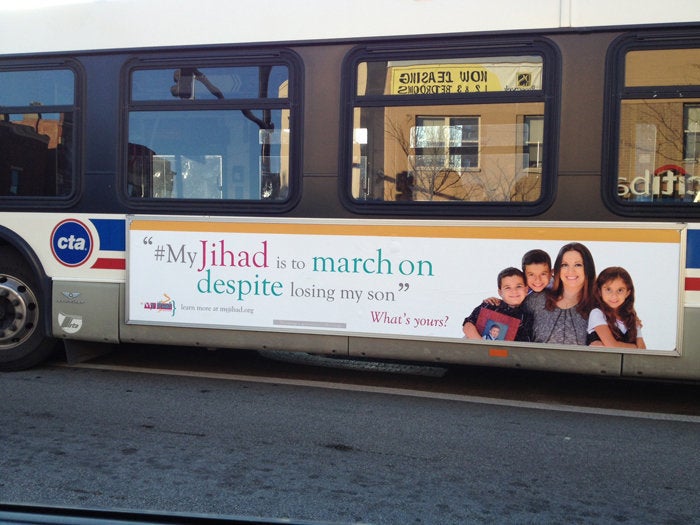 #MyJihad Campaign Debuts In Chicago
Popular in the Community