"Terrorist" and "raghead."
Those are the words that Mohamed Abbas ― a 32-year-old man with health issues, a U.S. Army veteran who fought in the Iraq War, and a Muslim ― says he found written on his work locker on Sept. 1.
"It's a shitty feeling," Abbas said. But it's a feeling he knows well.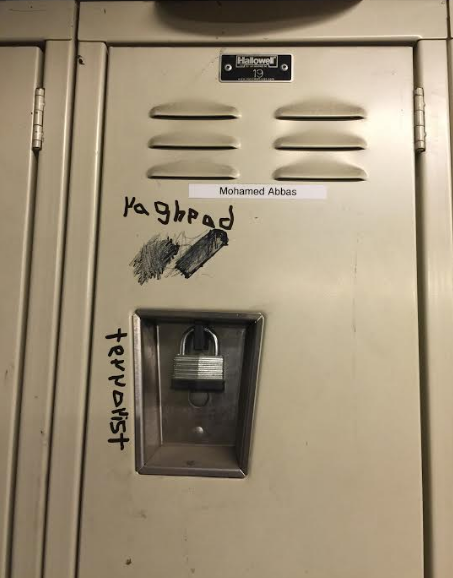 Abbas, who is of Palestinian heritage, was born in the United Arab Emirates. He immigrated to the U.S. in 2000, living in Georgia and later California. He taught himself English and went to high school, where he says "ignorant" kids would ask him if Osama bin Laden was his cousin, or if he was going to bring a bomb to class.
In 2007 ― after working a series of low-paying jobs at McDonald's, Denny's, Del Taco and a Flying J gas station ― Abbas decided he wanted a better life. He joined the Army.
After Abbas graduated from basic training, he says, his drill instructor pulled him aside.
"Watch out more for American soldiers than the Iraqis," said the instructor, who knew Abbas was being deployed to Iraq.
Abbas remembers that he "didn't really get" what the instructor was talking about. But he learned soon enough.
""Usually when you enter base, you feel safe. I didn't feel safe. I felt safer in combat zones than in the base.""
"Look at that Muslim bitch." "We should kill all of them." "They smell like goats." "Muslims fuck goats."
Those are the phrases Abbas remembers hearing from members of the 101st Airborne as they drove around in a Humvee during a mission in Iraq.
"And I'm like, 'Hey, I'm a Muslim too,'" Abbas says he replied. "You're talking about a whole religion."
After that, Abbas, who was working as an Arabic translator, says his fellow soldiers started calling him "terrorist," "raghead" and "anti-American."
"I felt like I wasn't safe," Abbas said. "Usually when you enter base, you feel safe. I didn't feel safe. I felt safer in combat zones than in the base."
Abbas says he was transferred to another unit, where conditions improved significantly. Like many other immigrant soldiers and Marines, Abbas took his U.S. citizenship oath in a palace once owned by the ousted Iraqi dictator Saddam Hussein.
After 400 days of serving in Iraq for his adopted country, Abbas went home.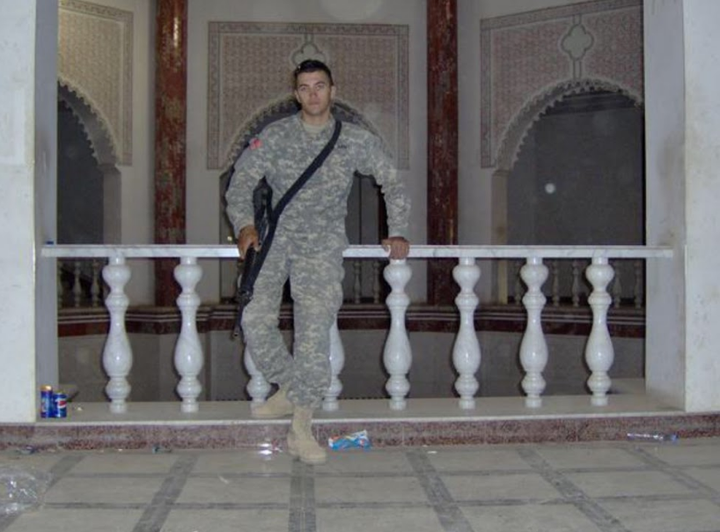 While dealing with post-traumatic stress disorder and other ailments, which qualified him for disability benefits, Abbas retired from active service in 2010 and took a job as a tools and parts attendant at the Marine Corps Logistics Base in Barstow, California.
"In early 2011, I was told I was a foreigner and I needed to go back to my country," Abbas recalls. "I filed a complaint and it didn't go anywhere. And after that, a few months later, I was called a 'raghead' while I was walking inside the base."
Later, someone wrote "raghead" on his locker. Fearing retribution, Abbas says, he scratched off the graffiti.
According to the Council on American-Islamic Relations, a Muslim civil liberties group assisting Abbas, the Marine Corps Police Department and Bomb Squad raided Abbas' desk.
CAIR says a military investigation determined that the allegations against Abbas were "unfounded" ― but "no action was taken against the person who made the false accusations." Abbas was allowed back on the base in February.
Abbas maintains that the accusations against him were not only false but motivated by Islamophobia. He says one of his alleged accusers, a superior named Sheryl Hazelett, was known to post anti-Muslim images on Facebook.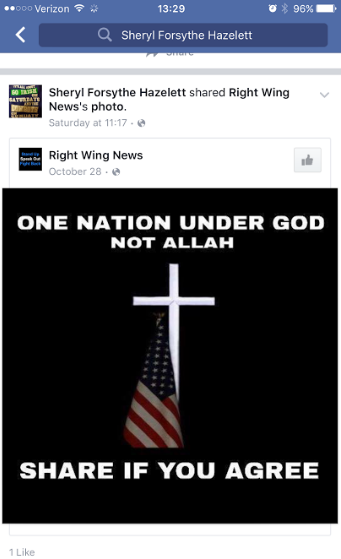 "I categorically deny" making false accusations against Abbas, Hazelett told The Huffington Post. She referred further questions to Rob. L Jackson, a public affairs officer at the Barstow base.
Reached for comment, Jackson issued the following statement:
There is no evidence that any co-worker falsely accused Mr. Abbas of terroristic threats. The facts are that Mr. Abbas was heard communicating comments that were perceived as threats to persons on Marine Corps Logistics Base (MCLB) Barstow. The comments were then reported to base security which deemed Mr. Abbas to be a potential threat to the peace and security of the Installation. Mr. Abbas subsequently, per pertinent regulations, was placed on approximately seven weeks paid administrative leave until the conclusion of the investigation. This action was not based on his ethnicity or his religious background, but rather upon his conduct, which was deemed to pose a threat to persons aboard MCLB Barstow. Please understand that the safety and security of MCLB Barstow, and those who work and reside on it, is the commander's number one priority. It is everyone's responsibility to report any violations of those regulations pertaining to the security of this installation. All reports that potentially compromise the safety and security of the installation will be investigated.
"The base will lie to cover up their lies," Abbas said, adding that he "never" made any statements that could be perceived as threats.
This September, when Abbas discovered the words "terrorist" and "raghead" on his locker, he wasn't necessarily surprised ― just hurt.
"You go to this country, you serve the country," he said. "Then you work on a military base, still serving the country, providing tools for the military. And you still get this."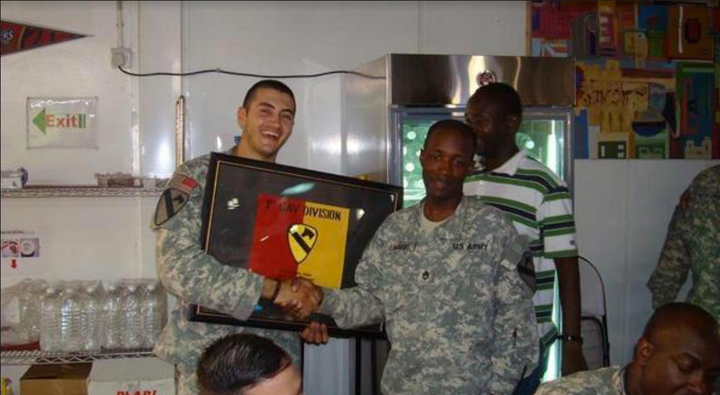 "Hate and bigotry have no place in our country, especially not at a U.S. military base," Hussam Ayloush, executive director at the Los Angeles chapter of CAIR, said in a statement. "CAIR-LA is working with Mr. Abbas to ensure his rights as a disabled American Muslim veteran are protected and that the perpetrators of such hateful actions are brought to justice."
Jackson said the graffiti was reported to the Marine Corps Criminal Investigation Division and that the investigation is "ongoing."
When asked whether the incident is being investigated as a hate crime, Jackson said it would be "premature to make a determination on what has occurred until the CID has questioned all of the witnesses and reviewed all of the facts."
He added that "anyone with information related to this issue [should] call them at 760-577-6209, or the Marine Corps Police Department Hotline at 760-577-6273."
The vandalism against Abbas comes amid a surge in Islamophobic hate crimes.
According to the group Muslim Advocates, there have been more than 100 hate crimes targeting Muslims in the U.S. since the Paris terror attacks last November. A recent report from the Center for the Study of Hate and Extremism at California State University, San Bernardino, found at least 260 anti-Muslim hate crimes in 2015, a 78 percent rise from the year before and the highest annual tally since 2001.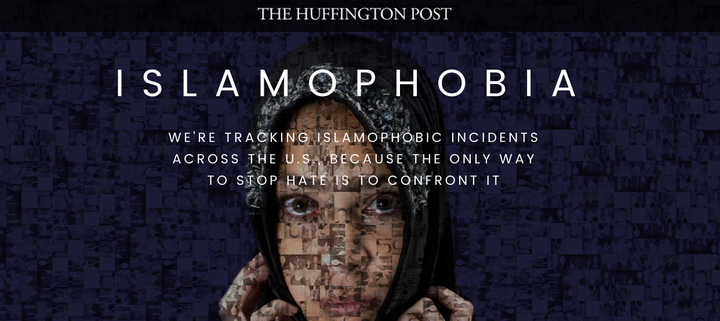 Abbas' account of mistreatment at the Barstow base echoes a far more tragic situation at a Marine training camp on Parris Island, South Carolina, where it was recently announced that 20 personnel could face charges of hazing and abusing recruits. That news comes after an investigation into the death of Raheel Siddiqui, a Muslim recruit at Parris Island who reportedly jumped off a stairwell after being chased by a drill instructor.
That same drill instructor, according to documents obtained by The Washington Post, is accused of putting a Muslim recruit into an industrial clothes dryer and turning it on, burning him.
"You're going to kill us all the first chance you get, aren't you, terrorist?" the drill instructor allegedly told the recruit. "What are your plans? Aren't you a terrorist?"
Abbas says he feels paranoid working at the base these days. When he parks his car, he'd like to leave his window cracked like everybody else, so the car doesn't get blisteringly hot in the desert sun. But he feels like he can't, because he's worried someone might plant drugs or a gun in his vehicle.
"I don't trust nobody right here, to be honest with you," Abbas said. "You feel like at any minute you could be accused of something."
The Huffington Post is documenting the rising wave of anti-Muslim bigotry and violence in America. Take a stand against hate.
Before You Go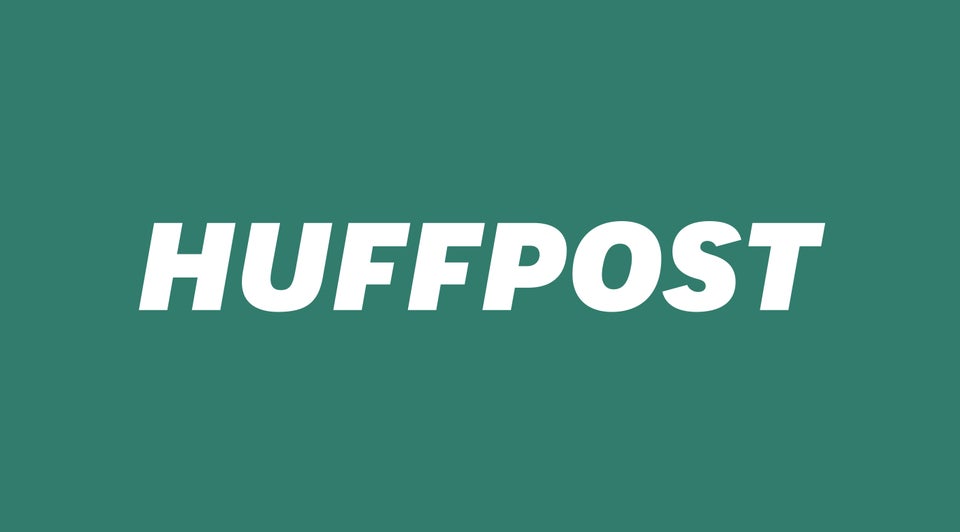 Post-Paris Islamophobia
Popular in the Community