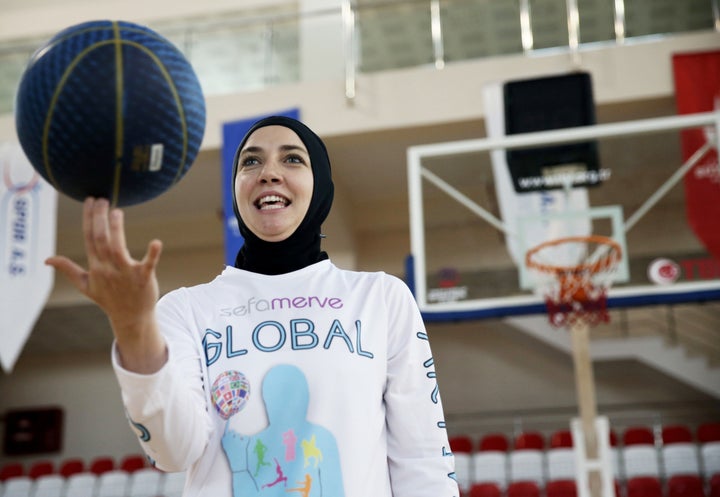 Muslim American fencer Ibtihaj Muhammad made history last week by becoming the first U.S. Olympian to compete wearing a hijab. It was a historic moment that showed how far the hijab has come in gaining public acceptance.
But there's still a long way to go.
No hijab-wearing players are present on the basketball courts at the Rio Olympics, for instance ― and it's not for lack of qualified players. The International Basketball Federation, or FIBA, which vets players for the Olympics, has long prohibited athletes from wearing "equipment (objects) that may cause injury to other players." For some reason, FIBA deems hijabs to fall into that category, but a growing body of athletes and advocacy organizations are working to change that.
On Tuesday, the Council on American-Islamic Relations, a major Muslim civil rights and advocacy organization, called on the Switzerland-based organization to lift the ban once and for all. 
FIBA is due to issue its final decision on the head-covering policy by the end of August ― a decision that will effect not only Muslim women who wear the hijab, but also Sikhs who wear turbans and Jewish athletes who wear yarmulkes.
CAIR, along with Sikh advocacy groups The Sikh Coalition and SALDEF, Muslim basketball players Bilqis Abdul-Qaadir and Indira Kaljo, and even two U.S. congressmen, mounted pressure on the organization to lift the effective ban on headwear in 2014, at which point FIBA agreed to a two-year trial period. During that time players have been able to wear hijabs and Sikh turbans in select competitions ― which many see as a stopgap measure that has allowed discrimination to persist.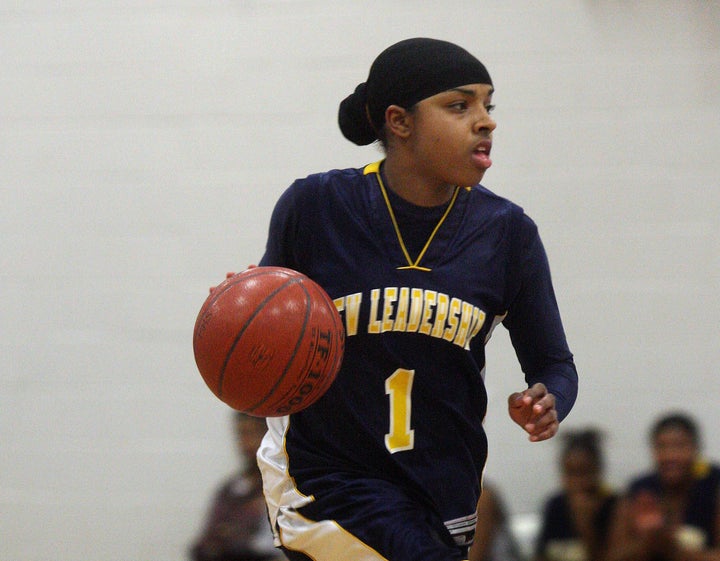 "We call on the International Basketball Federation to end the uncertainty on this issue by permanently lifting the ban on hijab and on other religious attire wore by athletes," said CAIR National Communications Director Ibrahim Hooper in a statement. "The only determining factors for athletic participation should be skill and hard work, not what is worn on one's head."
FIBA did not immediately respond to a request for comment from The Huffington Post but has previously said that their policies "apply on a global scale and without any religious connotation."
A group of petitions on Change.org have garnered over 90,000 signatures in recent months urging FIBA to remove obstacles for religious athletes who wish to compete and maintain their faith observance. The advocates have also been tweeting their campaign using the hashtag, #FIBAallowhijab.
"I've been dreaming to play pro my whole life, and little did I know that my hijab, the same thing that made me accomplish things that I've accomplished so far...was the same hijab that was going to prevent me from reaching my dream," said Abdul-Qaadir in a speech at an Islamic convention in December.
The athlete had proven her talent as a basketball star at Indiana State University and planned on pursuing her dream of playing professionally when she graduated in the spring of 2014. She soon learned of FIBA's policy, though, and was thrust in the uncomfortable position of choosing between her faith and her passion.
Abdul-Qaadir chose to give up basketball for the time being and focused her energy instead on petitioning FIBA to change their rules. It's a decision that would affect dozens of Muslim women basketball players around the world who have been forced to make similar compromises due to their faith.
"Basketball was more, and is more, than just a sport to me or just a game. It was a part of me. It was a part of my identity," the basketball player said. See her full speech below:
The International Federation of Association Football (FIFA) also experienced pressure to lift its ban on head coverings in 2012, which it did after a similar two-year trial period. Many hope FIBA will follow suit.
"Women and men who cover their heads for religious reasons should be entitled to participate in international sport free from this kind of discriminatory, ridiculous, and arbitrary interference," said Muslim writer Nouha Zaabab in a blog on MuslimGirl.com. "No athlete should be forced to compromise his/her beliefs or choose between faith and sport. Period."
Calling all HuffPost superfans!
Sign up for membership to become a founding member and help shape HuffPost's next chapter
BEFORE YOU GO
PHOTO GALLERY
15 Of Our Favorite Muslim Fashionistas To Follow On Instagram