Whenever Muslim feminist Hind Makki sees photos of a stunning mosque, she wonders, "Would there be an adequate place for me to pray?"
For years, Muslim women activists like Makki have been calling attention to the state of women's prayer spaces in mosques. There's an incredible variety in America -- some mosques have beautiful prayer halls for women, while in other mosques, women are relegated to crowded basements or asked to watch the service on television from an overflow room.
"The prayer experiences of many Muslim women are too often frustrating; mosques seem to be built to cater only to the male experience," Makki wrote on Side Entrance, her blog that documents Muslim women's prayer spaces around the world.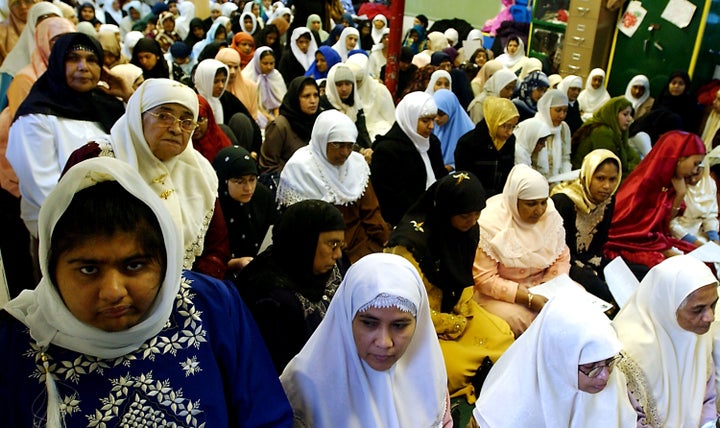 Now, after action from Islamic Society of North America, Makki is hopeful that a change is on the way.
ISNA is the largest and oldest umbrella organization for Sunni Islam in North America. In a statement released this week, the organization called for American mosques, called masjids in Arabic, to work harder to be more inclusive of women.
The organization used scripture to bolster its claims -- referring multiple times to the Quran and to the hadith, sacred texts that list the sayings of the Prophet Muhammad.
The general guideline was set by Prophet Muhammad when he ordered that women be allowed to freely attend the masjid: "If the wife of anyone of you asks permission to attend the masjid, he should not prevent her" ... Thus we call on all our masjids to be welcoming to women -- such that their experience at the masjid be uplifting and not demeaning. To realize the ideal of being welcoming to women, masjids should (a) ensure that women's accommodations are comfortable, clean and well-lit; (b) support and facilitate women's activities and groups; and (c) proclaim clearly on the minbar [or pulpit] and by other means that women are an integral part of the masjid.
For Makki, who was part of an ISNA task force dedicated to creating women-friendly masjids, the statement is a "big deal."
"We've been working over the last year to have this backing by religious scholars whose credentials are unimpeachable," Makki said. "The best way to get mosque leaders and everyday community members to agree that this is not some fringe persepctive was to get the backing of these scholars."
In the statement, ISNA called for women to have access to the main hall of mosques, called musallas, and even recommended that there should not be physical barriers in these halls to separate men and women.
This is the part of the statement that Makki feels will be the most challenging principle for mosques to adapt. The 2011 American Mosque Report found that 66 percent of the 2,106 mosques surveyed used dividers to separate women's prayers spaces during daily prayers. In addition, many American mosques weren't purpose-built as worship spaces -- they are often renovated churches or storefronts.
"Space is always an issue for mosques in the U.S.," Makki said. "People will say it is incumbent on men to pray at the mosque, but it's not incumbent on the women, which is true. But then they make the leap to say that men's spaces should be prioritized over women's spaces. That's the fight I'm anticipating."
Research shows that the way women's prayer spaces are set up is often a reflection of a mosque's attitudes toward women. Mosques reporting women's participation at the board level were less likely to use dividers, according to the American Mosque Report.
Makki said that ISNA is planning to launch the campaign at its annual convention next month, and follow it up with community forums across the country aimed at educating mosque leadership. She says the team is also looking at ways to measure the effort's impact.
But some Muslim activists are waiting to see whether ISNA's statements will translate into action.
Dr. Amina Wadud, a visiting scholar at the Starr King School for the Ministry, has been working toward women's inclusion in mosques for years. Wadud stirred controversy in 2005 by leading a mixed-gender congregational prayer.
She told HuffPost that the ISNA statement was quite significant and a "good first step."
"I think they have responded well to the community's needs," Wadud said. "I'm hopeful that it will make a difference and that we'll be able to see that difference."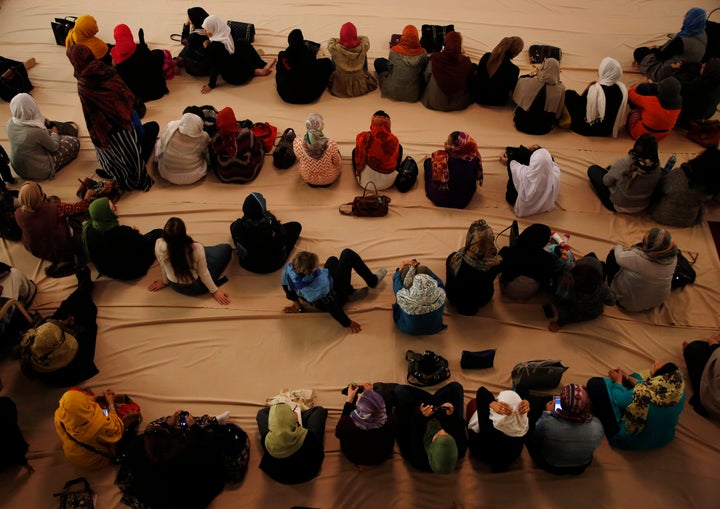 Other Muslims, tired of waiting for change to happen, have been creating spaces meant just for female worshippers. The Women's Mosque of America, based in Los Angeles, offers Friday prayers for a congregation composed of just women and children. Women are allowed to recite the call to prayer, deliver sermons and have direct access to imams by sitting in the front row.
M. Hasna Maznavi, founder and president of The Women's Mosque, told HuffPost that ISNA's move towards women-friendly worship spaces should be "celebrated and supported." But Maznavi said that ISNA's statement may not address the concerns of Muslim women who don't wear a hair covering, or who feel uncomfortable sitting behind men at a mosque.
"I'm afraid that while it shows progress, it only helps an already privileged class of women who are already current mosque-goers, and it does not address the concerns of unmosqued Muslim women," Maznavi told HuffPost in an email. "ISNA has been working toward women-friendly mosque reform for many years, but change has been incredibly slow because policies and statements don't easily translate into action or a change in societal behavior."
Women Prayer Areas Around The World
Related
Popular in the Community