Ghazala Khan stood beside her husband, Khizr Khan, at last week's Democratic National Convention while he accused Trump of sacrificing nothing for his country. The Republican nominee later suggested that she did not speak because she was forbidden to do so.
"Maybe she wasn't allowed to have anything to say — you tell me," Trump said on ABC News.
Khan quickly denied that she was kept quiet by her husband or her religion, writing in The Washington Post that she did not speak at the convention because she remains emotionally devastated by the loss of her son. "With a huge picture of my son behind me, I could hardly control myself," she wrote, describing the convention stage. "What mother could?" (She also spoke out on MSNBC.)
Female activists within the American Muslim community — supported by organizations like the Muslim Public Affairs Council — soon rallied behind Khan, launching a social media campaign under the hashtag #CanYouHearUsNow. They called on other Muslim American women to help dispel Trump-like misconceptions about their religion.
"Any place in society where people are contributing there would be Muslim women present," Roula Allouch, chair of the Council on American-Islamic Relations' national board, told The Huffington Post. "Muslim women's voices are expressed in their actions — and spoken as well," she added.
Trump's remarks play "into these tired stereotypes that so many of us work hard to dismantle," said Zainab Chaudry, a licensed pharmacist and Maryland outreach coordinator for CAIR. Her father emigrated from Pakistan in the 1970s. She said she was taught that education is important and that she could do anything her three brothers could do. Around age 19, she decided herself to wear a headscarf.
"I consider myself a feminist," she said. "I've never felt limited because of my gender."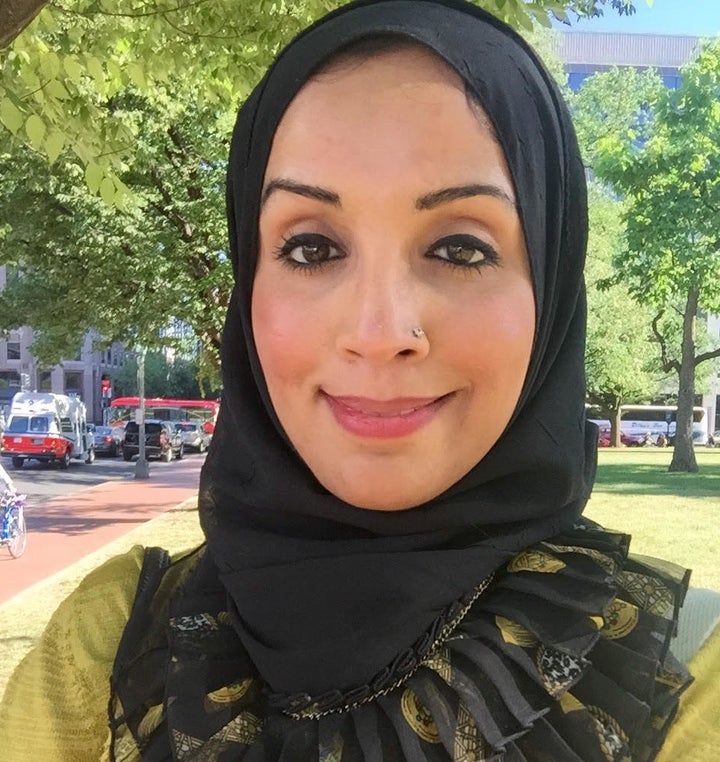 Trump, who proposed banning all Muslims from traveling to the United States before backtracking, routinely makes inflammatory comments about Islam, women, Latinos and the Black Lives Matter movement. In the Khan case, he finally tweeted that the Khans' son was a "hero," but still added, "this is about RADICAL ISLAMIC TERROR."
Using the story of a Muslim-American war hero to talk about terrorism — and to question a woman's independence — is exactly the kind of divisive language that Muslim women are seeking to dispel.
Here are some of Monday's tweets:
Popular in the Community