 Though the extremist militant group ISIS has declared a restoration of the Islamic Caliphate and issued a call for all Muslims to pledge their allegiance to it, a Pew survey shows that most people living in Muslim majority countries are very concerned about the threat of Islamic extremism in their nations.
The poll investigated specific attitudes towards groups such as al-Qaeda, Boko Haram, the Taliban, Hezbollah and Hamas, in fourteen countries with significant Muslim populations, and found that almost universally negative opinions were held about them.
The data for the survey was collected between April 10 to May 25, 2014, which was prior to the ISIS takeover of Mosul and other areas of Iraq and Syria. Syria, Iraq, and Iran were not polled.
In the Middle East, fears about Islamic extremism have been on the rise since 2013, with Lebanon reporting that a staggering 92 percent of the country's residents are very or somewhat concerned about Islamic extremism in the nation. Its long border with conflict-stricken Syria is a likely factor in the high degree of concern.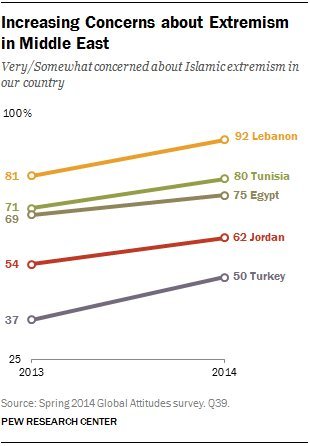 The Middle East isn't alone. The majority of the population in 11 out of the 14 countries said that they were "concerned about Islamic extremism in our country." Only 50 percent of Turkey, 46 percent of Senegal, and 39 percent of Indonesia reported feeling concerned.
Suicide bombing has been a tactic for Islamic militants operating all over the world for years now, though support for the practice has drastically declined in the last decade. No majorities in any of the countries polled expressed the opinion that "suicide bombings can often or sometimes be justified against civilian targets in order to defend Islam from its enemies." However, 62 percent of respondents from Palestine's volatile Gaza Strip did say that suicide bombing could sometimes or often be justifiable.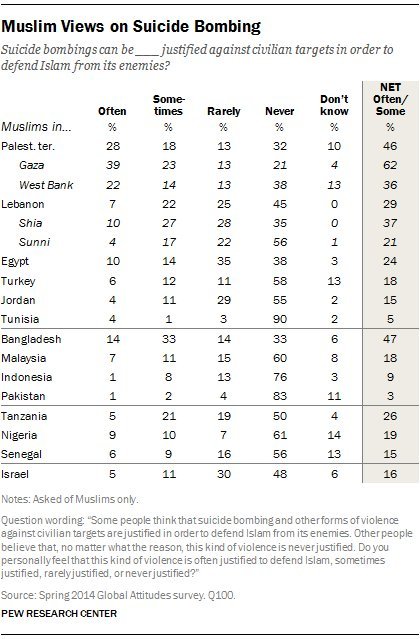 The degree of concern about Islamic extremism is over 65 percent in Lebanon, Pakistan, Nigeria, and the Palestinian territories and Israel, which are the countries most directly affected by Hezbollah, the Taliban, Boko Haram, and Hamas, respectively.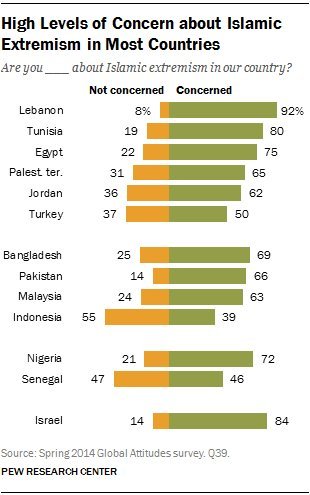 Opinions Of Specific Groups
The notorious al-Qaeda, which has been active for over twenty-five years, is viewed negatively by strong majorities in all 14 countries. The group was viewed most positively by the public of the Palestinian territories, where 25 percent reported favorable views.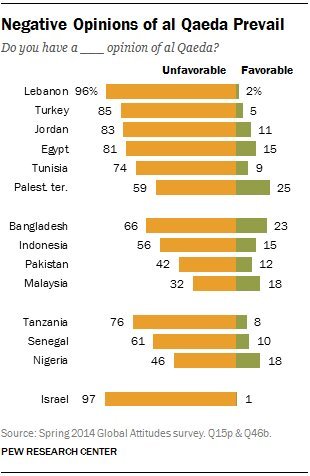 Eighty-two percent of Nigerians have an unfavorable view of Boko Haram, the group which attracted international condemnation after it kidnapped hundreds of schoolgirls. And 79 percent reported a "very unfavorable" view. Eighty percent of Nigerian Muslims have a negative opinion of Boko Haram, a similar figure to the 83 percent of Nigerian Christians who also view the group unfavorably.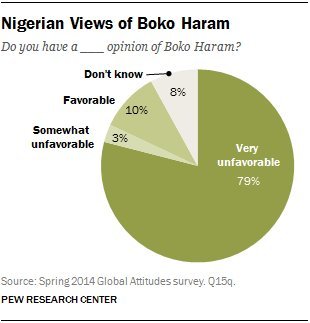 Pakistan's negative opinions toward the Taliban have held fairly steady for the past few years, with 59 percent of the population holding an unfavorable view of the group based on the border between Pakistan and Afghanistan. The Taliban are even more unpopular than al-Qaeda in Pakistan, with only eight percent of Pakistanis reporting a favorable view of the Taliban, compared with 12 percent holding a favorable view of al-Qaeda.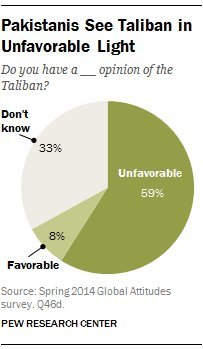 Hezbollah's unpopularity in the MENA region has significantly increased since 2007, according to the poll, with Turkey, Egypt, Jordan, Tunisia, and the Palestinian territories all showing rises of about 20 percent or more in unfavorable views of the group. Opinion has stayed fairly steady in Lebanon, with 64 percent of Lebanon reporting unfavorable views in 2007 compared to 59 percent in 2014.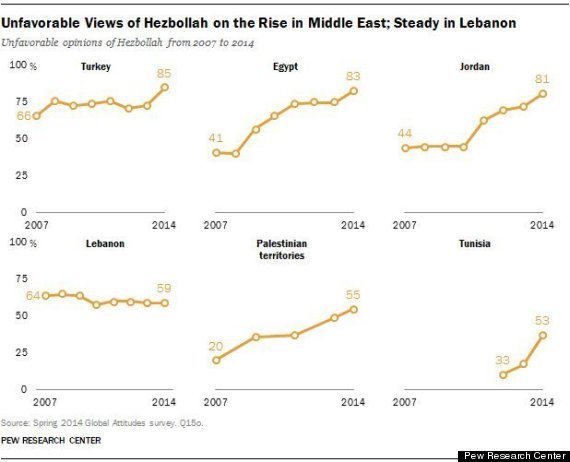 The only group that approves of Hezbollah is Lebanon's Shi'ite Muslim population, which was recorded as having an 86 percent favorable view of Hezbollah, which is dominated by Shi'ites.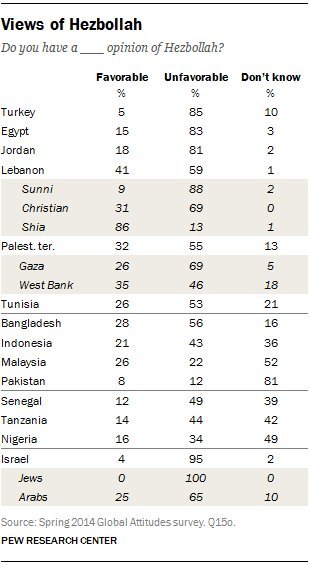 Hamas has fallen out of favor in Palestine since 2007, when 62 percent of Palestinians viewed them positively. Now, in 2014, only 35 percent reported a favorable opinion, with 53 percent on record as having an unfavorable opinion. In the Gaza Strip, which is controlled by Hamas, 63 percent of people have a negative opinion of the group, which is up from 2013, when only 54 percent reported unfavorable views. However, a majority (55 percent) of Lebanon's Shi'ite Muslims have favorable opinions of Hamas.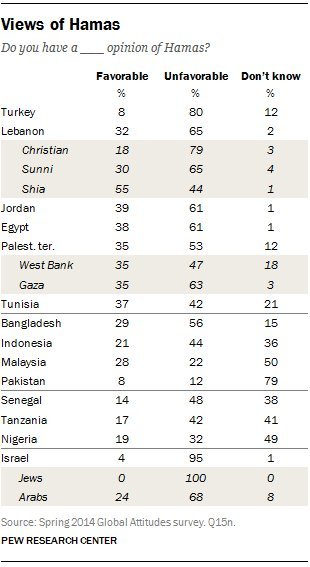 The results for this survey were based on face-to-face interviews overseen by Princeton Survey Research Associates International. Data on sampling error and methodology are available here.
Calling all HuffPost superfans!
Sign up for membership to become a founding member and help shape HuffPost's next chapter
BEFORE YOU GO
PHOTO GALLERY
Muslim Leaders Condemn Terrorism