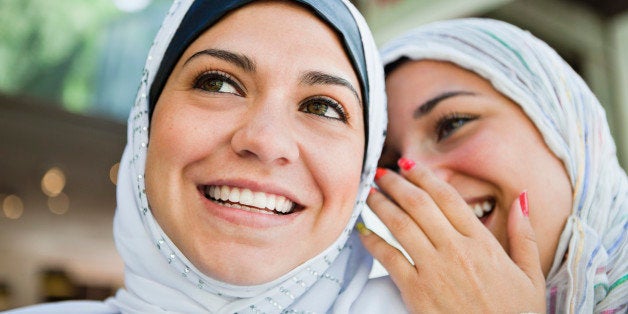 As American women, many of us have an idea of what feminists are; freelancing women with all the sexual freedom in the world. But this is exactly the problem with American feminism; it is all about sex and the liberation of our bodies. Certainly, things like abortion and contraception is a part of that freedom, but in today's society the fight has taken on a much different tone.
Hip Feminist campaigns like Free the Nipple only encourage a gullible behavior of disrespect for our own bodies, leading to everyone else around us disrespecting our bodies as well. If we want to be respected as women and taken seriously in all our endeavors we should look to a new source; Muslim women. Muslim women, as well as Muslim men, see every body as a sacred temple, especially the female body. Opposed to exposing themselves, it is through modesty. When we think of modern feminists we should stray away from the new American trends and start looking to what we have always thought as a contradiction; Muslim feminists.

Contrary to American popular belief, Islam has a culture and history of women empowerment. In the Qur'an, which is believed to be God's word told to Prophet Muhammad, women and men are described as equals in everyday actions and responsibilities. When it comes to family, charity, children, sex, and much more, a man and a woman have the same duties and that is to continue on the straight path.
Early Islamic women kept this idea alive. The first Muslim woman was Khadija, Mohammed's first wife. Without her influence, Islam might not have emerged as successfully as it did. Khadija was a business woman and a land owner in the lands of Arabia. When Mohammed was given revelations, it was Khadija that ensured him that he was not going insane, but that he was a chosen one. It was Khadija that pushed Mohammed to listen to God and the angels that were trying to communicate with him and to not run in fear. It was Khadija that gave Muhammad the support and confidence in his development as becoming God's last prophet. Khadija, a woman, was the strength that allowed Islam to fully bloom. Just this one example gives us a view on how true Muslim women are; outspoken, driven, certain and courageous, the epitome of a feminist.
So it's no surprise to see Muslim woman today modeling themselves after these prominent female figures. Muslim girls look towards these instances of strength for guidance in this scary, patriarchal society. These modern women are not afraid to go against the grain in the name of their belief like wearing the hijab to covey their religious devotion. Hijab is the headscarf that is worn by Muslim woman and no; it is not supposed to be forced on them by their fathers and husbands. Wearing or not wearing the Hijab reflects a Muslim woman's own a personal choice.

For me, this idea especially showcases feminism in America. With all of the pressures in our American society to have a certain physical allure; to have long, luscious hair, a skinny yet curvy body, flawless facial beauty, woman go through hell. With this, we succumb to the pressures that we generally think we are free of; we oppress our natural womanhood with constant worry about how we look to others around us. We do not have the courage to stand up to this societal critique and say 'my body is not to be ogled at'.
For many Muslim women however, they strive to achieve just that. In this way, they liberate themselves from these everyday pressures. They actually have the courage to say hey, I am not an object of pleasure, I am a woman that commands only respect for who I am and not how I look. They have the power to self-liberate as well as the courage to diverge from the American norms. And they do not get attention from showing off their figure, but they get attention by how they present themselves. Muslim woman get respect and are looked at beyond aesthetics; they are actually taken seriously in their communities.
Isn't this what feminism should be? Don't women deserve consistent respect and to actually be listened to without drools or criticisms over our bodies and looks? I believe the answer is yes. In the Muslim-American community, and even in parts of the greater Muslim world, modest woman, whether they wear hijab or not, are respected and called upon, despite what our mainstream media feeds to us.
A few weeks ago I went to a lecture about feminism- in Islam. That is what got all these thoughts stirring in my head once again. The lecturer was a Muslim woman in hijab; she spoke so passionately that every person in the room, guy and girl, had no choice but to immerse themselves in her words. After a quick hour and a half, I could not help but think about all our Free the Nipple group representing a trendy feminism and how some trends need to die. I realized we have been conditioned to think that American women are the free and that Muslim women are the suppressed, but this is twisted to me. I finally understood who is really oppressed by a patriarchal society and it is us. Woman who wear hijab have freed themselves from a man's and a society's judgmental gaze; the Free the Nipplers have not. They have fallen deep into the man's world, believing that this trend will garner respect.
So I urge my Free the Nipple gal pals to take a look at your Muslim sisters and collaborate with them to create a feminism that treats the female body as a temple and not as a toy. Let us see feminism in a different light--through modesty and the courage to savor our sugar. Let us call on the Muslim feminists of the world.
Related
Popular in the Community