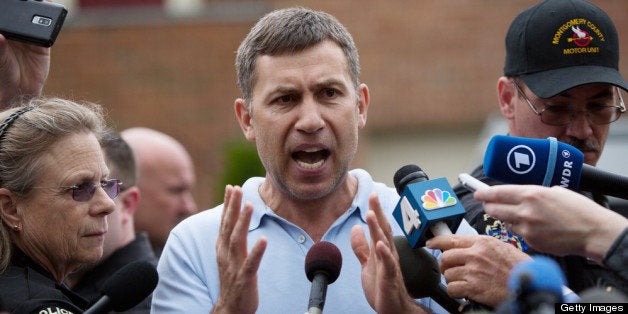 WASHINGTON -- For Arab-Americans -- and people who are mistaken to be Arab -- there's an extra layer of fear that rides along with the frightening news of a possible terror attack: the very real possibility that they will be blamed.
Linda Sarsour, the national advocacy director for the National Network for Arab American Communities, knows it happens. But when the bombs exploded Monday at the Boston Marathon, it was her 13-year-old son who brought that reality home with startling and personal impact.
He did it with a simple text message about an hour after the news broke that asked: "Mom, who did it?"
For Sarsour, it showed just how deeply the fear of guilt by bogus association is embedded in the Arab-American community, even in children born and raised in the United States whose prime obsessions tend to be video games, not race relations.
"The fact that young teenagers and young kids in our community are interested in who did it -- in hopes that it's not someone that's going to be affiliated with them -- is the kind of psychological trauma that our people in our community have," Sarsour said.
That's why her organization and several others were quick to put out a statement Friday appealing for restraint and understanding after the identities of the bombing suspects, Tamerlan and Dzhokhar Tsarnaev, were publicized, and the two were revealed to be of Chechen descent.
"Our thoughts and condolences continue to be with the victims of the Boston Marathon attacks," read the unity statement. "We are grateful to the brave first responders and law enforcement officers, who endangered their own lives in pursuit of the suspects and to keep the people of Boston safe.
"This is a time for us to come together as Americans during a sad and difficult moment," it continued. "As information continues to emerge, we urge the media and the public to refrain from scapegoating or turning against our fellow Americans based on their racial, ethnic, religious or immigrant identity."
Sarsour pointed to an incident already reported in New York, where a gang on Monday beat a Bangladeshi man who was raised in the Bronx because they decided he was "a f---ing Arab." She also noted the recent front page of the New York Post that put a big red circle around the faces of two innocent young men.
"I love this country," Tsarni said. "This country, which gives chance to everybody else [to] be treated as a human being and to just be human being, to feel yourself human being -- that's what I feel about this country."
Tsarni seemed to especially blame the older brother for implicating his family and other Cechens in terrorism.
"He put a shame on this family -- not our family, Tsarnaev family -- he put a shame on the entire Chechen ethnicity," Tsarni said.
While blaming an entire ethnic group for the actions of two young men has no rational basis, Amardeep Singh, the program director of the Sikh Coalition, has seen worse. Sikhs are not Arabs and they practice a religion entirely unrelated to Islam, but they have often been targeted after terrorist horrors.
"We've experienced too much backlash for too long after these incidents occur," Singh said, recalling how after the gruesome beheading of Wall Street Journal reporter Daniel Pearl, he had people blame him while he was simply riding a subway train.
"A passenger, as they were leaving, banged on the door and said 'We're not going to let you people get away with this,'" Singh said.
"What we're trying to let the public know is we're Americans, we share the concerns. We don't want this incident to allow us to turn on each other," said Singh, a lawyer who works in Manhattan and wears the distinctive Sikh turban.
Like Sarsour on the day of the bombing, Singh felt -- again -- the dual punishment terrorism inflicts on those who might suffer misplaced reprisal.
"I received messages just telling me to be careful, that sort of thing," Singh said. For most Americans who got similar messages, the meaning was to watch out for terrorists. For Singh, they had some of that meaning, but also warned that he should watch out for the people who will mistake him for a terrorist.
"In our community, it's both," said Singh. "That danger [of terrorism] is ever present. But then you have the second danger of being associated with the people who do these horrible things to our country."
Michael McAuliff covers Congress and politics for The Huffington Post. Talk to him on Facebook.
Related
Popular in the Community