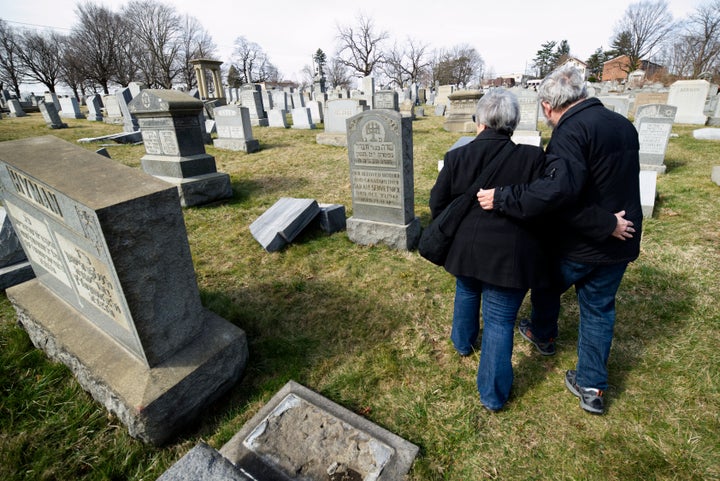 CHICAGO ― Following a rash of bomb threats and vandalism to Jewish cemeteries and community centers around the country, allies from the Muslim community are standing up in solidarity and even defense.
Tayyib Rashid is among the American Muslims offering his support and protection in the wake of acts he described as hateful and un-American ― a sentiment he said is shared by his fellow Muslims.
Days after a Jewish community center in Chicago was evacuated due to a bomb threat, Rashid, a 40-year-old Marine Corps veteran from the Chicago area, offered to serve as a guard at Jewish religious and community centers. 
 "It's part of my responsibility of being a Muslim," Rashid said. "Being a part of a community that's persecuted, we know firsthand what it's like to be marginalized and to have the graves of our ancestors desecrated. These are cowardly acts to carry out." 
Muslim Americans like Rashid have seen their own community come under attack in recent months. There were at least 385 documented Islamaphobic attacks in 2016 alone, according to a database maintained by The Huffington Post.
Rashid said it was "heartbreaking" to see Jews experience similar threatening situations.
"We've seen this story before. History continues to repeat itself," he said. "People who understand what's going on recognize that if this is not combated in a way to change the hearts of the people who are doing this, it'll continue to get worse."
Although he hasn't received the call to actively defend a Jewish community center ― Jewish leaders and police have deemed dozens of bomb threats over the past two months hoaxes ― Rashid joins Muslims across the country willing to do their part to strengthen interfaith solidarity.
Salaam Bhatti, of Queens, New York, traveled to Philadelphia after he found out that about 100 headstones had been desecrated at a cemetery there. He wanted to help clean up and offer any support he could.
"We as Muslims believe in universal human rights," he said. "For our Jewish brothers and sisters, that freedom was infringed upon. The Koran teaches us to defend mosques ― it also teaches us to defend other churches, synagogues, cloisters or any house of worship."
He was initially turned away because he'd arrived too early ― police still considered the cemetery an active crime scene. But volunteers eventually arrived in swaths. So many people came to offer support in Philly that organizers had to stagger cleanup work and activism in shifts, according to ABC-6. Tens of thousands of dollars have been donated to form a reward for information leading to an arrest of a suspect.
The incident came just days after vandals turned over another 100 headstones at a Jewish cemetery in Missouri. Bhatti and Rashid both characterized grave desecration as one of the more heinous and disrespectful acts anyone can undertake. 
These attacks aren't against us as Muslims, they're against us as humans.

Salaam Bhatti
Khalid Whalid, a 35-year-old Army veteran in the Houston area, offered his protection to local synagogues after seeing Rashid's pledge. Eight years in the Army instilled in him the importance of protecting people and fighting for a common freedom from fear, he said. 
"You don't fight for a cause, you fight so you and your brother can go home," Whalid said. "If you're a Muslim, it's just like being a Christian or a Jew. We all came from tribes of Abraham. And we're supposed to protect our brothers, no matter what." 
Whalid, a self-described "chubby white guy" with a punk rock past, changed his name and converted to Islam in his 20s. 
"I didn't realize what prejudice was until I became a Muslim," he said. "So when I see someone being persecuted, I stand up." 
None of the men have been taken up on their offers yet, but they all said it will be important to continue to show support and to demonstrate how their community responds to hateful and bigoted actions ― even if the federal government intervenes with hate crime prosecutions, which it hasn't done yet. 
"It's a very dangerous time we're living in," Rashid said. "But what we will do with silence ― which is horrible, the worst kind of reaction ― is create even more people with extremist viewpoints. ... When will they actually say something?"
"We'd still be here, regardless if the White House said anything," Bhatti said, separately. "We are not going to rely on anybody else to help out. These attacks aren't against us as Muslims, they're against us as humans."
Calling all HuffPost superfans!
Sign up for membership to become a founding member and help shape HuffPost's next chapter
BEFORE YOU GO
PHOTO GALLERY
Muslim Women Who Made A Difference In 2016